buy dapoxetine tablets online india PETAL PORTRAITS – A MULTI SENSORY EVENT
New work by Tal Shpantzer
"PETAL/ RITUAL" Solo Butoh dance performance by Vangeline
"PÉTALES" Fragrance presentation by Euphorium Brooklyn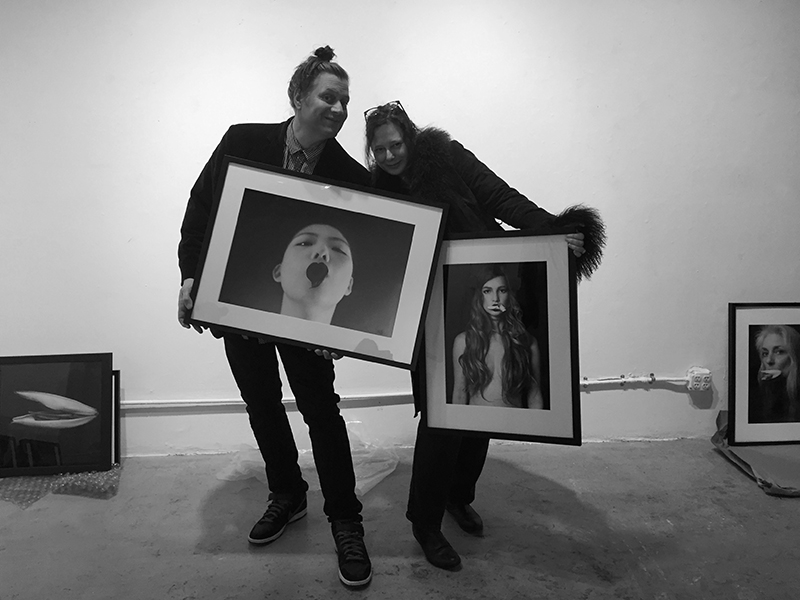 photo – Sophie Carbonari
Petal Portraits
6-10pm, Thursday, March 3, 2016
RabbitHoleStudio Gallery
33 Washington St.
Brooklyn, N.Y.
Tel.718-852-1500
PRESS
Tal Shpantzer's petal portraits, each featuring a woman paired with a flower, are striking in their apparent simplicity and richness of detail. The portraits both engage with and challenge our traditional notions of flowers as symbols.
"My principal interest," Shpantzer says, "is exploring moments that are undefined on sensory, emotional, and psychological levels. I am fascinated by the dialogue that arises from and intersects with expressions of uncertainty and states of transience.

photo – Tal Shpantzer
What I see may appear to be the simplest of moments and yet reveal otherwise unknown complexities or evoke imagined histories and hidden truths."

photo – Serge Cashman
Euphorium Brooklyn presents a perfumer's talk on "PÉTALES" Eau de Parfum, a fragrance inspired by the "Petal Series" of portraits by Tal Shpantzer.

photo – Serge Cashman
Informing both the fragrance notes and the conceptual background to the perfume. Stephen Dirkes will present the perfume and describe the process of the collaboration.

photo – Tal Shpantzer
Euphorium Brooklyn perfumer, Stephen Dirkes says, "I was inspired by Tal Shpantzer's Petal Portraits and the dark, moody, complex world of light, shadow, context, and communication they evoke.

photo – Serge Cashman
Tal's photos created a new way for me to regard and approach the idea of a floral fragrance. I had the wonderful opportunity to work with Tal extensively to incorporate her personal background, influence, and scent palette in developing PÉTALES Eau de Parfum, a complex layering of 50 different perfumery materials.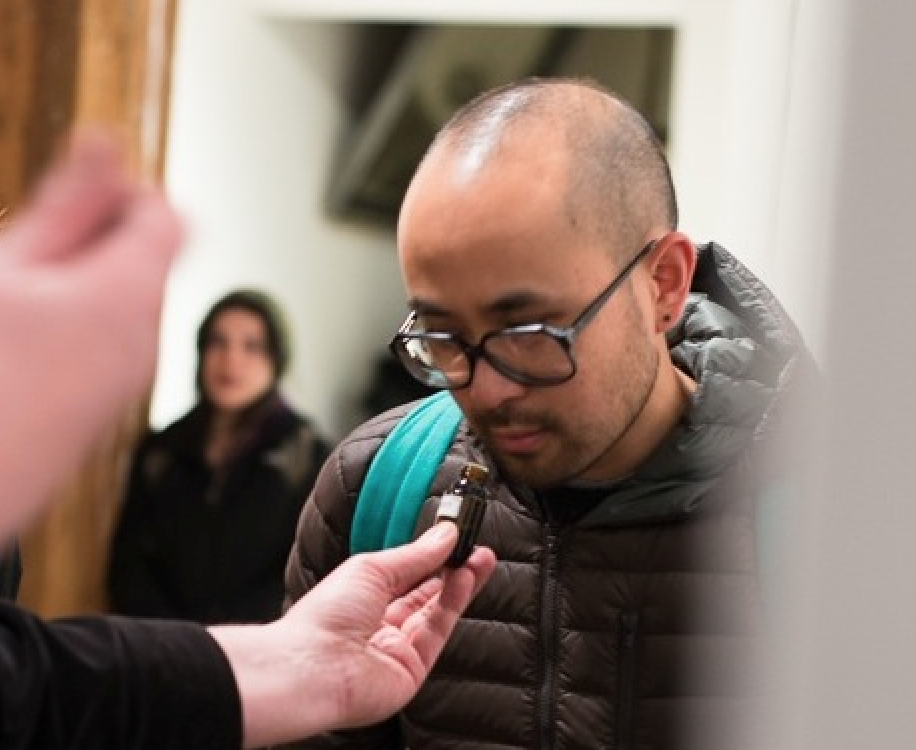 photo – Serge Cashman
For this event, I break down PÉTALES to its individual notes, accords, and present what went into the making of the scent."

photo – Serge Cashman
PÉTALES FRAGRANCE PROFILE
Moonlit Petals, Pink Grapefruit, Honey, Fig. Anise, Elemi, Indole & Musk Accord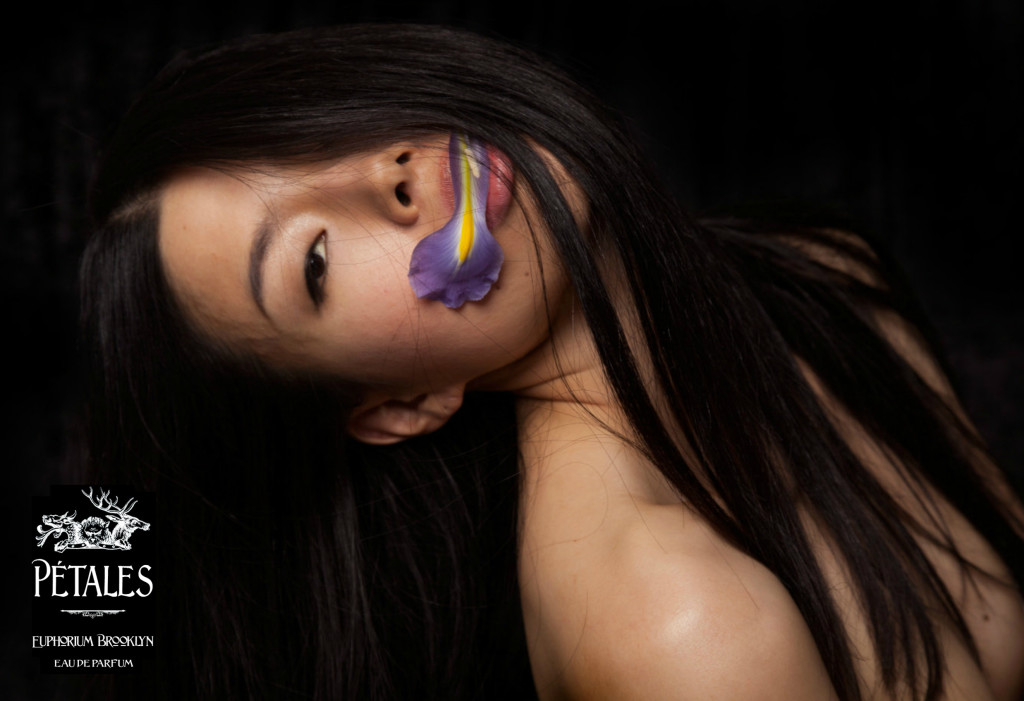 photo – Serge Cashman
FRAGRANCE NOTES
Rose, Lavender, Orchid, Hyacinth, Linden Blossom, Lily, Iris, Orange Blossom, Violet, Orris, Jasmine, Geranium, Palmarosa, Pettigrain sur la Fleurs, Galbanum, Green Stem, Moss, Pink Grapefruit, Fig, Honey, Star Anise, Elemi, Black Pepper, Vetiver, Labdanum, Benzoin, Tolu Balsam, Ambergris, Indole, Tonka Musk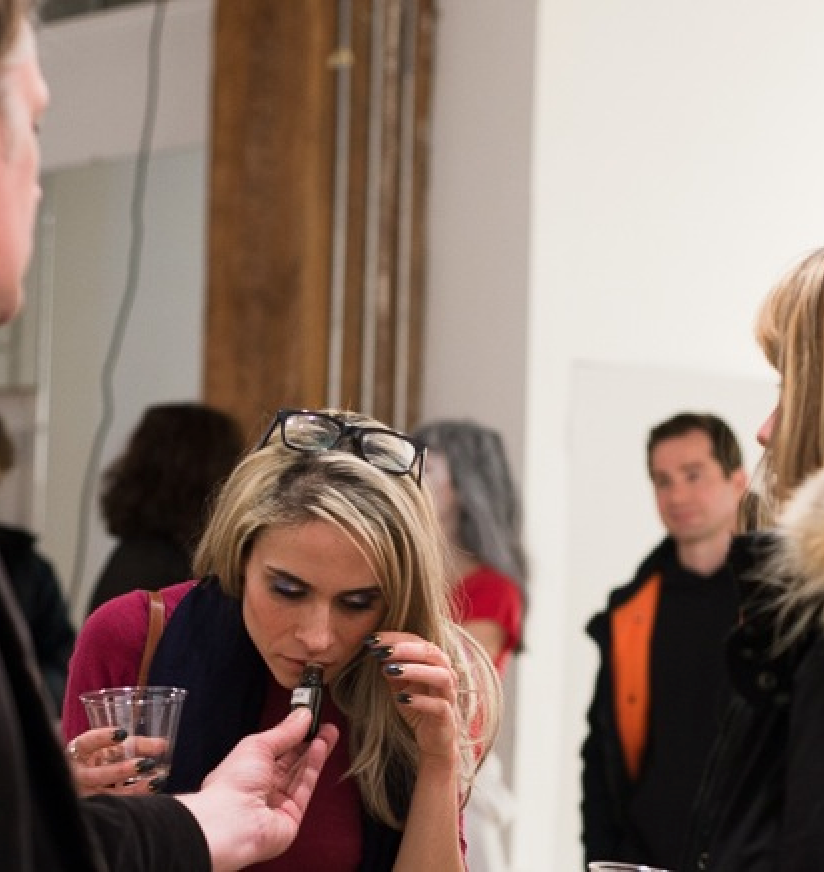 photo – Serge Cashman
Learn more about PÉTALES Eau de Parfum.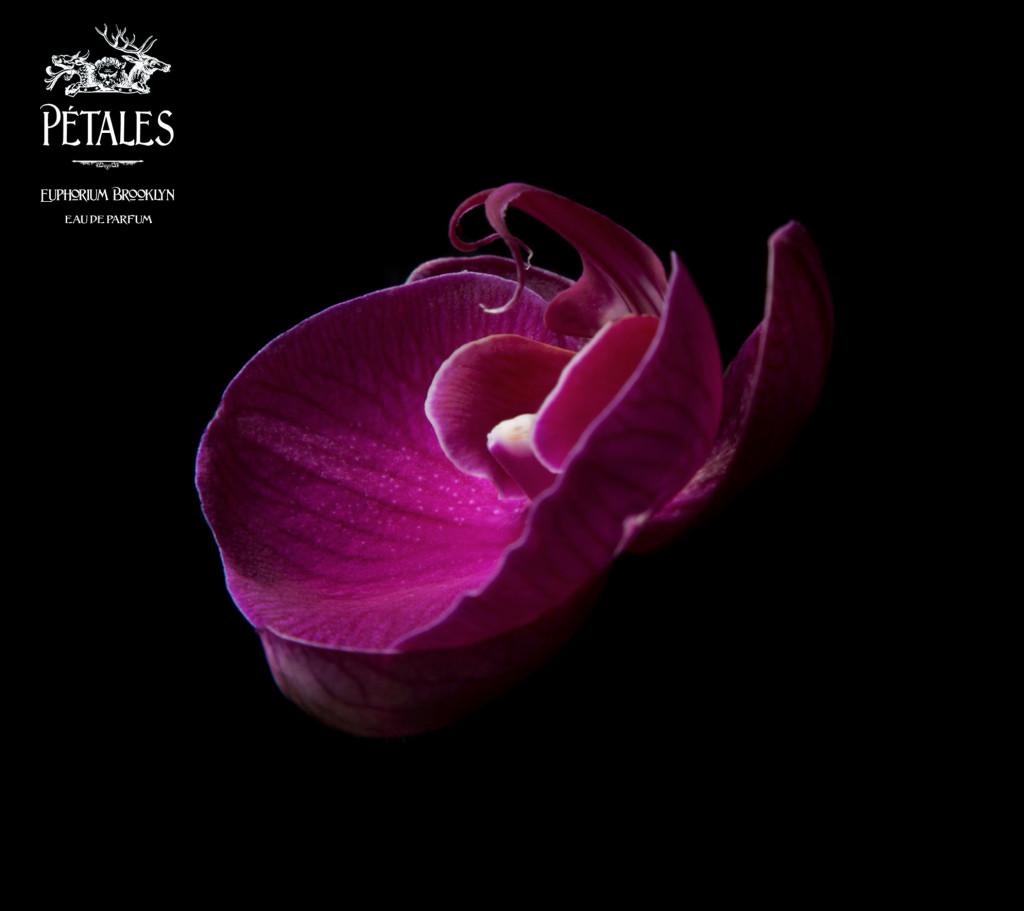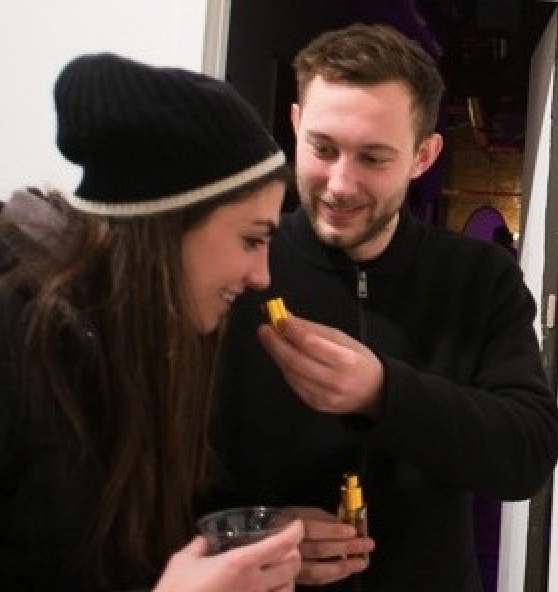 photo – Serge Cashman
About the Artists
Tal Shpantzer is an award-winning Brooklyn-based fine art photographer, recognized both internationally and nationally. Shpantzer's images have appeared in W Magazine and in Vogue Italia, Beautiful Savage, and Topman Generation magazines, and recently were featured in HBO's hit show True Detective.

photo – Serge Cashman
Shpantzer's narrative photography explores the subtle dialogue that emerges from the intersection of ambiguous moments, states of uncertainty, and transience. Perfumista and Cafleurebon.com representative, Hernando Patrick Courtright came out to support and experience the show.

photo – Serge Cashman
Shpantzer's eye for telling detail is especially noteworthy in her portraits of women and children who, in their most guarded and vulnerable moments, offer viewers a brief look into their personal lives.

photo – Serge Cashman
Vangeline is a dancer and choreographer, and the artistic director of Vangeline Theater Company in New York. A specialist in the Japanese dance form Butoh, Vangeline's performances have been described as "captivating" by The New York Times.

photo – Tal Shpantzer
For this event, Vangeline interprets Shpantzer's The Petal Portraits with video projection. Based on movement and gesture from her piece "Ritual", Vangeline explores the imagery and portraiture of "PETAL PORTRAITS".

photo – Serge Cashman
Stephen Dirkes's Euphorium Brooklyn, a perfume house, is a world inhabited by fictional perfumers who use fragrance as a storytelling device to evoke historical detail and bizarre intent.

photo – Tal Shpantzer
PÉTALES the fragrance is a multi-layered abstraction and interpretation of elements of Shpantzer's work, conveyed through the voice of Etienne Cheveruil, a fictional 19th-century perfumer from the Euphorium Brooklyn.
PÉTALES 50ml and 30ml decants available at Twistedlily.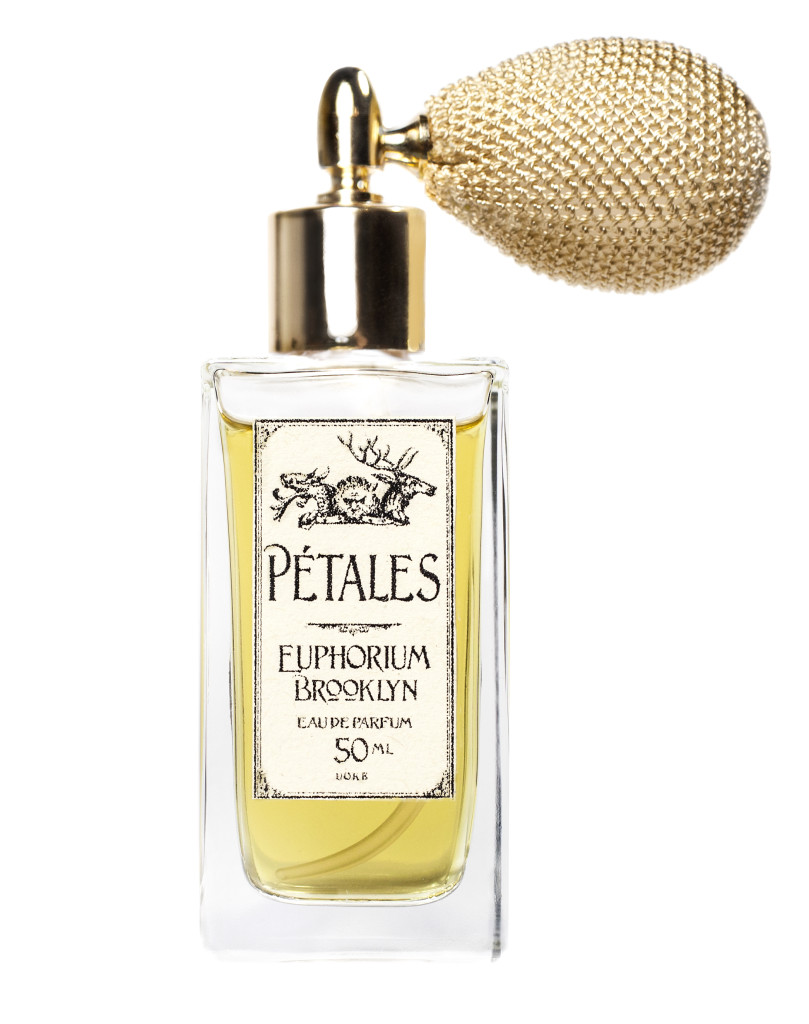 8ml decant available in the VOLUPTUARY SET and the DISCOVERY SET #1 at Twistedlily
A special thanks to Shawn Lyons, Ana Maria Camejo and the Rabbithole Gallery team for hosting the event and for all the years of supporting our creative endeavor.
Big thanks yous to Serge Cashman for his wonderful photography of the night featured here. Thank you so much for the great turn out and support from so many friends of Art, Olfaction, and much in between!
More background on the collaborative process between Stephen and Tal in Michelyn Camen's article for Cafleurebon
Event article from Jodi Battershell at Fragrantica.com

photos by Serge Cashman

photo by Tal Shpantzer

photo – Sophie Carbonari