can you buy Clomiphene at walmart

Euphorium Brooklyn is excited to present our collection of Eau de Parfum at the 29th INTERNATIONAL PERFUME BOTTLES CONVENTION, May 6th, at the Hyatt Regency, Princton, NJ. We can be found in the "Perfumers Alley" from 1-5:30pm on Saturday of this four day event.
Industry professionals, collectors, scholars, & fans of perfume & perfume bottles converge for a wide range of presentations, auctions, & seminars at this 4 day event from May 4th – 7th.
The weekend offers keynote speakers and presentations on; LAMPES BERGER – A HUNDRED + YEARS OF HISTORY
Bond No. 9 New York founder speech, a Vintage Bottle Auction, UK Coronation & Jubilee Vanity Memorabilia & Elegant Depression Glass presentations.
The scope of the event is so great, Friday's presentations cover several sub-groups within IPBA.
Atomizers – This group focuses on atomizers. Atomizer hardware span the gamut – from Irice, to Holmspray, to DeVilbiss, and Marcel Franck as well as others. Elegant glass blanks from Baccarat, Lalique, Galle and other high end glass to more median priced glass from Bohemia and Germany and many, many others may grace those hardware tops.
Compacts & Vanities – The Compact and Vanities Speciality Group will share wonderful powder boxes and related puff items at their convention gathering. Powder boxes go hand in hand with compact collecting! Help with identifying and evaluating items will be available.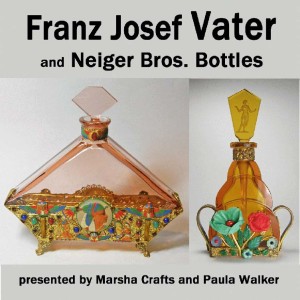 Czechoslovakian – The 2017 gathering of the Czech Speciality Group will feature a special presentation by Marsha Crafts and Paula Walker on the bottles of Franz Josef Vater. The Vater company provided many of the bottles that were incredibly jeweled by the Neiger Brothers.
Perfume Burners & Lamps – The perfume burner or Brule perfume lamp scents the air by an alcohol fuel, wick and catalytic-type stone that smolders and diffuses the scent into the air. The perfume lamp is an electric lamp that contains a small well for holding a fragrance that is heated by a small bulb and is diffused into the air.
Victorian – Although the name Victorian definitely suggest bottles roughly from 1835 to 1900, it by no
means begins or ends on those dates.
(images courtesy IPBA)