BUTTERFLY SET an Eau de Parfum and Seed Packet Set for Women and Men.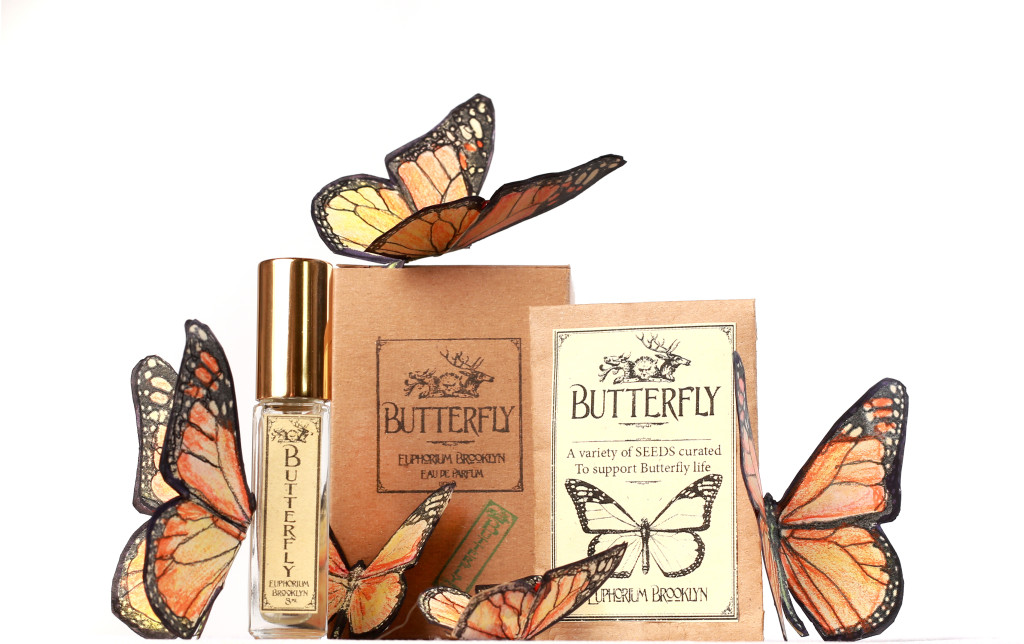 An 8ML spray top bottle of BUTTERFLY Eau de Parfum accompanied by a seed packet, curated to sustain butterfly life and habitat.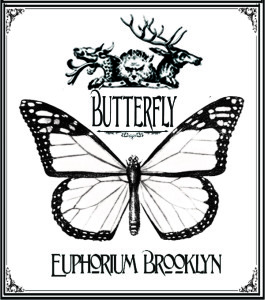 BUTTERFLY Eau de Parfum by Euphorium Brooklyn:
– Sourced from the Finest Rare and Exotic Oils, Tinctures and
Absolutes
– Traditional Euphoria Inducing Komodo Process
– Handcrafted in Brooklyn, New York
– Formulated in Perfumer's Alcohol
– Also Available in 50ml, 30ml, & 8ML spray top bottles
BUTTERFLY FRAGRANCE PROFILE
Featuring accords of Violet & Wildflowers, Wild Mint & Grass, Water & Moss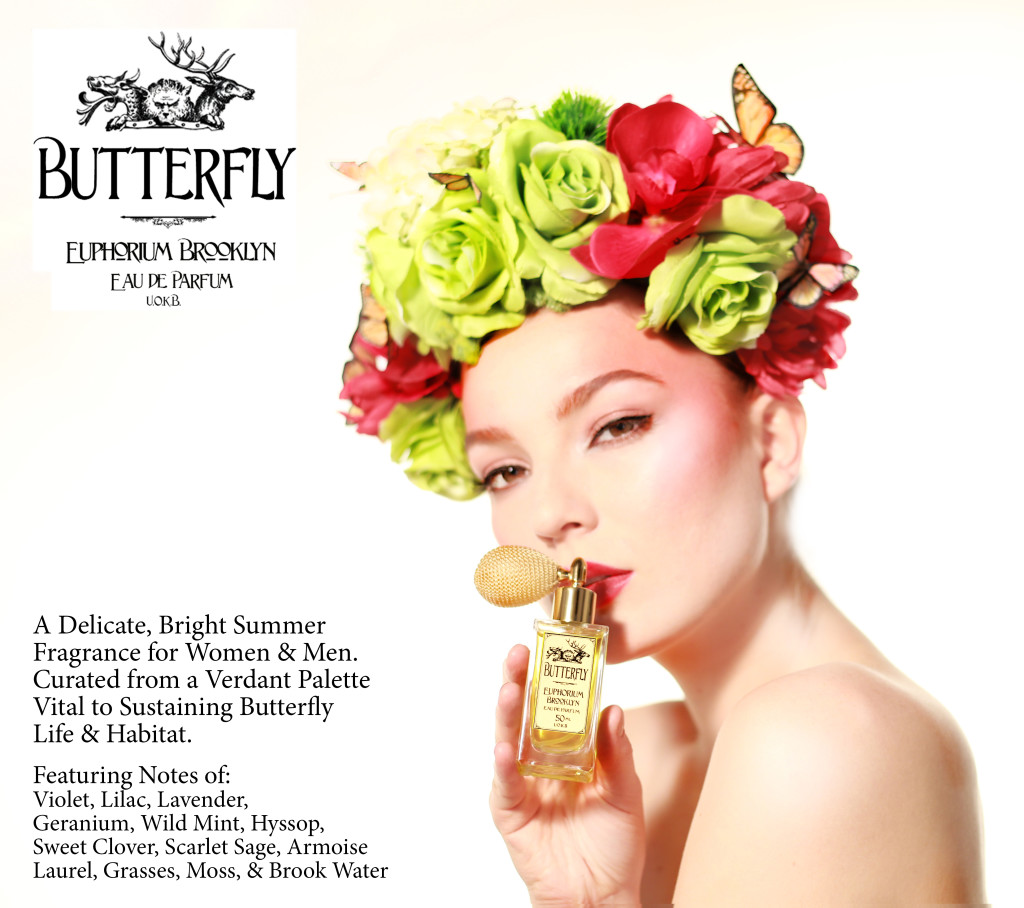 FRAGRANCE NOTES
Violet, Lilac, Lavender, Geranium, Marigold, Wild Mint, Mountain Laurel, Hyssop, Milkweed, Scarlet Sage, Armoise, Sweet Clover, Grasses, Moss, & Brook Water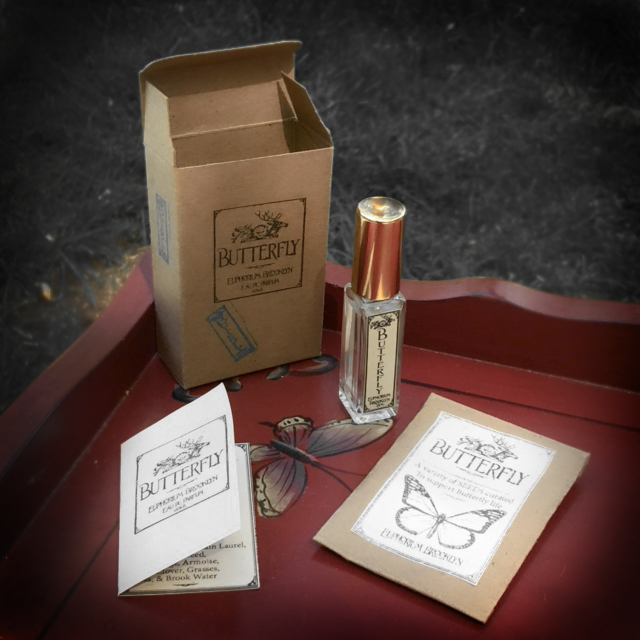 BUTTERFLY Eau de Pafum is based on the fragrant plant life that sustains butterflies and their habitat.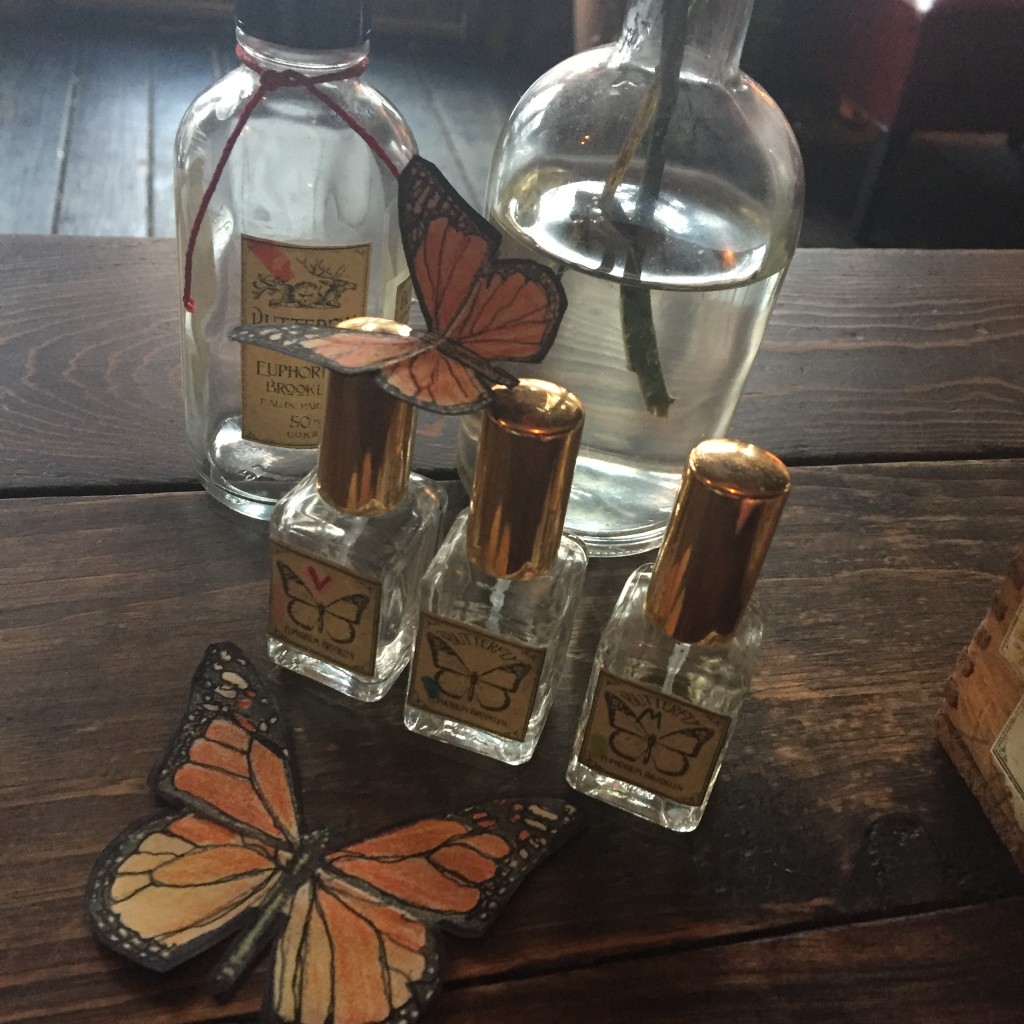 Although perhaps a peculiar starting point to develop a fragrance palette, butterflies have done a remarkable job of curating a wide range of fragrant floral, mint, grass, & herbaceous notes for a perfumer to work with.
Euphorium Brooklyn Butterfly Eau de Parfum from stephen dirkes on Vimeo.
Learn more about BUTTERFLY Eau de Parfum.
BUTTERFLY fragrance review by Robert Herrmann, Sr. Contributor & Michelyn Camen, Art Direction/ EIC, Cafleurebon.
BUTTERFLY SET – SEED PACKET
Curated to sustain butterfly life and habitat, a seed packet contains a variety of seeds including; milkweed, butterfly bush, lavender, violet, marigold, mint, sage, & a variety of nectar flowers.
Planting in spring after last frost, sow seeds in shallow half to one inch holes. With sunlight and moisture, seedlings should emerge 10-21 days and bloom in summer.
Seedlings can be started indoors 8-12 weeks before transplanting outdoors after last frost. Seeds can also be sown outdoors at the end of the summer before the first frost for the following year.
PERFUMER'S INSPIRATION
Recent and aggressive development of Greenpoint's waterfront has denuded the banks of the New Town Creek and East River of wild plant life and has had an immediate impact on migratory butterfly populations.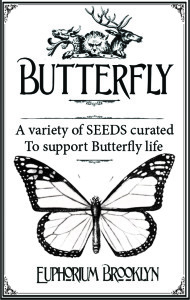 BUTTERFLY EFFECT – Greenpoint, Brooklyn from Euphorium Brooklyn on Vimeo.
Reaching out to gardener neighbors, botanists and lepidopterists (butterfly specialists), butterfly gardens seemed to be a way we could help preserve butterflies and their habitat on an individual and community basis.
Situated on the migratory path of the Monarch butterfly's incredible journey from Canada to Mexico and back, the butterflies discovered the rich flora on Greenpoint's water's edge for themselves, establishing a marvel of nature with seasonal clouds of butterflies signalling the start of summer in this otherwise grey industrial corner of New York City.
Butterflies are sustained by a wide variety of colourful and fragrant nectar flowers and weeds of all types. Most unique is their relationship to the milkweed plant. Highly toxic to most animals, claiming the lives of horses that forage on milkweed, the butterfly is able to utilize the milkweed's toxins to protect itself.
With an ability to safely ingest the toxins and move them to their exoskeleton, the butterflies themselves become toxic to predators to defend themselves and also lay eggs to become larvae on the milkweed plants to protect the next generation.
Euphorium Brooklyn will launch the BUTTERFLY SET with the North Carolina Arboretum on Saturday, May 13th in conjunction of the opening of their "Winged Wonders: Step Into the World of Butterflies" exhibition which will run all summer.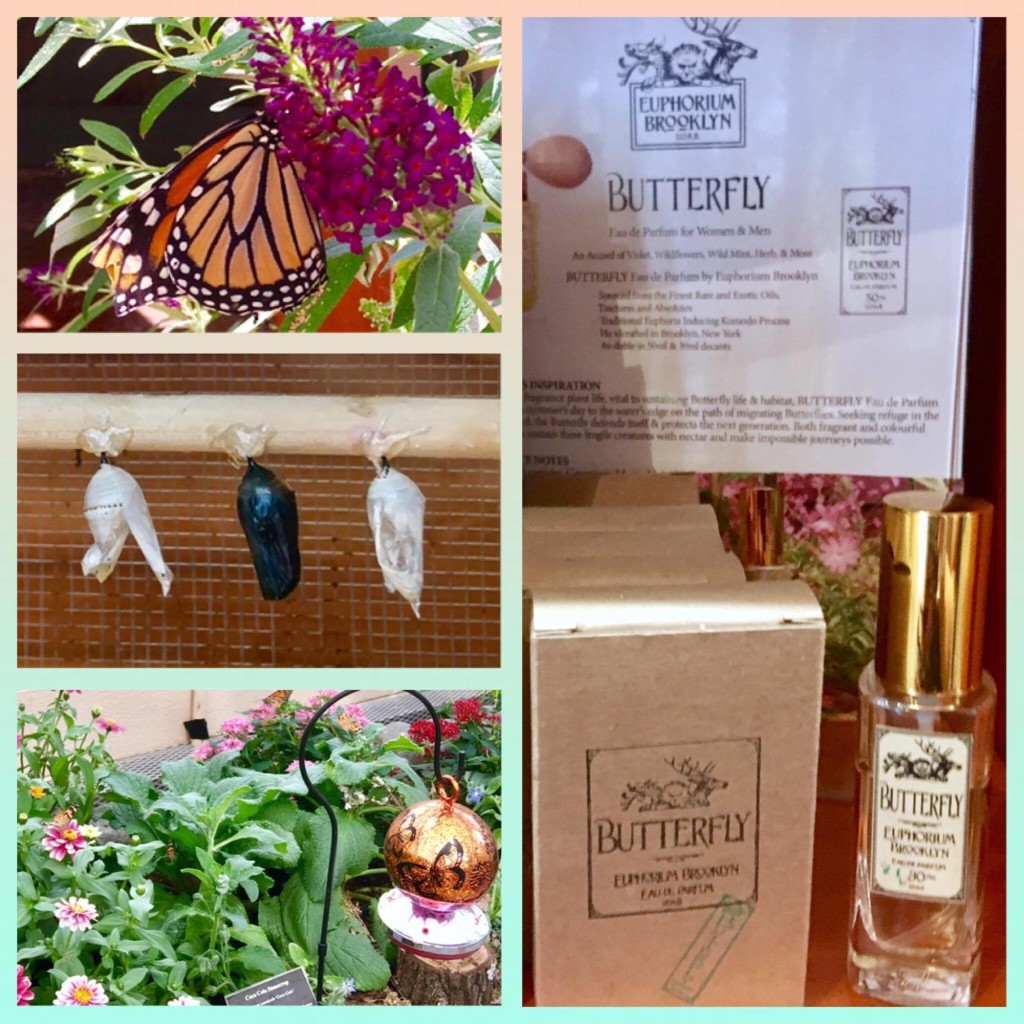 photo – Elizabeth Rose
See the miracle of metamorphosis before your very eyes inside the Baker Exhibit Center Greenhouse. Winged Wonders is an indoor butterfly exhibit featuring a chrysalis-rearing chamber and a walk-through butterfly house where visitors can meet a whole host of local butterfly species, including monarchs, swallowtails and more. In the South West, the BUTTERFLY Set flutters by the Santa Fe Botanical Garden atop Santa Fe's Museum Hill to enjoy the awesome collection of desert flora teaming with Butterflies.
Euphorium Brooklyn is interested to promote sustaining butterfly habitat and partnering with Arboretums, Botanical Gardens, & Natural History Museums across the U.S. to distribute the BUTTERFLY SET. Contact us about partnering with your institution: butterfly@euphoriumbrooklyn.com
EUPHORIUM BROOKLYN BUTTERFLY SET – Butterfly Garden from stephen dirkes on Vimeo.