FLOCKED & GILDED Eau de Parfum
FLOCKED & GILDED Eau de Parfum by Euphorium Brooklyn for Women and Men.
FRAGRANCE PROFILE
Rich layered Orange, Creamy Amber, Chocolate, and Balsamic accords.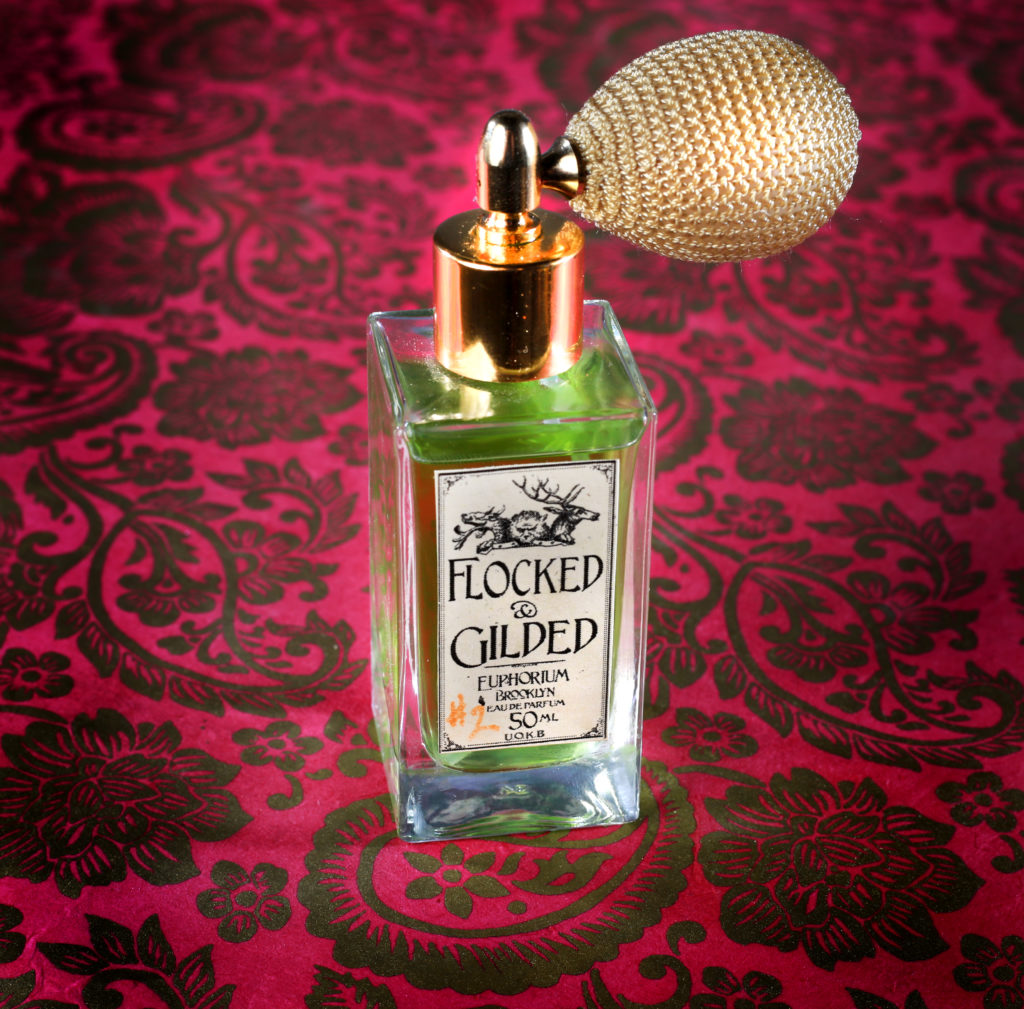 FLOCKED & GILDED Eau de Parfum by Euphorium Brooklyn:
– Sourced from the Finest Rare and Exotic Oils, Tinctures and
Absolutes
– Traditional Euphoria Inducing Komodo Process
– Handcrafted in Brooklyn, New York
– Available in 50ML (with additional bulb atomizer), 30ML, & 8ML spray top bottles
FLOCKED & GILDED FRAGRANCE NOTES
Blood Orange, Geranium, Labdanum
Honey, Cocoa, Cream, Vanilla, Amber, Tobacco,
Benzoin, Gurjun Balsam, Patchouli, Haitian Vetiver, Musk
FLOCKED & GILDED INSPIRATION
The rich pairing of ripe blood orange and brilliant red geranium creates a bright and
fruited opening. Middle notes of sweet honeyed fruits, balsams and sparkling amber
are given depth and texture with a hint of cocoa and spicy patchouli. Nutty balsamic
resin and creamy notes provide a dark grounding with musk to resolve the accord.
INSPIRATION – PERFUMER CHRISTIAN ROSENKREUZ
"Robber Baron mansions of the Gilded Age temper scarlet Victorian decadence with
the arched symmetry of gothic revival. Sumptuous velvet and richly patterned brocades
make plush undulations. Carved wood ornate, embellished, and gilded shimmers in restless
fretwork and provides the smooth ground for a complex sensual interplay of texture."
– A Sensual Application of the Principles of Architecture and Design, Christian Rosenkreuz (1853)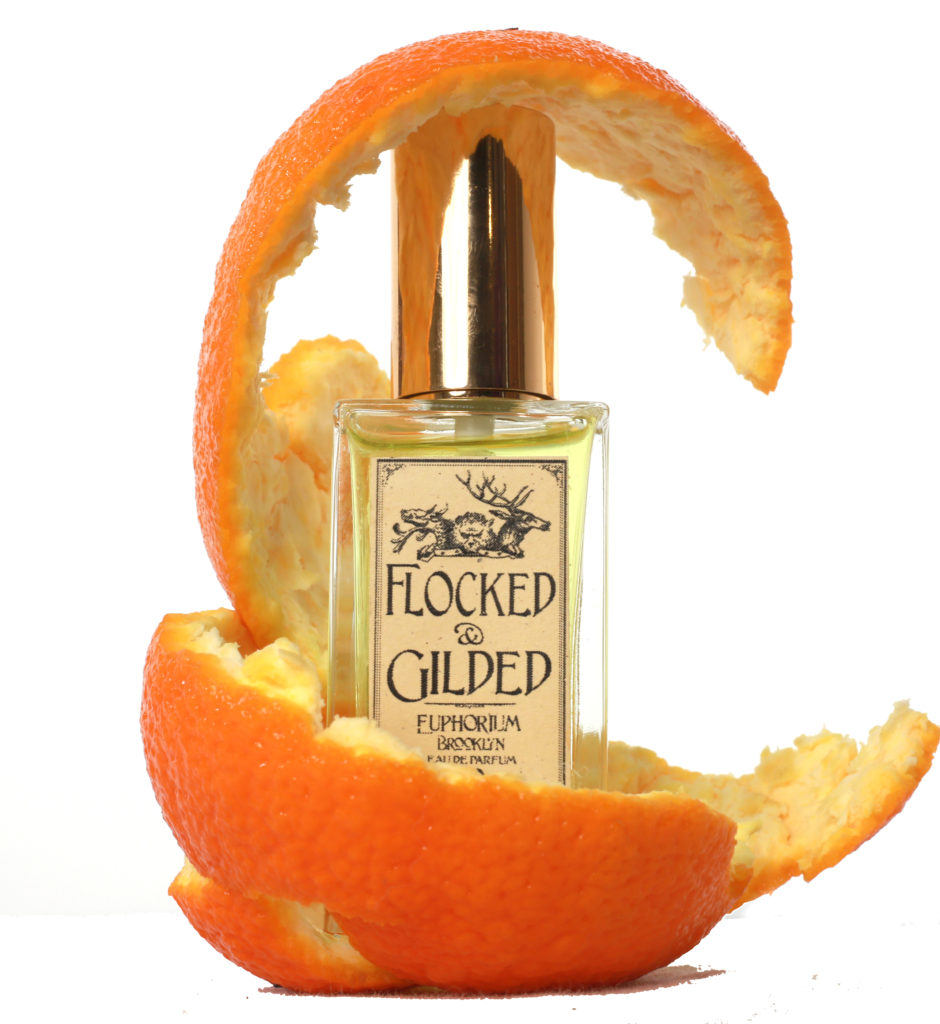 FLOCKED & GILDED – EXTENDED BACKGROUND
Whether he was driven more by his obsessive love for a fleeting romance of his youth,
or his need to create the manifestation of his concept of a "Gesamtkunstwerk" or
modern opera that both embraced the olfactive arts and the new technology of film,
it is not known. We do however, know the scent of Christian Rosenkreuz', FLOCKED & GILDED.
Christian Rosenkreuz had made the acquaintance of a Miss Jeanne Duval in an 1840
expedition to the island of Haiti.
Miss Duval worked in connection to the estate of his German relatives involved with
coffee cultivation.

Jeanne Duval photographed by Nadar
He had encouraged her to explore her interests in creative expression and dance in
Europe and the two were to meet again in a London conference on the works of Zeami
and his theories on Japanese Noh drama in 1842.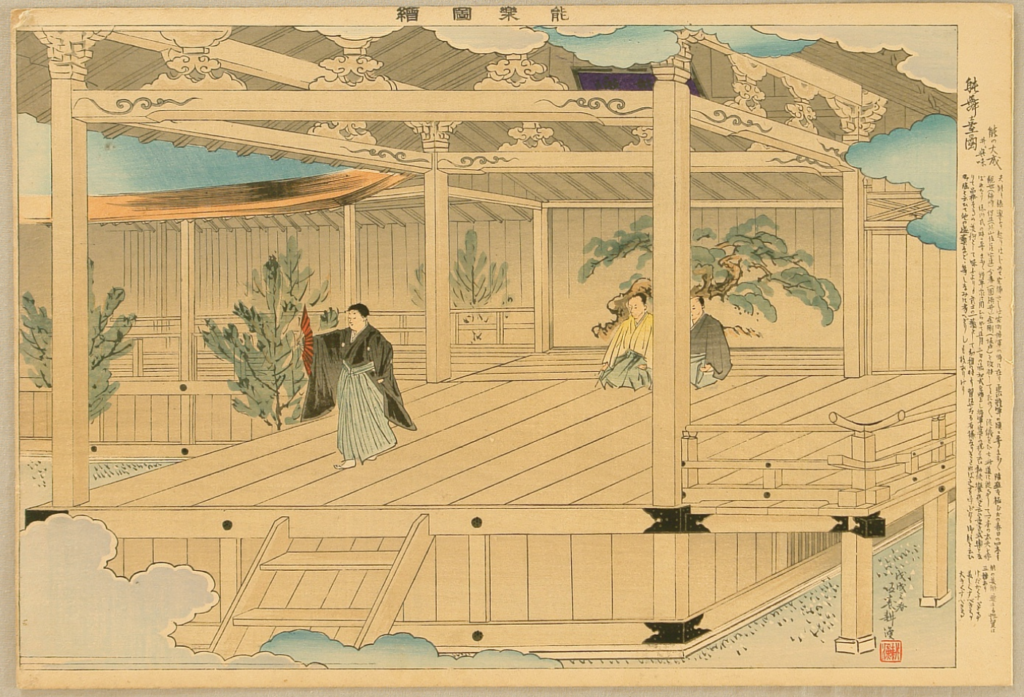 Noh Theater by Kogyo Tsukioka
Drawn to each other's passion for this arcane art form and passion for rarefied sensual
pleasure in general, a brief romance blossomed again during his short visit.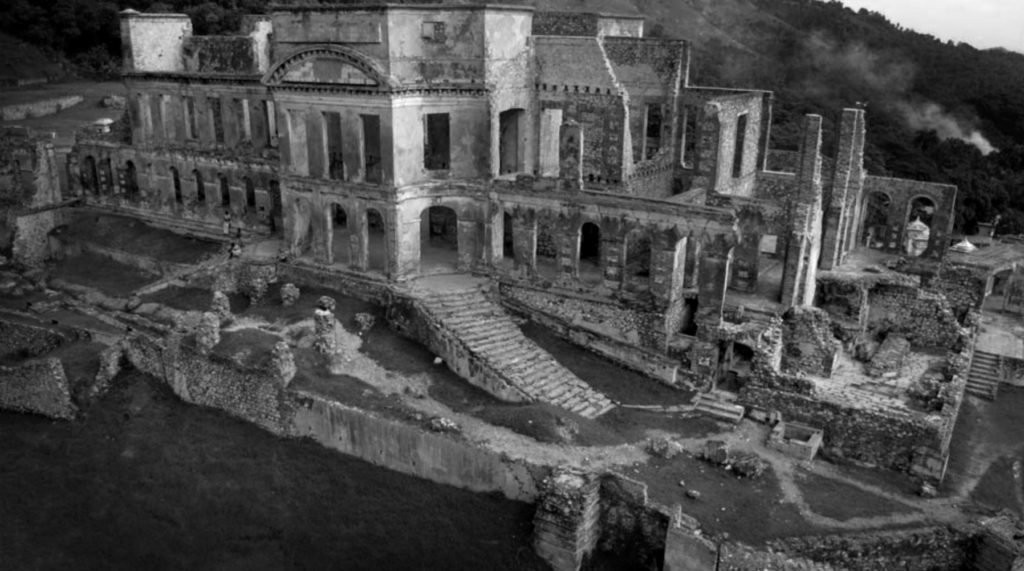 Ruins of Palace of Sans-Souci, Haiti, destroyed by earthquake in 1842
Duval had narrowly escaped a devastating earthquake in Haiti to attend the London
symposium and had recently arrived in Paris with a strong sense of sensual abandon
and vitality to her spirit, which she attributed to having just escaped her certain death.
Ms Duval went on to become a dancer, actress and muse to composers, painters, poets,
photographers, and at least one perfumer in her remarkable life.

Jeanne Duval painted by Edouard Manet
Charles Baudelaire knew of Rosenkreuz' love affair with the woman he was to fall in
love with himself only months later. Jeanne Duval had become Baudelaire's mistress
and muse and remained so (off and on) for many years.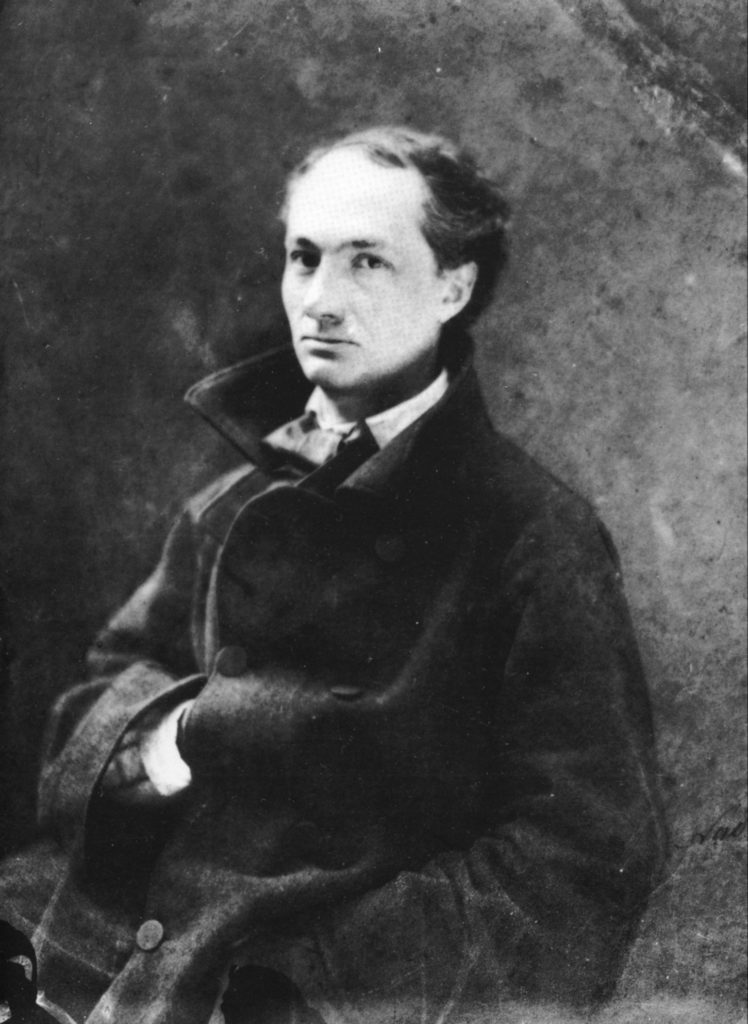 Charles Baudelaire photographed by Nadar
In 1847, Baudelaire became acquainted with the writing of Edgar Allan Poe and from
this time until 1865, he devoted much of his creative energy to translating Poe's work.
It is rumored that Baudelaire had discovered an unknown script for a surrealist and
decadent theatrical production entitled, FLOCKED & GILDED, in his research and was
preparing to both publish and produce the work shortly before his untimely demise.

Edgar Allan Poe photographer uncredited
Rosenkreuz had long been developing aesthetic theories on a new form of opera,
a new form of theatre that involved the olfactory arts and the burgeoning media of
film, in what he referred to as, "Cinesense".

Edgar Allan Poe Original Manuscripts
Looking for a story that wed all of our senses in the telling, Rosenkreuz found
his story in Poe's FLOCKED & GILDED, which Baudelaire had introduced him
to in their correspondence. Having met Poe once in 1846 at a cottage in Fordham,
Rosenkreuz was inspired by the man and his writing and begins the creation of a
perfume which is the olfactive component of what will be his Cinesense masterwork,
FLOCKED & GILDED.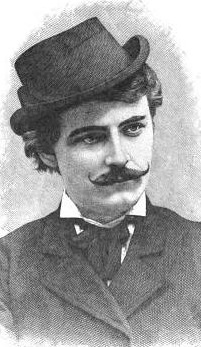 Portrait of Poet and Composer, Francis Saltus
Through Baudelaire, Rosenkreuz was introduced to poet, composer, and fellow New Yorker,
a young Francis Saltus in 1856 who he discovers shares many of his opinions about decadence,
sensuality, aesthetics, and culture. Upon commissioning a score from Francis Saltus,
Rosenkreuz attempts in vain to commission a libretto adapted from Poe's FLOCKED & GILDED
script from Baudelaire.

Self Portrait of Photographer and Scientist, Nadar
Rosenkreuz was also able to make the acquaintance of Baudelaire's friend, Nadar, a
scientist and photographer. Nadar had begun experimenting with the use of electric
light in photography and in the animation of wet plate photographs to create a
projected motion picture. Nadar was enthused to evolve his experimentation to
attempt to create the first work of a new art form, based on Poe's libretto or
script adapted by his friend and father of the Decadent Movement, Baudelaire
and eagerly agreed to film it with Rosenkreuz.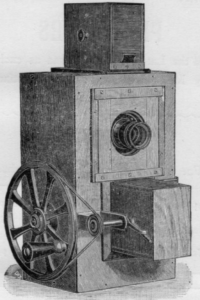 Jeanne Duval was Nadar's mistress after her meeting Rosenkreuz in Paris and then
became Baudelaire's mistress later in 1842. It was through Rosenkreuz's brief, but
soulful and sensual connection to Jeanne Duval, that he was to meet Baudelaire,
Saltus, and Nadar. This celestial entanglement of loves could be described as the
orbits of Rosenkreuz, Nadar, and Baudelaire encircling the Sun that was Jeanne
Duval. This complex arrangement is manifest in the origins of Baudelaire's poem,
EXOTIC PERFUME, which was dedicated to Jeanne Duval and was rumored to have
been inspired by the perfume Rosenkreuz had created in homage to her.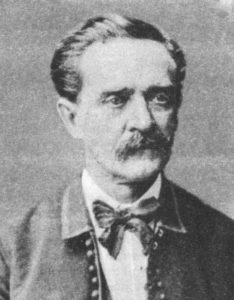 Photograph of Czech writer, Karel Sabine
The four, Rosenkreuz, Baudelaire, Nadar, and Saltus, had planned to meet in the
country estate of Czech writer and librettist, Karel Sabina outside of Prague to
rehearse and film the production. With Rosenkreuz unable to secure funding for
the project, Baudelaire aged, in poor health, and in no condition to work on the
project, and Nadar's lack of technical development to take on the project, the
1856 "Prague Symposium on the Establishment of the Art of Cinesense" and
filming of FLOCKED & GILDED was never to be.
It was rumored the fragrance Rosenkreuz created for FLOCKED & GILDED, was to have
inspired Baudelaire's 1857, Les Fleurs du Mal.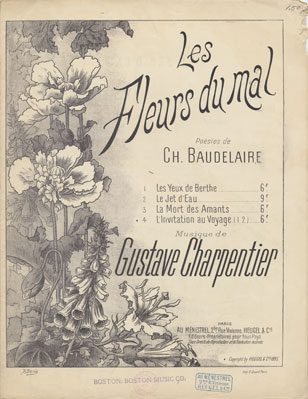 Les Fleurs du Mal, Charles Baudelaire, 1857
PARFUM EXOTIQUE (EXOTIC PERFUME)
When with closed eyes in autumn's eves of gold
I breathe the burning odours of your breast,
Before my eyes the hills of happy rest
Bathed in the sun's monotonous fires, unfold.
Islands of Lethe where exotic boughs
Bend with their burden of strange fruit bowed down,
Where men are upright, maids have never grown
Unkind, but bear a light upon their brows.
Led by that perfume to these lands of ease,
I see a port where many ships have flown
With sails outwearied of the wandering seas;
While the faint odours from green tamarisks blown,
Float to my soul and in my senses throng,
And mingle vaguely with the sailor's song.
– from Les Fleurs du Mal, Charles Baudelaire, 1857
The Decadent Movement is still alive and well in New York City. Our FLOCKED & GILDED
SPECIAL EDITION Sneak Peek at MAISON10 at 29th St. in Manhattan was a fun night
and great chance to meet and mingle with many of the artists and designers connected
to the Cycle12 launch of work.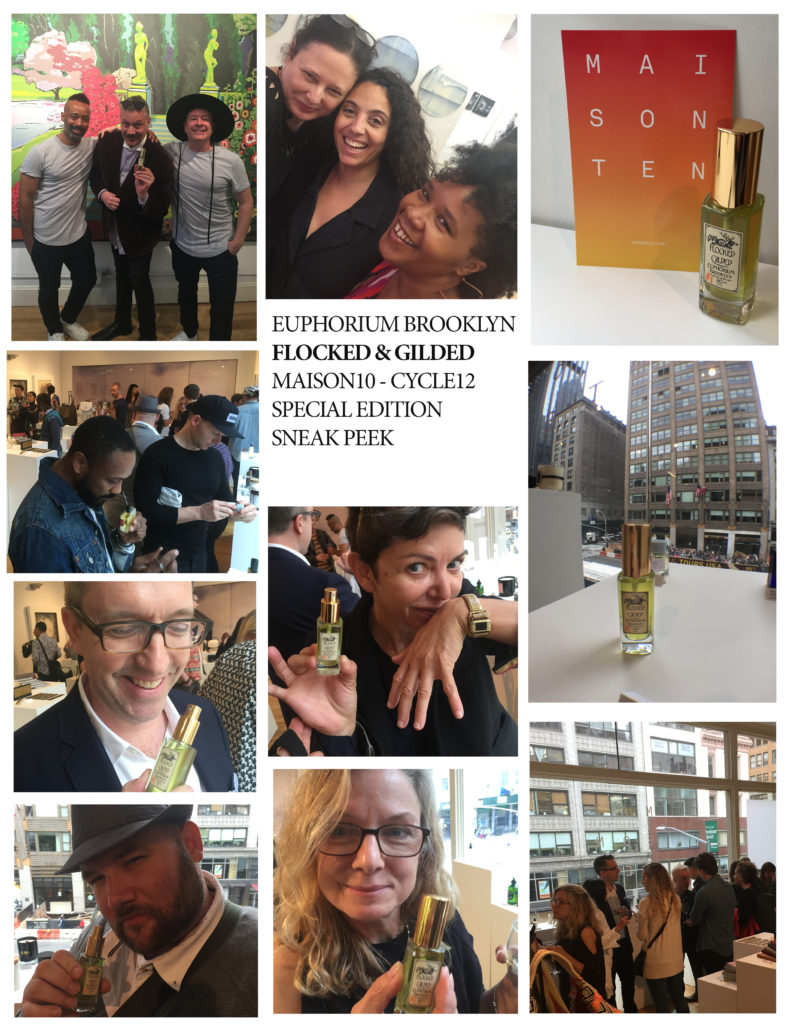 Another FLOCKED & GILDED Sneak Peek at The Big Chocolate Show with a special
presentation of CHOCOLATL Eau de Parfum. Thousands of curious noses came
through throughout the weekend and FLOCKED & GILDED was a big hit.