CILICE Eau de Parfum by Euphorium Brooklyn for women and men.
FRAGRANCE PROFILE
Incense, Beeswax, Sweet Balsam, Wounded Wood and Leather Accord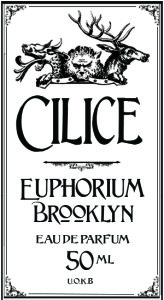 CILICE Eau de Parfum by Euphorium Brooklyn:
– Sourced from the Finest Rare and Exotic Oils, Tinctures and Absolutes
– Traditional Euphoria Inducing Komodo Process
– Handcrafted in Brooklyn, New York
– Available in 50ML (with additional bulb atomizer), 30ML, & 8ML spray top bottles
– Also available in the HERITAGE SET
PERFUMER'S INSPIRATION
"I am at once both soothed and intrigued by the dry air that carries in its memory a myriad of fragrant
notes that weave an exquisite tapestry of incense, wax, wood and leather. Patiently crafted by countless
wisps of rich incense, the patina of time is lifted by the soft, effusive light of sweet beeswax
candles. Something darker, both sensual and primitive, compels a deeper breath."
– Perfumer Etienne Chevreuil.
The Ecstasy of Devotion (1856)
CILICE from stephen dirkes on Vimeo.
FRAGRANCE NOTES
Benzoin, Labdanum, Frankincense, Elemi, Leather,
Beeswax, Angelica, Cistus, Clove, Honey, Papyrus, Cloister Liqueur,
Ambergris, Oud, Cedar, Coumarin, Birch Tar and Castoreum.
About the Perfumer, Etienne Chevreuil
1860's co-founder of Euphorium Brooklyn and self proclaimed "Transcendental Sensualist",
Mr. Etienne Chevreuil evolved theories of achieving euphoric states through the use of
acoustically harmonized perfume and ritualistic ceremony.
The original Euphorium Brooklyn perfumes were intended as elements of larger elaborate,
transcendental rituals referred to as "Knowing – Becoming". Fragrances were linked to specific
animistic spirit guides or totems and inducing specific euphoric states. The Stag represented
Mr. Chevreuil's personal animal guide and is featured on Chevreuil family heraldry.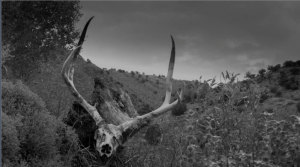 Born outside Grasse, France, Etienne was the youngest child of Jean Claude Chevreuil (also know as the
Lavender Baron of Grasse) and famed mentalist, Hildegard Gottscalk (Sister of famed Theosophist,
Madame Gottscalk- Chau.)
After a largely misspent youth as bon vivant and trifler, Etienne eventually travelled widely, spoke six
languages, was a pioneering choreographer, olfactory tableau artist and published on a variety of natural,
exotic and occult sciences.
The outcome of extensive experimentation in "Transcendental Sensualism", Chevreuil's
published work includes: Deer Antler Development (1851), Tableaux Euphoric ( 1853 ), The Ecstasy of
Devotion (1856), Komodo Process Part 3 – Acoustic Harmonization (1857), Self-Mortification and
Transcendence (1860), The Sensate Spiritualist (1862), Teresa and the Wounded Tree (1863) and
573 Known States Euphoric (1867).
PERFUMER'S INSPIRATION (Expanded)
A 19th century installation artist of sorts, Mr. Chevreuil created an immersive art form he called,
"Tableaux Olfactif " in which he would perfume an empty salon to recreate a specific environment and
scene that would unfold over time and be told by scent and scent alone.
With CILICE, Etienne sought to capture and convey the sensuality of the environment and intensity of
emotion when a young nun is encountered in her cloistered cell. An intimate and ecstatic moment is
observed as she becomes transcendent.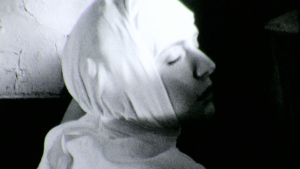 Etienne Chevreuil writes,
"Velvet curtains, crisp linen, dusty gilt, crumbling plaster and parchment are exalted to a subtle perfume
by warm shafts of sunlight. As fragrant tears are drawn from the wounds of ancient Agarwood,
Benzoin and Olibanum trees, the Cilice releases a purer self that transcends her suffering.
Bound tight by soft leather, a note of rusted metal sinks into deeper notes of warm skin
and animal musk to discipline the flesh and release the soul.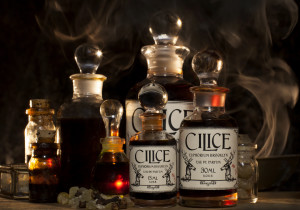 Her sweet release, an ecstatic moment of extreme emotion and sensation is
captured in the deepest memory of scent. A child of the little flower, I now know
her Ecstasy of Devotion."
The Ecstasy of Devotion (1856)
Sterling Silver & Perfumed Suede Cilice:
Exclusively handcrafted in Brooklyn, New York for Euphorium Brooklyn this traditional chain-link,
sterling silver Cilice is trimmed with Parfum infused Suede Laces. The Cilice may also be ordered in the
"blunted" option for non-functional use, in which each barb is smoothed by hand.
Cilice feautured in Town & Country Magazine by Jamie Rosen in the March 2017 Round up of seductive oud note fragrances, Liquid Gold – Has Seduction Ever Smelled So Good?.
Snapshot portraits and first impressions at CILICE First Encounters.