PÉTALES Eau de Parfum
PÉTALES Eau de Parfum by Euphorium Brooklyn for Women and Men
FRAGRANCE PROFILE
Moonlit Petals, Pink Grapefruit, Honey, Fig. Anise, Elemi, Indole & Musk Accord
PÉTALES Eau de Parfum by Euphorium Brooklyn:
– Sourced from the Finest Rare and Exotic Oils, Tinctures and Absolutes
– Traditional Euphoria Inducing Komodo Process
– Handcrafted in Brooklyn, New York
– Available in 50ML (with additional bulb atomizer), 30ML, & 8ML spray top bottles
– Also available in the VOLUPTUARY SET
– Inspired by Tal Shpantzer's photo series, "Petal Series"
"PÉTALES is a story that is told in the night filled with silhouettes of blossoms by moonlight and petals by the glow of a flame. Scent rules the heart when the world puts away its colour and pattern to indulge senses honed for darkness. PÉTALES is not a book of bright flat botanical prints to be read by sunlight, this is a tome of shadow, texture and inuendo to be consumed by smell, by touch and taste. PÉTALES is no painted bouquet to appraise, coolly detached from a comfortable distance, Pétales is scent inhaled deeply and hungrily from inside the flower. With a desire to be overwhelmed, blossoms, nectar, leaves, stems and earth are all presented to devour. Rich honeyed fruit bringss a ripened urgency to the seduction that develops in these evening encounters." – C. Rosenkruez & R. Komodo, "An Annotated Compendium of Botanical Erotica and Olfactive Aphrodisiacs" (unpublished notes, 1863)
PERFUMER'S INSPIRATION
Beginning with a dramatic and bold opening of dark floral notes, rich layers of rose, geranium and lily unfold and evolve to include lavender, violet and crisp stems. Bright palmarosa, elemi, pettigrain and pepper shimmer over a dark pairing of orchid and orris.
PÉTALES Eau de Parfum 2017 from stephen dirkes on Vimeo.
A nectar of juicy pink grapefruit and honey drips to sweeten and soften the bouquet. Petals drop to expose softer linden blossom, neroli and jasmine. Nectar pools on a bed of ripe fig, sweet anise, rich labdanum and dark vetiver and dries to a luxurious velvet of soft moonlit petals, spiced balsam, light woods and warm musk." – E. Chevreuil (1860)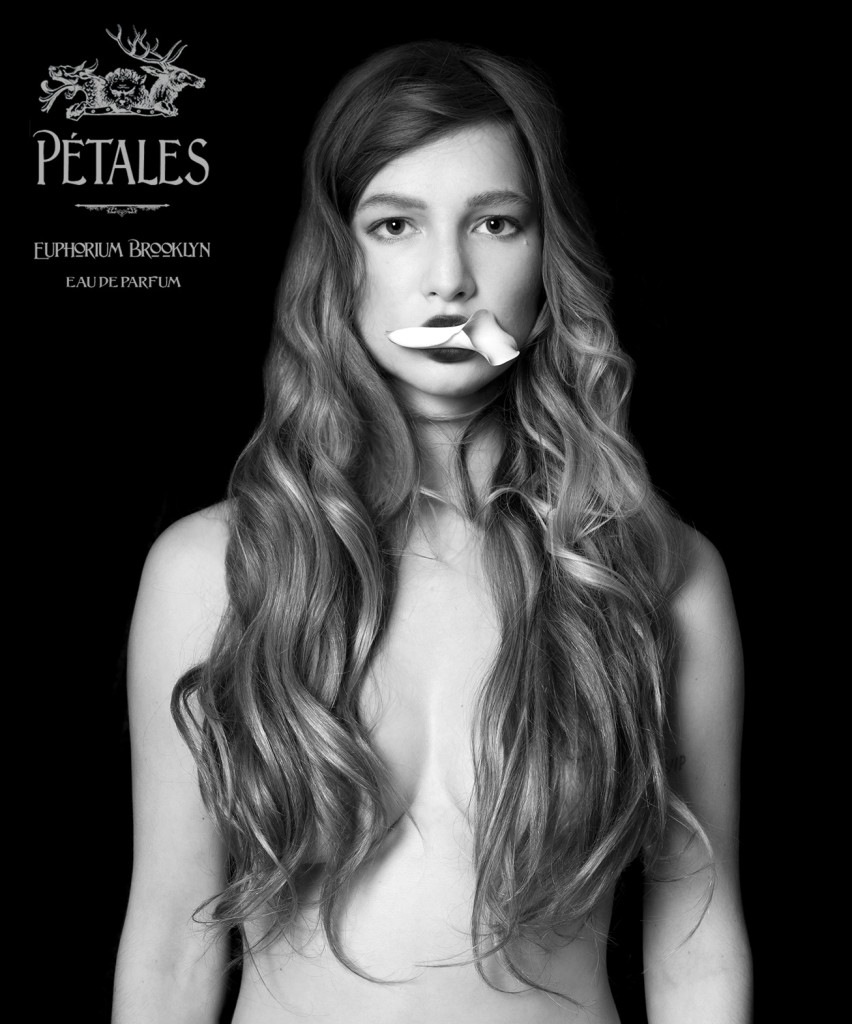 FRAGRANCE NOTES
Rose, Lavender, Orchid, Hyacinth, Linden Blossom, Lily, Iris, Orange Blossom, Violet, Orris, Jasmine, Geranium, Palmarosa, Pettigrain sur la Fleurs, Galbanum, Green Stem, Moss, Pink Grapefruit, Fig, Honey, Star Anise, Elemi, Black Pepper, Vetiver, Labdanum, Benzoin, Tolu Balsam, Ambergris, Indole, Tonka Musk
About the perfumer, Etienne Chevreuil
Although Etienne loathed the flower fields by daylight, as they represented everything provincial, dirty and laborious he sought to escape from, he would often play his cello for hours on end in the darkest of night. As a young man in the empty lavender fields, he would dream of the life he yearned to lead in the clubs and salons of Praha, New York and Sao Paulo.
At the age of 14, Etienne developed amnesia from a riding accident on his family's farm. His horse was attacked by a buck at the edge of a wood near the family's lavender fields and Etienne was thrown from the horse. He received a concision in the fall and suffered from amnesia upon recovering consciousness. As though nerves and synapses had been reconfigured, Etienne also awoke with a new found, heightened sense of smell. He eventually began to embrace the opportunity to reinvent himself both physically and mentally. Etienne became an obsessive personal documentarian and accumulated large archives of totemic "keepsake"/ fetish objects, photography and annotated diaristic journals. Chevreuil harbored a longing for his memories lost and sought to recreate what he could no longer access.
Perfume became a powerful trigger to store and revisit a world he had already lost once. Perhaps first inspired by incense in the cathedrals of the south of France, Etienne was fascinated by the function of scent to assist in transcendental meditation.
Because scent has the ability to deeply connect one to specific memory, Etienne set out to create a perfume which would be the distillation of the loves in his life. From the tender age of 14, Etienne began to obsessively record his love affairs. He also associated each figure in his amorous encounters with a specific flower. He maintained this effort throughout his life in an attempt to compose a perfume that would be arrived at by the sum total of love in his life.
PERFUMER'S INSPIRATION (extended)
As decreed in his "Pétales" manifesto (as penned by his 14 year old hand), on his 50th birthday Etienne offered his "Pétales" perfume as testament, document and celebration of a life well lived. Chevreuil believed that an extensive exploration and iteration of the specific would ultimately accumulate enough diversity and complexity to achieve "Harmonic Density" and illuminate or communicate a universal nature/ universal truth. In this regard, Etienne's ambition was not to provide a mere record of his diary in scent, he intended to present that which is the very essence of attraction and love.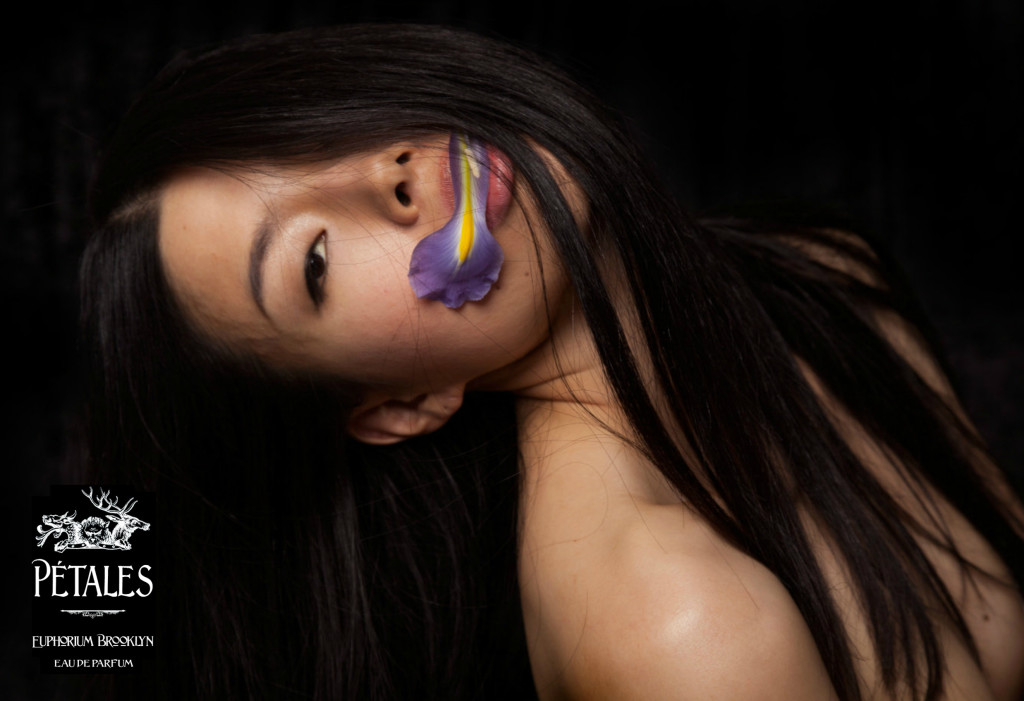 Chevreuil began to compose fragrances when he started to explore the transcendental and mnemonic aspects of scent and memory. Early on, he began rudimentary experiments that would later evolve into complex, "Tableaux Olfactif" installations of narrative storytelling with scent.
Etienne felt that scent captured memory in a direct and unconscious way, but one could learn to develop an associative conscious scent memory in the way musicians learn "relative" pitch recognition.
Etienne further associates fragrance to music in his theory of "chord" building, "olfactive resonance" and developing the "ensemble" of the perfume. "Some times a string quartet, sometimes it is an orchestra I composing for and my notes are chosen accordingly". – E. Chevreuil
Pétales Iris Lapse from stephen dirkes on Vimeo.
PÉTALES Eau de Parfum by Euphorium Brooklyn
Available at twistedlily.com
euphoriumbrooklyn.com
NOTES BOTANICAL, ANIMAL & CHEMICAL PERTAINING TO THE NATURE OF PÉTALES
OBSERVATIONS OF PETALS #35, 11, 73, 6 & 14
– Pollination is an important step in the sexual reproduction of higher plants.
– Petals operate to protect parts of the flower and attract/repel specific pollinators.
– A flower's scent improves the pollinator's ability to distinguish it.
– Honeybees are able to detect subtle differences in the ratio of odours.
– A complex bouquet of scents initially attract pollinators to the flower, but repellent notes stop all the nectar being taken by a single pollinator.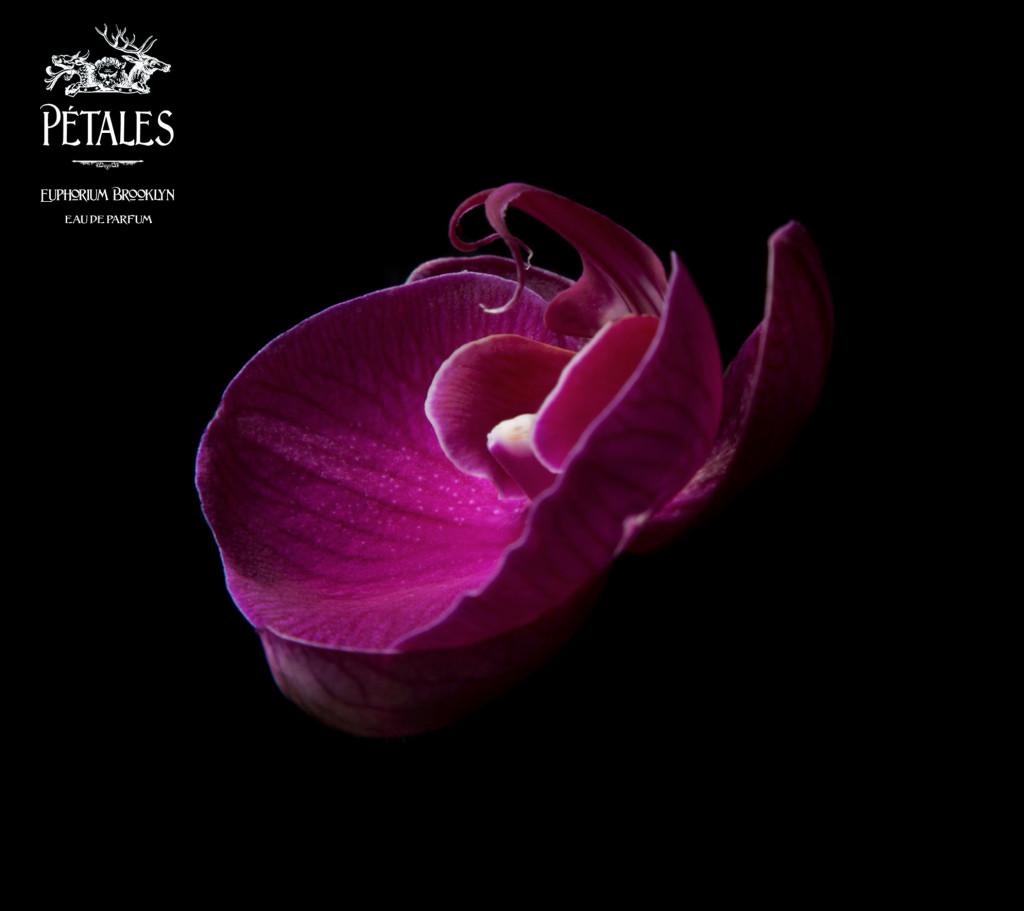 OBSERVATIONS OF ORCHID BEES #27, 53, 28 & 231
– Male orchid bees collect compounds from strongly-scented sources, such as flowers, rotting fruit and feces.
– By dissolving the compounds in lipids they secrete, bees can store scents in pockets on their back legs.
– Each bee gradually builds a signature fragrance over the course of their lives which is concentrated over time.
– These fragrances are released during courtship and territorial behavior.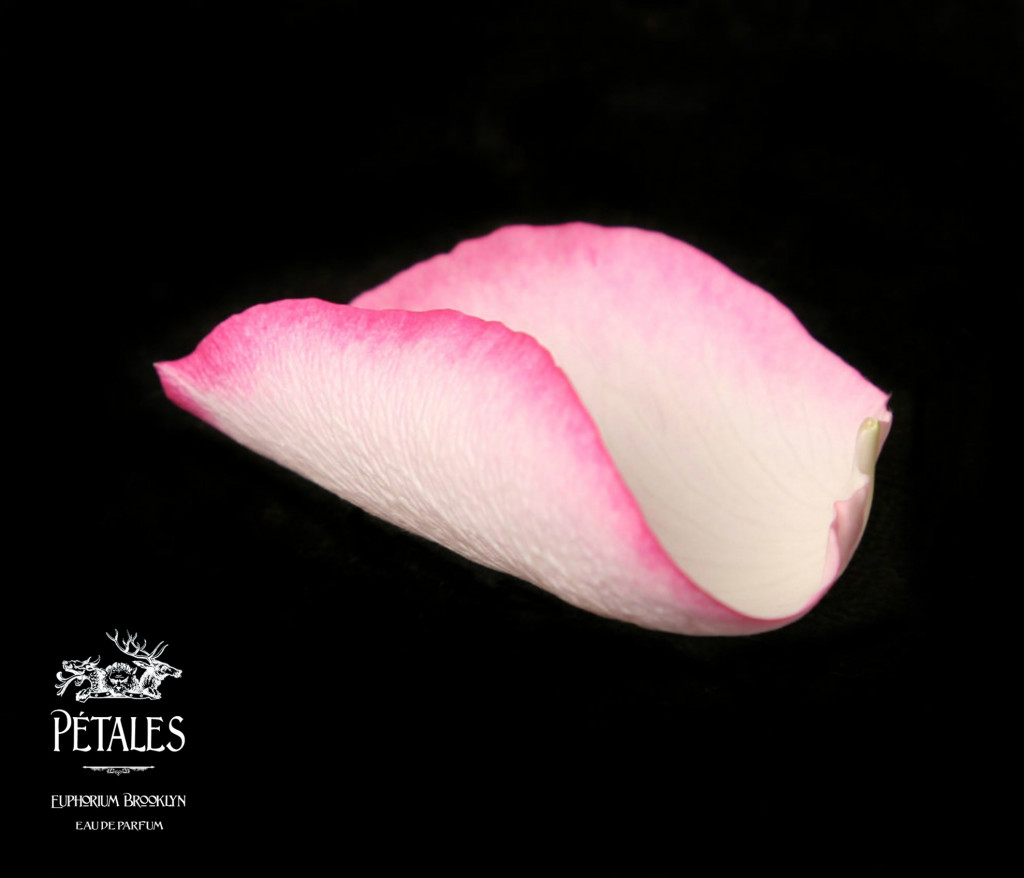 NOTES ON ROSE NOTES #87b, 16 & 32
– The 19th century, saw the first attempts to define and classify scent notes in roses.
– Seven main rose notes were accepted; rose (or damask), nasturtium, orris, violets, apple, clove, and lemon.
– 26 other less common notes in roses have also been identified such as honeysuckle, moss, hyacinth, honey, wine, marigold, peppers, parsley, and raspberry.
– Over 300 chemical compounds are potentially responsible for scent in roses.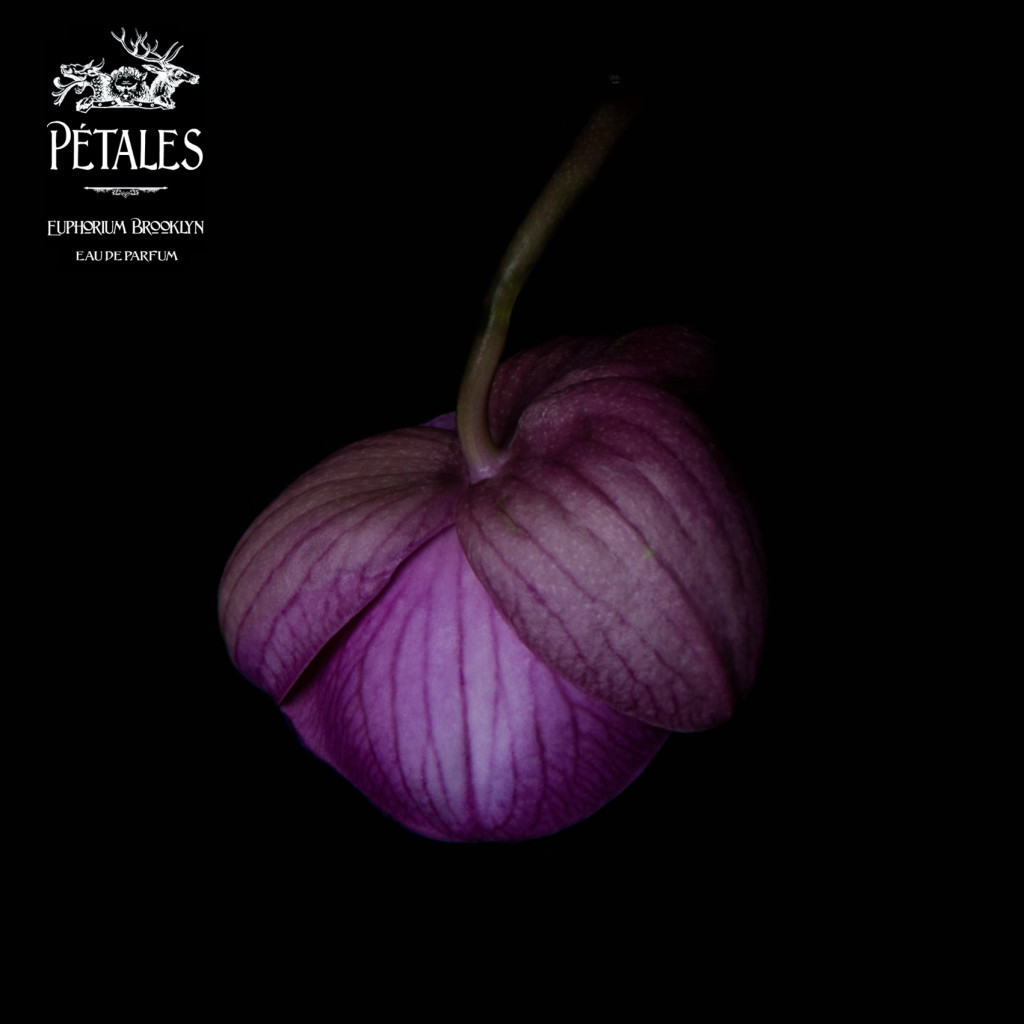 DISTILLATION NOTES #77, 78, 79, 30
– Etienne Chevreuil grew up in Grasse, southern France, where huge fields of 'Rosa Damascena' and other flowers produce thousands upon thousands of tons of petals.
– Fragrance is exuded from glands on the lower petal surfaces and can be extracted from the flower.
– The Chevreuil family used a process of on site steam distillation to prevent a loss of quality by transporting the petals. A large copper vessel was brought into the flower fields and filled with water and 50 kilos of petals per batch.
– A batch of petals was steam distilled twice, the first distillation, or "first water", being deemed the best.
– Approximately 500 kilograms of petals were needed to produce 1 kilogram of waxy "concrete" which yielded only 500 grams of absolute, or attar (1/10th of 1% of the original amount of petals).