blinking
MEOW WOLF invades Las Vegas to create, ART MOTEL, a 21 room immersive art installation in an abandoned downtown motel. A 37 person team transported and installed the work of the Santa Fe based art collective representing 100 odd artists for the LIFE IS BEAUTIFUL FESTIVAL September 22nd – 24th, 2017.

photo by Lindsey Kennedy
After checking out the Meow Wolf "House of the Eternal Return" installation and meeting several members of the Meow Wolf team in Santa Fe this summer, I was very interested to learn about their interest to further explore olfactory ideas in future immersive art installations.
Florida Housewife from stephen dirkes on Vimeo.
I was excited when asked to get started right away and create some scents for the ART MOTEL installation in Las Vegas just a few weeks later.
In an interview with Diane Stern by Zoneil Maharaj, Stern gives an overview of the project, "The rooms will be a smorgasbord of different elements, with some rooms featuring interactive buttons and motion-responsive video projections.

photo by Lindsey Kennedy
Stern describes one as an upside-down aquarium and another as "a forest room with an interactive floor." There's one simply dubbed "Slime Room 1.0,"

photo by Lindsey Kennedy
…and another featuring fighting pillow monsters that festivalgoers can control. "Their arms are gonna be hooked up to pulleys, so you'll be able to box with them. It's like the other side of a pillow fight. Like, what if the pillows are the fighters?"

photo by Lindsey Kennedy
Rose Krayer from Meow Wolf R&D met me in Santa Fe to explore the ideas for a few scents with the very open-ended direction or briefs of "Florida Housewife" and "Old Books".

photo by Lindsey Kennedy
I also spoke with Shannon Flattery who was developing and installing custom hand cranked scent diffusers for the show.
Back in Brooklyn, I created little stories for myself to develop the fragrances with lots of detail to try to evoke very specific environment, character. and mood. I had a lot of very specific olfactory ideas for "FLORIDA HOUSEWIFE" and wanted to create a scent tableaux which included several strong memories of the few winter seasons I lived in Naples, Florida.
The character of Connie and the fragrance evolved hand in hand.
FLORIDA HOUSEWIFE
Meet Connie, a Collier County housewife on Florida's gulf coast. Connie sits smoking in her Impala, glistening in coconut oil in the noon day sun, cocooned in plastic, vinyl, and metal 2 degrees shy of melting. One more shot of vodka, a shiny, shiny coat of polish on her nails and Connie's ready to meet another day.
FRAGRANCE NOTES
Vodka & Cigarettes, Fatty Coconut, Hot Metal, Nail Polish & Asphalt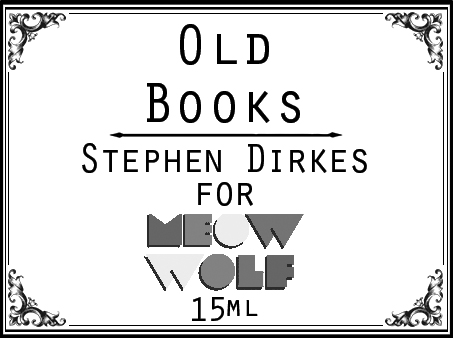 OLD BOOKS
He had lost it all. He had lost everything. It was the books, only the books, and always the books that kept Jasper returning to the misery of it all.
FRAGRANCE NOTES
Paper, Must, Papyrus, Ink, Kaolin (White Clay), Leather & Mold
Oh yeah, there's music at LIFE IS BEAUTIFUL too…
I visited the "House of Eternal Return" in Santa Fe with my Gila Collective collaborators and other residents of the Santa Fe Art Institute Residency program and highly recommend a visit to Santa Fe to check out the show!