Puerto Varas
The Dream of the Butterfly Official Selection international premiere at La Jolla International Fashion Film Festival July 19th – 21st, 2018, La Jolla, California with International Fashion Film Awards nominations for BEST CREATIVE CONCEPT, BEST CINEMATOGRAPHY (Raymond Flynn), BEST ART DIRECTION, and BEST ACCESSORIES (Seevon Chau).
The DREAM of the BUTTERFLY – Or – Le Somnambuliste et la Papillion
A Ballet and Tableau Olfactif in Two Acts – As Dreamt by Etienne Chevreuil in 1856
Duration: 3:42
Director: Stephen Dirkes
Featuring: Brianna Elise Lux, Gregory Kollarus, Sarah Bolander, Chauncey Pauley
Composer: Stephen Dirkes
Choreographer: Brianna Elise Lux
Cinematographer: Raymond Flynn
Assistant Camera: Bert Esenherz
Production Assistant: Junchen Huang
Still Photographer: Tal Shpantzer
Filmed in Central Park, Manhattan, NY
Produced by Stephen Dirkes & Tal Shpantzer
Obscure Object Films for Euphorium Brooklyn 2018
International Premier at La Jolla International Fashion Film Festival 2018
In the fictional 19th century world of Euphorium Brooklyn, perfumer, Etienne Chevreuil has a moving dream of becoming a buck and encountering a beautiful butterfly which leads him to discover a wide array of fragrant plants and flowers.
Waking from drugged slumbers, Etienne (Gregory Kollarus) has transformed into a Buck and is brought to consciousness with a vision of a beautiful Butterfly (Brianna Elise Lux). The Butterfly introduces the Buck to Violet (Sarah Bolander) and Mint (Chauncey Pauley) in turn.
With each encounter the dance becomes more passionate and hedonistic until the Buck collapses exhausted to awake as Etienne with only a fragrant memory of the dream. Mr. Chevreuil is driven to create a fragrance of his experience.
The DREAM of the BUTTERFLY (0:30 Trailer) from Euphorium Brooklyn on Vimeo.
Mr. Chevreuil composed a scenario, commissioned the interpretive skills of a now famous Russian choreographer, and employed the finest dancers to premiere, "BUTTERFLY in the GLADE – A Ballet and "Tableau Olfactif in Two Acts" for a private performance held in conjunction with the launch of his BUTTERFLY Eau de Parfum.
Performed to the accompaniment of what was described as a "motley group of self-proclaimed musicians, charged with the task of evoking whispering winds, growing wings, and the triumphant flutter of first flight".
Whether it was the highly sensual nature of the ballet performed that evening led to what was described as "the orgiastic debauchery of those in attendance", the "enormous balloons releasing a special perfume crafted for the performance from overhead", or the warm, moonlit summer night, several reports indicate extensive hedonistic revelry took place amongst the participants until the morning dew.
Filmed with a variety of hand held camera mounts, the viewer's perspective evolves from voyeur or omniscient spectator to the point of view of a participant, engaged with and dancing in and amongst the characters.
Ultra compact Arri Alexa Mini camera configuration with hand held support allows for intimate POV shots.
A small production footprint was required by the location and an Easyrig camera stabilization system helped Cinematographer, Raymond Flynn capture smooth stabile shots and fluid motion without impacting the environment.
Director, Stephen Dirkes following the natural light and blocking shots with dancers on location.
Raymond Flynn's use of Leica Summilux – C cinema primes lenses helped achieve a filmic look. The Alexa's flexible frame rates allowed for shooting a range of slow motion footage.
PRE-PRODUCTION
Cast travelling from our Brooklyn studio for hair, make up, & warbrobe to our location in Manhattan's Central Park. Still photographer, Tal Shpantzer and Gregory Kollarus in the Brooklyn studio.
SCORE
Inspired by an early 20th century century orchestral aesthetic, I wanted to reference classic Debussy and Stravinsky ballet scores with a soft woodwind opening. The stately dances of baroque Pastorals informed a gentle tempo and rhythm.
As the characters lose themselves more and more to the sensual discovery, the score evolves stylistically to a more contemporary, urgent, minimalist, and percussive piece. The final score involved a mix of classical European orchestra instruments and modern soundscapes and sound effects.
CHOREOGRAPHY
Choreographer, Brianna Elise Lux (Butterfly) leads dancers Sarah Bolander (Violet) and Gregory Kollarus (Buck) in rehearsal with the music score in Brooklyn.
Dancers rehearse with Seevon Chau's headpieces at Triskelon Arts in Greenpoint, BK.
VANITIES
Masha Gvozdov's makeup design incorporated both historical references and aspects of Seevon Chau's head pieces. The bright and color-specific designs were paired with "neutral" white dance tights and tutus.
POST PRODUCTION
Multiple takes with a variety of angles, lenses, and blocking options are edited to the score. Basic color correction conforms shots.
A unique look for the film is developed with historical landscape paintings of Jean-Antoine Watteau (1684-1721) in mind. A pastel color palette was further softened by selective diffusion.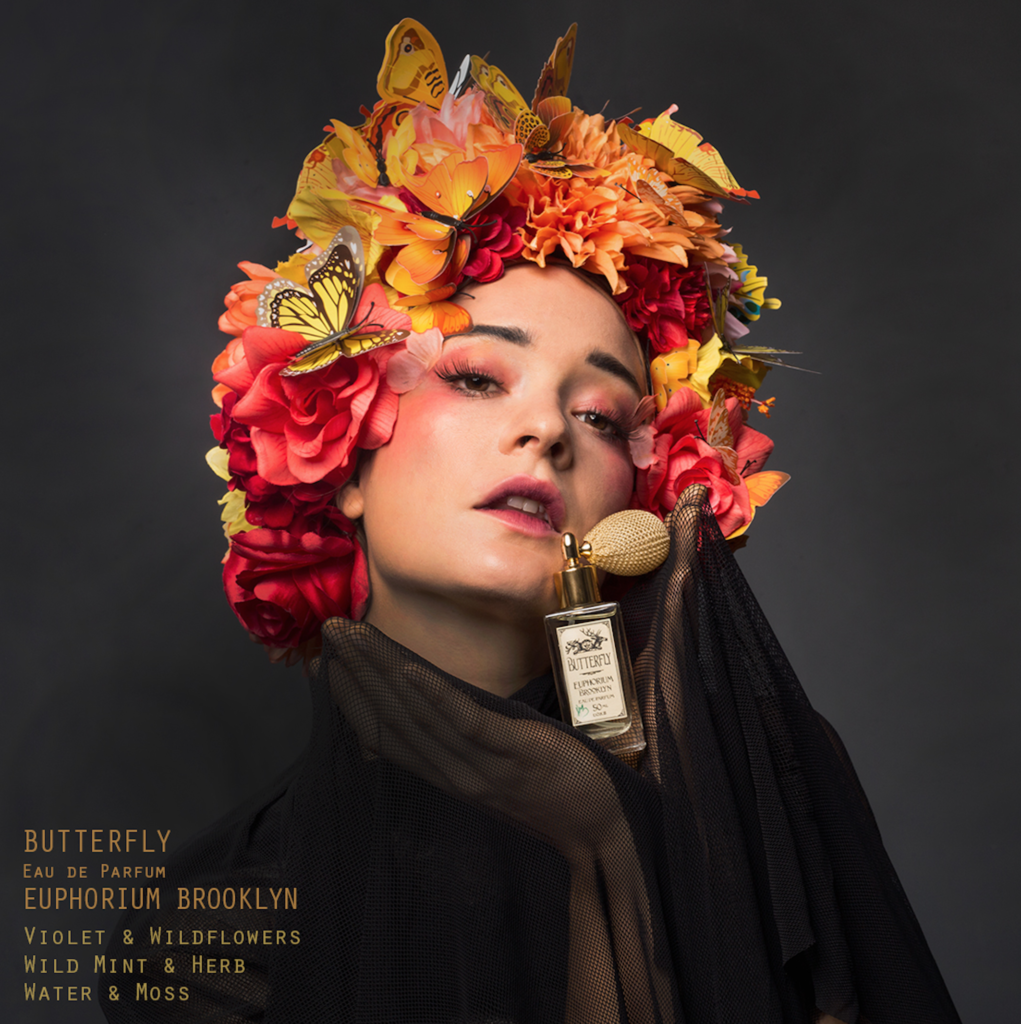 Photo of dancer Brianna Elise Lux by Tal Shpantzer.
EUPHORIUM BROOKLYN BUTTERFLY EAU DE PARFUM BACKGROUND
Etienne Chevreuil spend many an idle hour in the summertime laying in the fields and meadows surrounding his family's estate in Grasse, France. In one particular grotto, in a clearing in the woods, Etienne would luxuriate in wildflowers, mint, grasses, & mosses by the edge of a small brook.
From a reclining position, he could take in the beauty and fragrance of the scene. Following the flight of a butterfly, his eyes led his nose through the butterfly's fragrant curation of Violet, Lilac, Lavender, Geranium, Marigold, Wild Mint, Mountain Laurel, Hyssop, Milkweed, Scarlet Sage, Armoise, Sweet Clover, Grasses, Moss, & Brook Water.
Young Master Chevreuil was intent on distilling the flora selected by the butterfly to capture the bucolic summer setting in scent. Etienne wished to emphasize the softest ephemeral nature of the sunlight, water, grasses, moss & mint in favor of the familiar violet, lilac, marigold, and wildflowers that so often have opportunity to radiate in the perfumer's studio.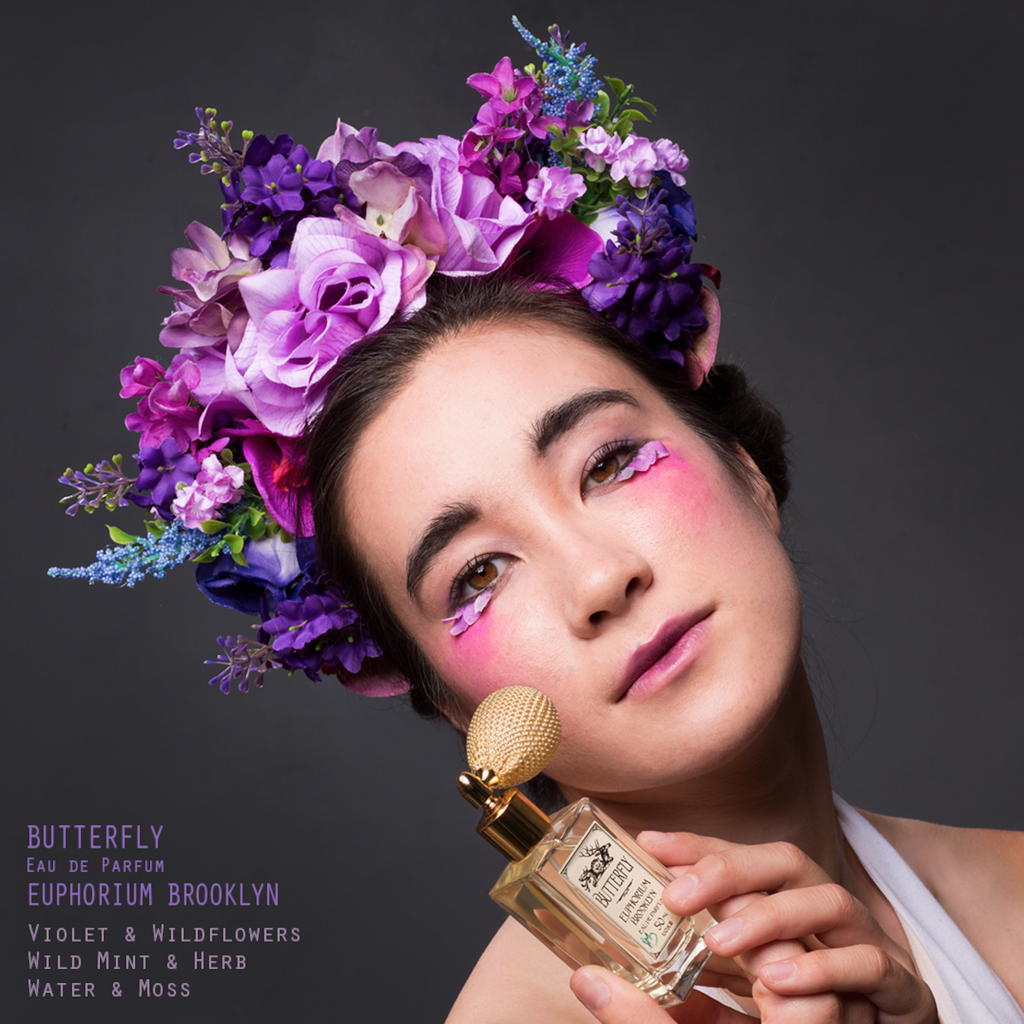 Photo of dancer Sarah Bolander by Tal Shpantzer.
By his own description, "I am a story telling in scent. It is the Olfactive Journey or Olfactive Tableau I wish to create. I am no perfumer, find your rose water and candied confections elsewhere.", it was the environmental tableau of the landscape he wanted to portray in scent, complete with sunlight, water, meadows, & mosses.
The DREAM of the BUTTERFLY – IG Promo from Euphorium Brooklyn on Vimeo.
More Info on BUTTERFLY Eau de Parfum.
More Info on the BUTTERFLY SET (8ML travel decant with Butterfly garden seed packet).