Ambur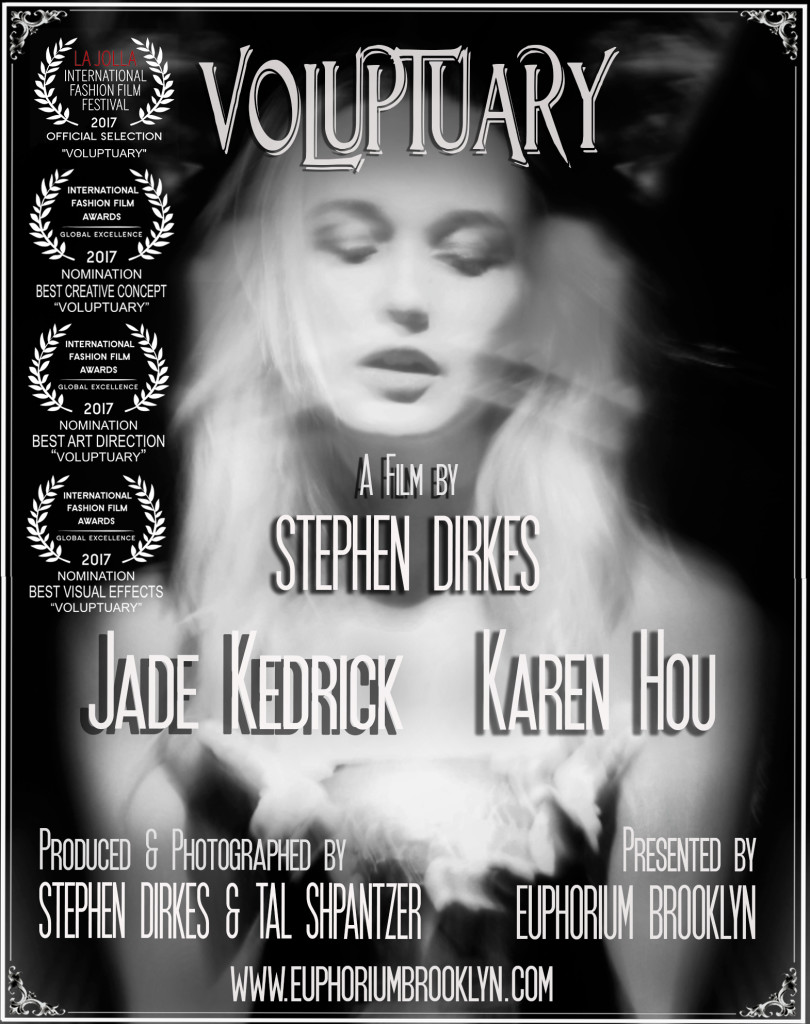 Proud to announce our VOLUPTUARY #535 has been awarded an Official Selection International Premiere on July 21st, 2017 at La Jolla International Fashion Film Festival (the largest one on the planet).

Trying to capture a secretive decadence shared by a community of voluptuaries, our short features animated still photographs to create mystical noir images.
VOLUPTUARY #535 TRAILER 0:30 from stephen dirkes on Vimeo.
Smoke, mirrors, & handheld magnifying lens were employed for 1900's in camera visual effects.
The weekend celebration of fashion film kicks of with a pre-opening reception at the LOT, 7611 Fay Ave., La Jolla, for food, drinks, & mingling.
Film makers come from all corners of the globe to make LJFFF the largest festival of it's kind. A full weekend of fashion film industry events are scheduled for guests.
Friday & Saturday's screenings are held in the luxurious Mandeville Auditorium in La Jolla.
Film makers crowd the enormous Mandeville Auditorium stage to take their bow.

Film makers, fashionistas, & press collide on the red carpet on Saturday in all their finery for LJFFF.
The festival wraps with the International Fashion Film Awards. Thank you very much for nominating VOLUPTUARY #535 for Best Creative Concept, Best Art Direction, & Best Visual Effects! A real honor to be included with the best in the industry.
It has been a wonderful journey from creating the film in our Brooklyn studio to beginning travels to far flung festivals with LJFFF to launch the trip.
VOLUPTUARY #535
Duration: 3:12
Brand: Euphorium Brooklyn
Campaign: Voluptuary Set of Eau de Parfum
Director: Stephen Dirkes
Featuring: Jade Kedrick, Karen Hou
Producers: Stephen Dirkes and Tal Shpantzer
Composer/ Animator: Stephen Dirkes
Additional Camera: Tal Shpantzer
Filmed in Brooklyn, NY
Obscure Object Films for Euphorium Brooklyn 2017
More info about Euphorium Brooklyn's Voluptuary Set of Eau de Parfum.