buy Lyrica online india
Autumn has arrived, and we are ready to greet the season with an exciting and action packed Sniffapalooza Fall Ball 2016! Mark your calendars for – Friday, October 21 to Sunday, October 23 – for the TWENTY FIFTH Edition of this spectacular scent event!
Kick off the weekend with us Friday, October 21st, 5-9pm at Twisted Lily for cocktails, delectable edibles, meet special guests, sampling, and exclusive perks!
In addition to our featured launch of WALD, Twisted Lily will have the complete Euphorium Brooklyn collection to explore. Please RSVP for Friday's event info@twistedlily.com We are pleased to announce our newest launch WALD will be available for sampling and Stephen Dirkes will be on hand to introduce the fragrance and represent Euphorium Brooklyn.
Symrise will kick off the day hosting Sniffapalooza for breakfast and an insider's look at the inner workings of a great fragrance house with a special presentation, From Idea to Shelf.
Later that morning, two Symrise clients will share their experiences working with Symrise and the creative process to launch their scented products! This one of a kind opportunity is limited to 75 participants, so please register early.
On Sunday from 1:00pm – 3:00pm: Prix Fixe Five Course Luncheon (glass of wine included!) at a Little Italy favorite, La Mela, Mark Behnke of Colognoisseur hosts the EAU de Sniffapalooza Showcase (Emerging Artisans Uncorked!). Special guests, premieres of new brands, treats & party favors! Stephen will be a featured perfumer at Sunday's luncheon and will be joined by Stefania Squeglia of Mendittorosa, Irina Adam of Phoenix Botanicals, and Rodney Hughes of Therapeutate Parfums, and Journalist/ Museum Curator, Chandler Burr.
Stephen will be introducing Euphorium Brooklyn's recent re-launch of WALD in a perfumer's alcohol EDP formulation.
We will also have samples for attendee's to add to their "goodie-bags" and sniff-along as Stephen guides us through the stories and accords that went into creating WALD.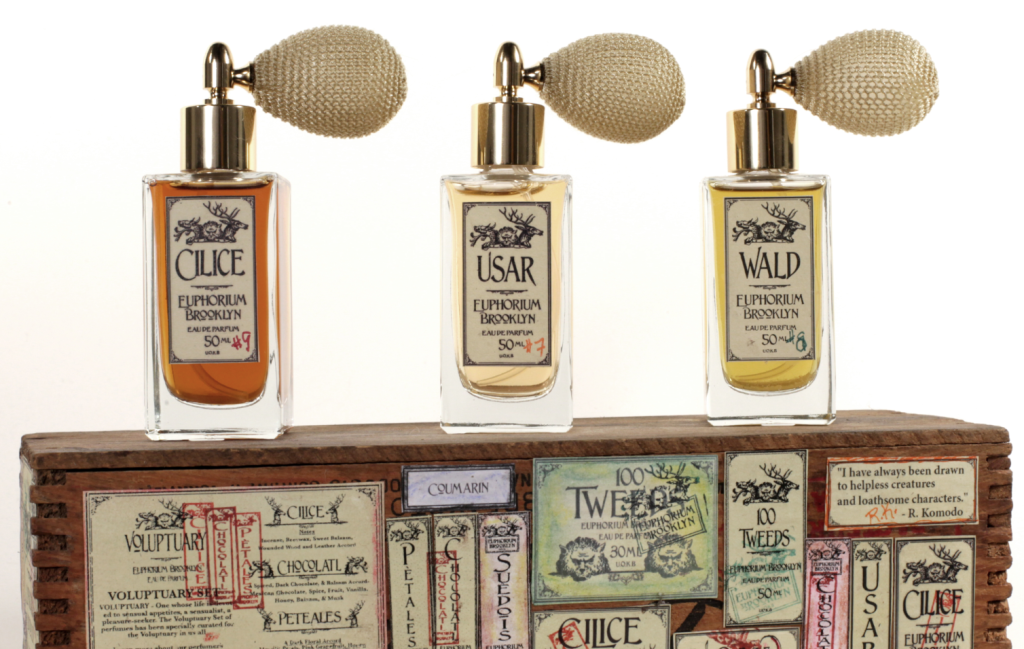 This is all but a small fraction of the events, locations, special guests, and offers that make up the Fall Ball's weekend cornucopia of events for the scent obsessed.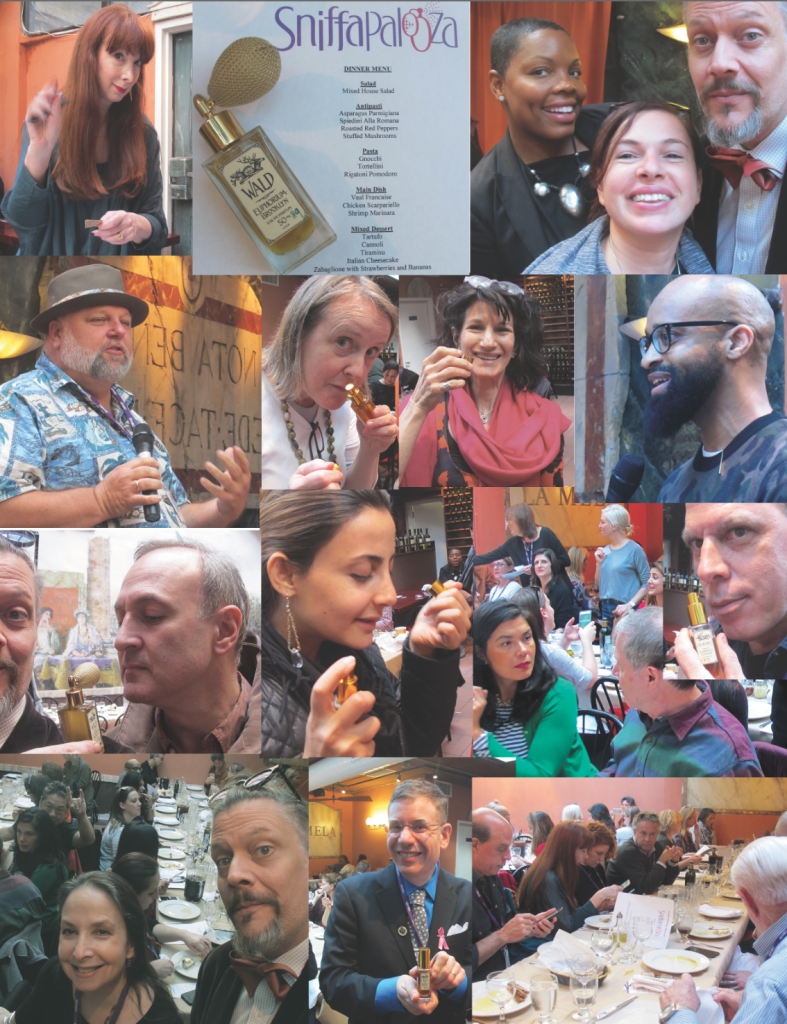 Stephen Dirkes represents Euphorium Brooklyn at EAU de Sniffa Fall Ball lunch at La Mela in Manhattan's Little Italy with:
MC & Keynote Speaker – Mark Behnke – Colognoisseur
Phoenix Botanicals – Irina Adam
Therapeutate Parfums – Rodney Hughes
BeautyNewsNYC – Candice Sabatini
Mendittorosa Odori d'Anima – Kim Waters
Chandler Burr – Journalist & Museum Curator
Team Karen (Karen Adams & Karen Dubin) have pulled out all the stops again, so please check out full event listings here to learn more and register now.
Sniffing with Karen Dubin at the Twisted Lily Fall Ball launch.
Come get your goodies!
and for a taste of what's to come… here's a short list of who will be joining us: Caroline Fabrigas & Abby Wallach of Scentinvent Technologies; Francoise Alessi of Annick Goutal; Mark Behnke of Colognoisseur; Pauline Rochas & Carole Beaupre of COOLIFE; Sue Phillips of Scenterprises; Alan Beck of Parfums de Marly; Kelly Jones of Kelly & Jones; Amy Marks McGee of Trendincite; Teri Johnson of Harlem Candle Company; Francois Damide of Parfumerie de France; Gerard Camme & Ross Barry of Atelier Cologne; Hope Freeman & Jay McSherry of Nateeva, Carl Adelson of Bon Parfumeur; Ana Girao of Penhaligons; Tom Crutchfield of Roja Parfums; Irina Adam of Phoenix Botanicals; Reps from Diana Vreeland Parfums, YSL, I Profumi di Firenze, The Fragrance Kitchen, Houbigant, Guerlain, Robert Piguet, Fornasetti, Creed, Jo Malone, Clive Christian, Bottega Veneta, Donna Karan, Molton Brown, Lubin, The Third Man, House of Sillage, A Dozen Roses, Maison Francis Kurkdjian, Givenchy, Jean Patou, Chanel & Chanel Les Exclusifs, Diptyque, Caron, Aerin, Estee Lauder, Prada, Van Cleef & Arpels, Le Labo, Kiehls, Chloe, Fresh, Apothia, Amouage, Sisley, Hermes, Balenciaga, By Kilian, L'Artisan Parfumeur, Slumberhouse, Kerosene, Keiko Mecheri, Judith Leiber, Room 1015, Floris London, Tola, Mancera, Laboratorio Olfattivo, JAR, Volnay, NEST, Serge Lutens, Olfactive Studio, MEMO Paris, Ex Nihilo, Regime des Fleurs, Miu Miu, Armani Prive, Laura Mercier, Hermes, Charenton Macerations, Monsillage, Isabey, and scads of others!
Twisted Lily created custom, mini perfume bottles cast in solid dark chocolate for the night. Mmm…