SUÉDOIS Eau de Parfum by Euphorium Brooklyn for Women and Men.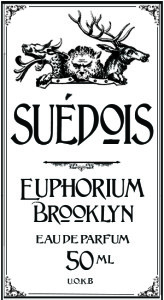 FRAGRANCE PROFILE
Swedish Wildflower, Indonesian Sandalwood, "Swedish Skin" Spiced Suede, Raspberry and Bavarian Cream Accord
SUÉDOIS Eau de Parfum by Euphorium Brooklyn:
– Sourced from the Finest Rare and Exotic Oils, Tinctures and Absolutes
– Traditional Euphoria Inducing Komodo Process
– Handcrafted in Brooklyn, New York
– Available in 50ML (with additional bulb atomizer), 30ML, & 8ML spray top bottles
– Also available in the VOLUPTUARY SET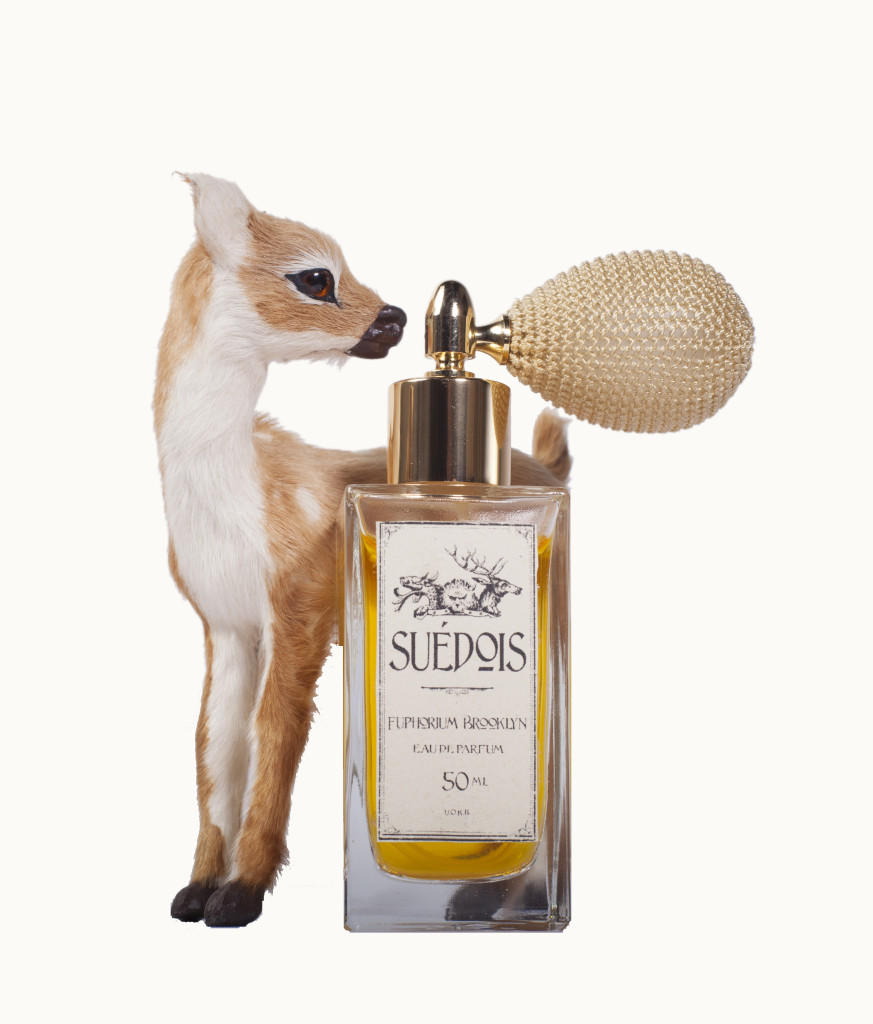 PERFUMER'S INSPIRATION
The first fragrance to blossom from the creative collaboration of Euphorium Brooklyn's founders;
Etienne Chevreuil, Rudolph Komodo and Christian Rosenkreuz, SUÉDOIS was a special labour of love.
Early in the three gentlemen's acquaintance, it became known that they had all fallen deeply in
love with the same woman at some point in their past.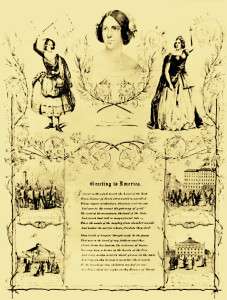 When they heard that this woman, once the object of their desire, would be brought to New York for
her first operatic tour of America, the perfumers of the Euphorium set about to craft a poem
in her honor with scent. SUÉDOIS is the romance they wrought.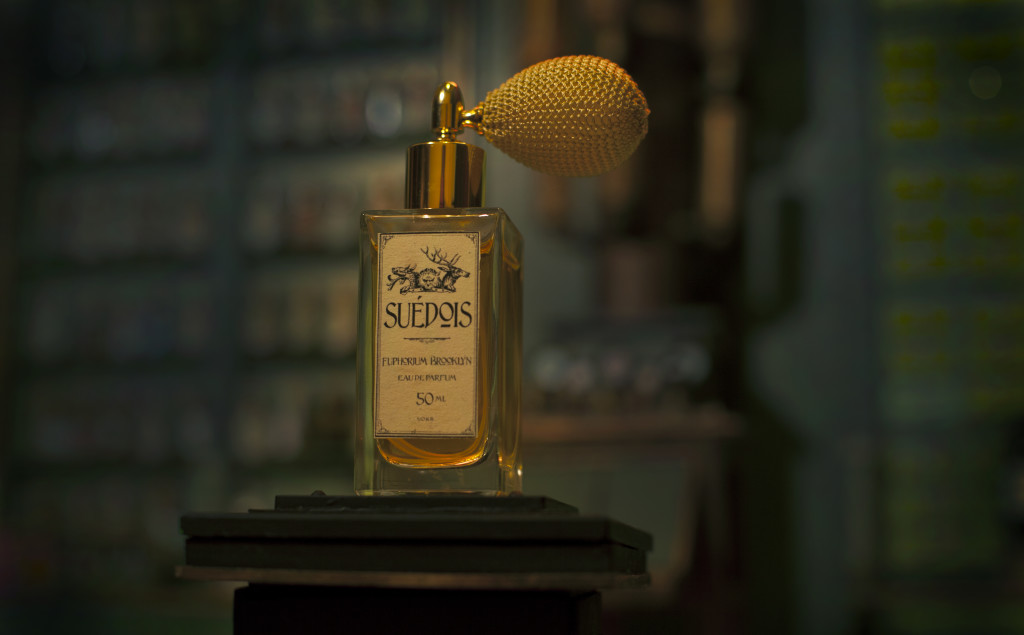 Meaning both "Swedish" or "Suede" in French, SUÉDOIS is a fragrance that plays on both meanings
of the word. A rich, soft and supple note from the finest sandalwood known to grow on this Earth
from eastern Indonesia, establishes the warmth and radiance of a Swedish summer in SUÉDOIS.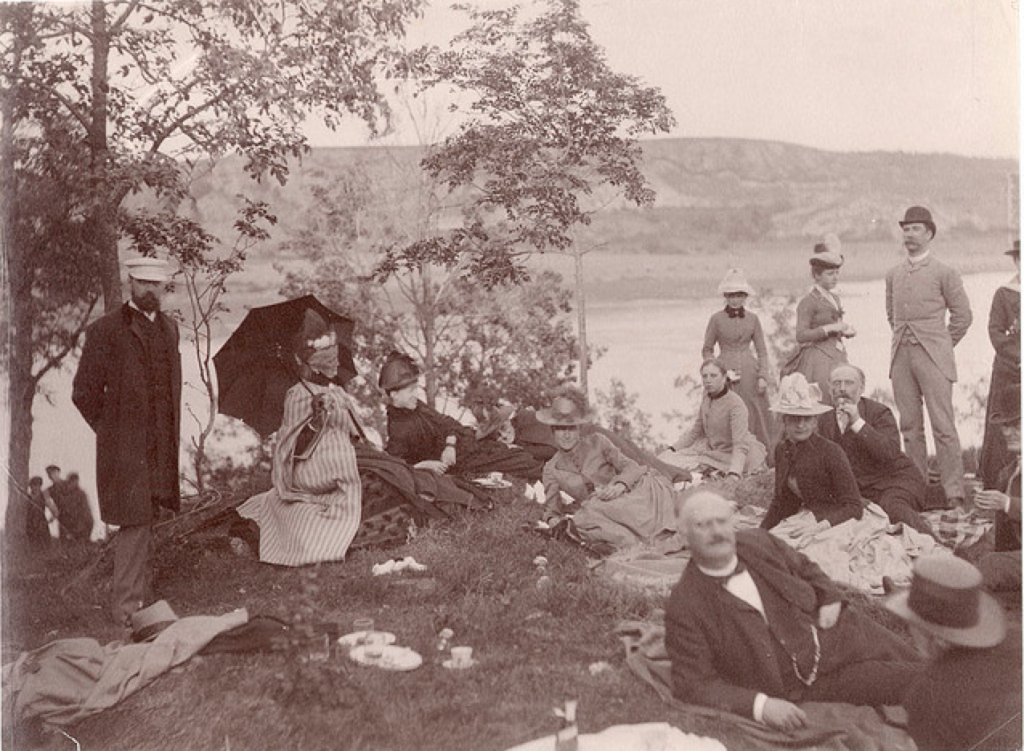 The fragrance opens with the bright, light floral notes of a wildflower bouquet. Petals fall
to reveal a soft smokey cloak of suede, soft yet dark with birch tar and rich with hints of
citrus, cardamom, nutmeg and anise. In time, the cloak of spiced suede too drops to expose
soft Swedish skin, bathed in sweet cream and balsam.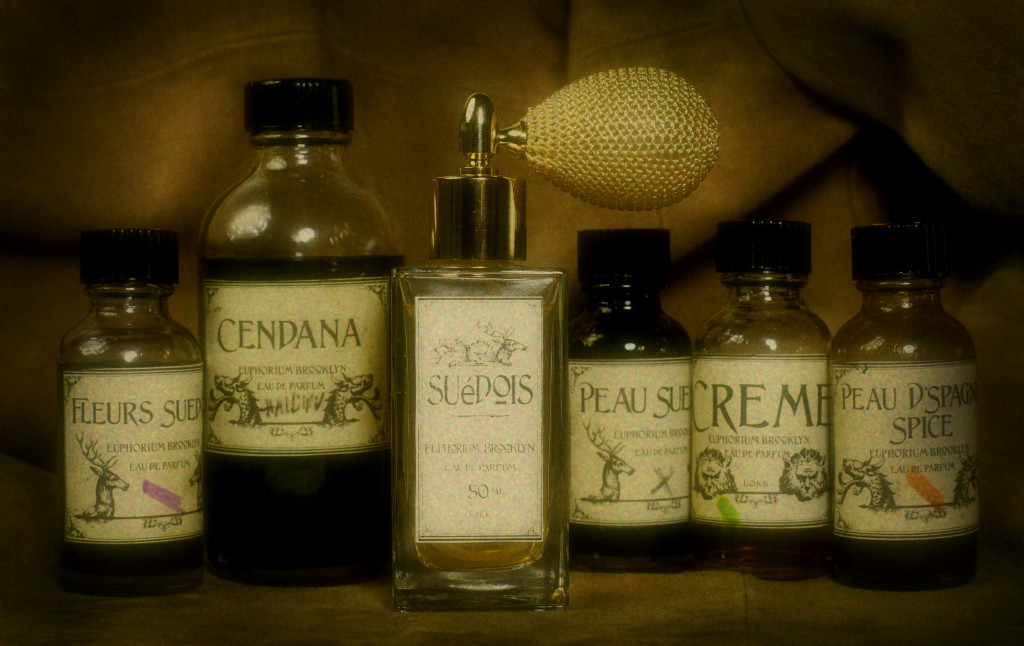 One of Rudolph Komodo's contributions, the "Cendana" accord is in memory of a sandalwood fan
he presented to the famous "Swedish Nightingale" as an awe-struck devotee, after a performance
he witnessed in London. "As you have filled my heart with a beauty that will linger like a melody
forever more, I offer you the sweet, sweet magic of my humble Cendana (sandalwood) to adorn your
beauty in the ethereal splendor of its perfume." – R. Komodo.
The perfumer was often quoted for saying, "Cendana is the gods' gift to a small island called Sumba.
This magical and fragrant wood has spread in the ether throughout the Globe as an affection or
a great love that grows more beautiful with each new experience and encounter. The sweet scent
of Cendana has wafted from our small island to reach Emperors' courts throughout Asia, the great
Moghuls of Mysore, Lords of Europe and even the arid expanse of Oceana. To you my brothers and
sisters of the Euphorium, I offer the only real, true and pure Cendana, that which comes from
the wellspring of all Cendana, my own Nusa Tenggara!" The ironic implications of Komodo's metaphor,
"Cendana (sandalwood)… has spread much like a great love that grows more beautiful with each new
experience and encounter." were not lost on cynical perfumers who noted that sandalwood was first
introduced to Europe not as a fragrant material for perfumery, but as a cure for certain venereal
diseases.
The term "Suede" originates from the French, gants de Suéde (Swedish gloves) and refers to the
earliest introduction of this sensuous material to Europe via the Swedish Sami people and their
traditional deerskin. The noble profession of Perfumery has had a long association to glove-makers
and the leather trade in Europe. SUÉDOIS references two interesting developments in the history
of scenting leathers and their impact on perfumery.
Etienne Chevreuil's "Fleurs Suédoises" adds more than a fresh bouquet of meadow flowers
as it also presents a delicate citrus note in honor of 17th century, Madame des Ursins
(Princess of Nerola, namesake of the bitter orange "Neroli") and her introduction of citrus
notes in scenting her gloves. Rudolph Komodo's richly spiced cardamom, nutmeg and anise
"Peau Suédoise" accord is an exploration of "Peau d'Espagne" (Spanish Skin).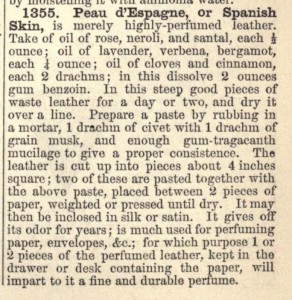 The fragrance of scented leather had become established as a perfume accord by the mid 19th century.
Psychologist, Havelock Ellis writes at the end of the century in "Studies on the Psychology of Sex"
that Peau d'Espagne perfumes were "Often the favorite of sensuous persons" and "Peau d'Espagne
is of all perfumes that which most nearly approaches the odor of a woman's skin".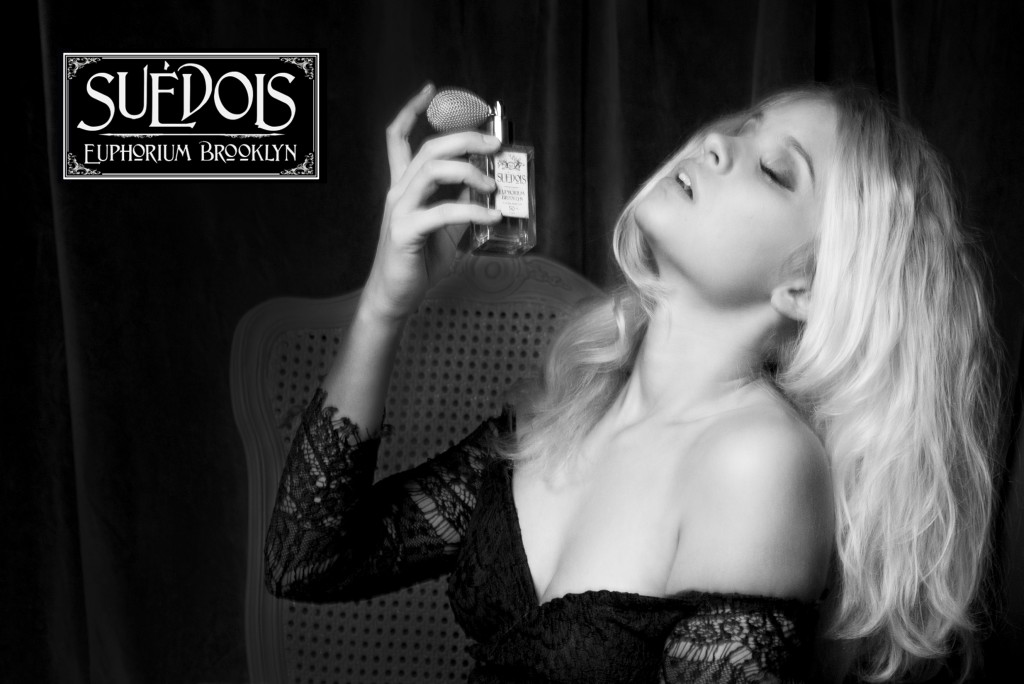 In memory of the milky complexion of the Swedish singer he became smitten with and the berries
and cream they sensually consumed on a moonlit picnic in Stockholm, Christian Rosenkreuz's
"Bayerische Creme" (Bavarian Cream) accord is the final note to linger tenderly on the skin in
the love poem that is SUÉDOIS. Rosenkreuz was reported to awake shrouded in the fragrance of
berries and sweet vanilla cream after experiencing the phenomena known as "The Sleep of Sialam (Shialom)"

FRAGRANCE NOTES
Indonesian Sandalwood, Swedish Wildflower, Pettitgrain sur Fleurs, Raspberry, Raisin, Labdanum,
Clary Sage, Oakmoss, Cardamon, Elemi, Myrrh, Patchouli, Nutmeg, Anise, Cassia, Benzoin,
Peru Balsam, Coumarin, Vanilla Cream, Suede, Castoreum, Ambergris, Birch Tar,
Cade, Tonka Musk
SUÉDOIS – Euphorium Brooklyn from stephen dirkes on Vimeo.
SUÉDOIS
About the Perfumers Etienne Chevreuil, Rudolph Komodo and Christian Rosenkreuz
SUÉDOIS, the first creative collaboration of Euphorium Bile Works founders, Rosenkruez,
Chevreuil and Komodo began as a collective lament on love by these three eccentric perfumers.
Iconoclasts, often isolated and stymied from forming deep bonds and close connections with
others due to their unusual and extreme views, these three men were first drawn together as
colleagues and collaborators to create a salve for the pain of heartache. They soon became
explorers attempting to chart a path through euphoric experience to achieve a "Knowing"
or understanding of the human condition. Having first cast an eye to the great kingdom of
Sweden in pursuit of the 18th century "Prince of Botanists", Carl von Linne and later to
Emanuel Swedenborg and his transcendental wisdom, these three perfumers euphoric soon lost
themselves to loves as profound a they were to be fleeting and ephemeral in nature.
PERFUMER'S INSPIRATION (Extended)
A curious event took place at the Euphorium Brooklyn late in the year of 1852. A dinner
party was arranged by the three perfumers to welcome the celebrated opera singer, a Miss Lind,
to New York City at the outset of her first American tour. No other guests were in attendance
and accounts of the evening were vague at best. Although reportedly able to dimly recollect
a cocktail reception for Miss Lind upon her arrival, all participants experienced a complete
memory loss of the proceedings, following the presentation to Miss Lind of a flacon of
SUÉDOIS eau de parfum.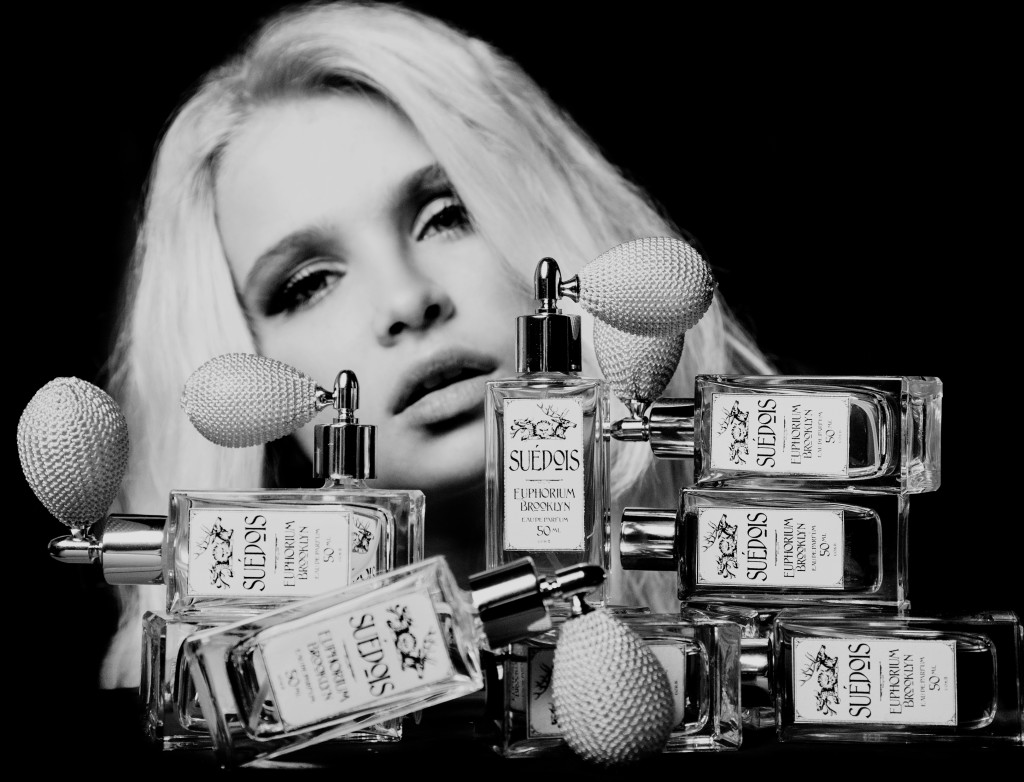 Awakened by Miss Lind's attendant in the early morning hours of the
next day in varying states of undress to the dense aroma of sandalwood, suede, wildflowers,
spice, berries, sweet cream and the soft skin of a Swede, the four had apparently no knowledge
of what might had taken place in the tender hours of night. Leaving the arms of Morpheus and
the grand "Sleep of Sialam" to awake exposed, but sated and contented in the ways of a
society most secret, the four remained close for the remainder of their lives.
In 1852, as Rudolph Komodo was fleeing Brasil, he had a chance encounter with famed
British naturalist, Alfred R. Wallace. Komodo's ship happened upon Wallace, floating
on the open ocean in a lifeboat from a shipwreck. Soon becoming fast friends on the voyage,
Komodo went on later to facilitate Wallace's important four year study of Komodo's
homeland in his influential 1869 publication, "The Malay Archipelago." It was Wallace
who taught Komodo advanced techniques in Mesmerism (Hypnosis) and Spiritualism (Clairvoyance).
It is reported that to repay a kindness to the man who had saved his life, Wallace
imparted a mesmerizing power to SUÉDOIS parfum to induce a euphoric state via the
Cendana (Indonesian Sandalwood) he had arranged to supply the Euphorium Bile Works with.
Wallace had claimed to have remotely induced a transcendental euphoric state in the four
attendees of a dinner party held in Miss Lind's honor in Brooklyn, New York with the
assistance of three powerful shamans from the island of Sumba (Sandalwood Island,
source of the first Sandalwood tree) and an American by the name of Paschal Randolph.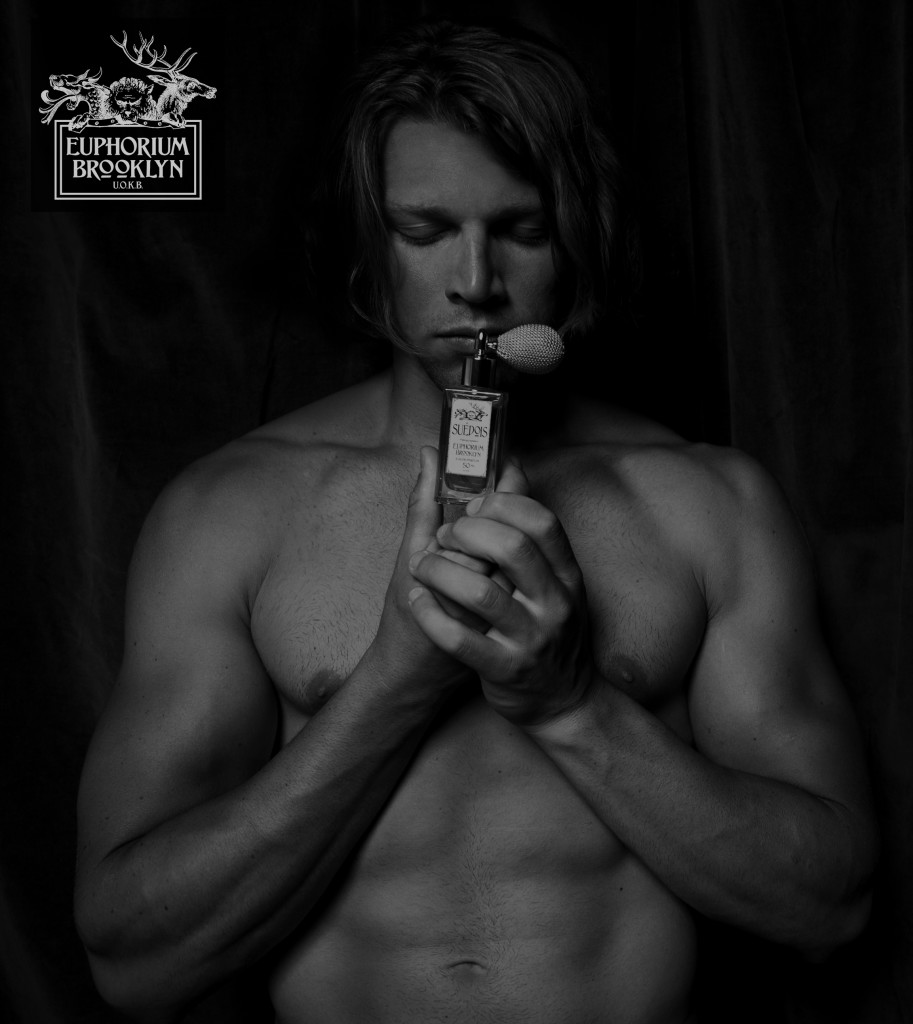 Christian Rosenkreuz also laid claim to creating the mesmeric properties of SUÉDOIS,
via the phenolic tar derivative he developed in collaboration with Baron Doctor Karl
Ludwig von Reichenbach in Baden, Bavaria. Baron Reichenbach was a famed scientist
and industrialist who developed his theories of "Odic Force" together with Dr.
Rosenkreuz in the dark forests of the Schwarzwald.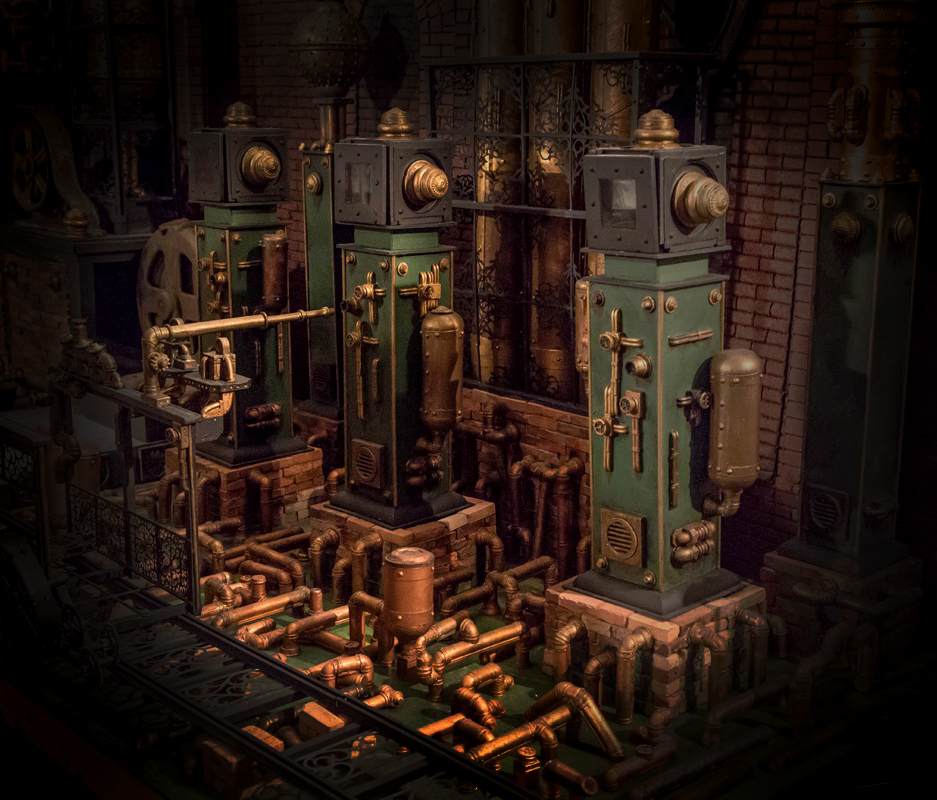 The two men pioneered complex means of distilling organic materials. One chemical
they produced, "Picamar", was thought by Rosenkreuz to be the key to store, control
and dispense "Odic Forces" to achieve "Mesmeric Transference". Rosenkreuz experimented
with systems of "Picamar" infused suede restrains and harnesses to create a heightened
state of euphoric sensitivity in a subject. He implored Mr. Chevreuil to use his newly
created "Picamar" chemical as an alternate to the traditional use of birch tar to impart
a dark, smokey suede nuance to SUÉDOIS.
Miss Lind ultimately went on to continue her tour to great acclaim and concert-goers
would often to compare the supple tone and texture of her voice to the pleasures of
stroking the finest suede. Mr. Randolph went on to develop his theories of the
"Sleep of Sialam (Shiloam)", became a visionary in the field of magico-sexual theories
and techniques which formed the basis of what would be known as "The Hermetic Brotherhood of Luxor".
Mr. Randolph was also able to introduce the Swedish poet and Euphorium devotee,
Karl Jonas Love Almqvist to his friend Abraham Lincoln in New York City at the
Euphorium Bile Works. After Almqvist's night at the Euphorium with Lincoln and Randolph
he was said to have commented that, "Through the magic of SUÉDOIS I have finally found
my, Tintomara!" (The Hero/Heroine from his 1834 novel, "The Queen's Diamond Ornament").
Baron Doctor Karl Ludwig von Reichenbach went on to develop his theories on petrochemicals,
magnetism, Odic force and euphoria.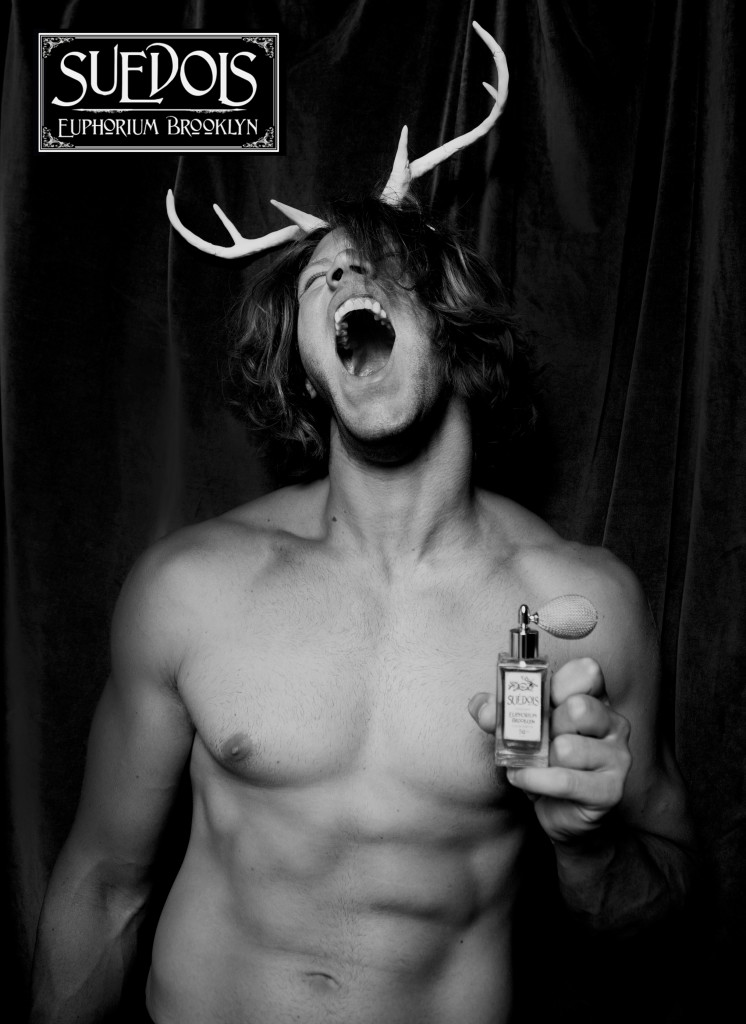 SUÉDOIS featured in New York Times article on animalic notes in perfumery by Rachel Syme.
SUÉDOIS was awarded "Best of Scent 2015" by Michael Singels, Cafleurebon.com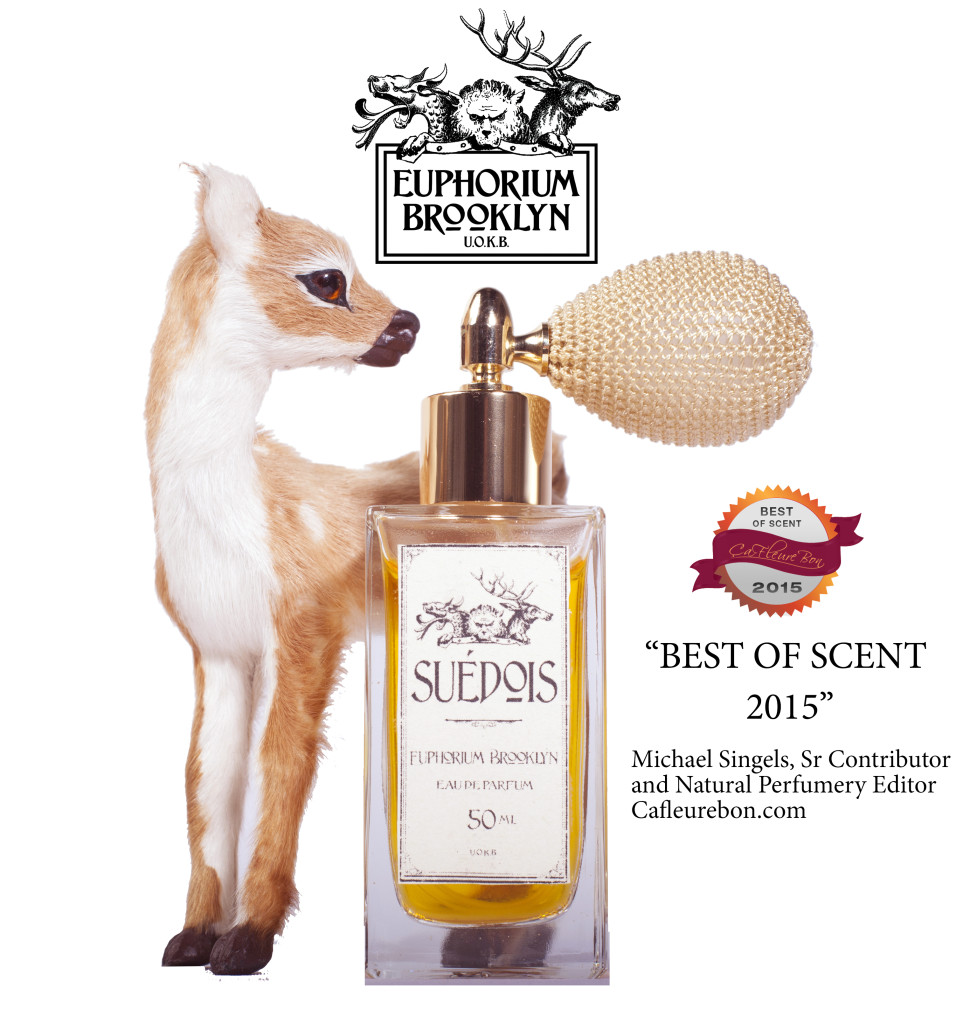 Suédois – Euphorium Brooklyn by Stephen Dirkes. This is a new brand for me, but it was love at first sniff. Now I want to smell more,
and they are certainly obliging with many new releases this year. Suédois will be hard to top though,
and warm leather that borders on gourmand, I cannot get enough of it. It is one that is too easy to spray away with abandon.
– Michael Singels, Cafleurebon.com
Snapshot portraits and first impressions at SUÉDOIS First Encounters.