BLOSSOMS & BUTTERFLIES – A SPRING FLORAL PAIRING EVENT
Pairings & Presentations on Fragrance, Floral Design, Jewelry, Photography, Film,
Environmental Conservation, Cocktails, and Confections.
Zama
Thank you to all that came out and packed the house! Photos of the event by Tal Shpantzer.

The event featured pairings with UME, PÉTALES, and BUTTERFLY Eau de Parfum.
Each fragrance was sampled with Euphorium Brooklyn perfumer, Stephen Dirkes presenting
the perfume accords that went into composing the fragrances.

Stephen also gave us some background on his inspiration and introduced the presenters
featured at the event.
Collaborators presented their work to create an evening of pairing several
senses through a variety of mediums. Stephen Dirkes – Euphorium Brooklyn,
Calvert Crary – Flowerschool NY, Tal Shpantzer – Talfoto, Ayaka Nishi Jewelry,
Tessa Liebman – Scents of Plates, Choya Umeshu (Ume liquor), and Tara Mei Smith
– Extra Terrestrial Projects
Many thanks to our friends at Sniffapalooza and Fragrantica for helping
spread the word and fill the event to capacity with curious noses!
Manhattan based jewelry designer, Ayaka Nishi created a stunning necklace
inspired by the life cycle of the butterfly.

Ayala's Cocoon necklace is even more connected to oue BUTTERFLY EdP as it opens
to allow containing perfume as another beautiful way to scent yourself.

Inspired by nature, Ayaka presented her Cocoon Necklace and work from her recent
collection.
Crafting Umeshu, traditional Ume (Japanese Plum) liqueur for over half a century,
Choya sets the standard of quality in Japan and around the globe. Both tart and
sweet, Choya Single Year Umeshu, features a distinctive almond note that holds
it's own in a cocktail.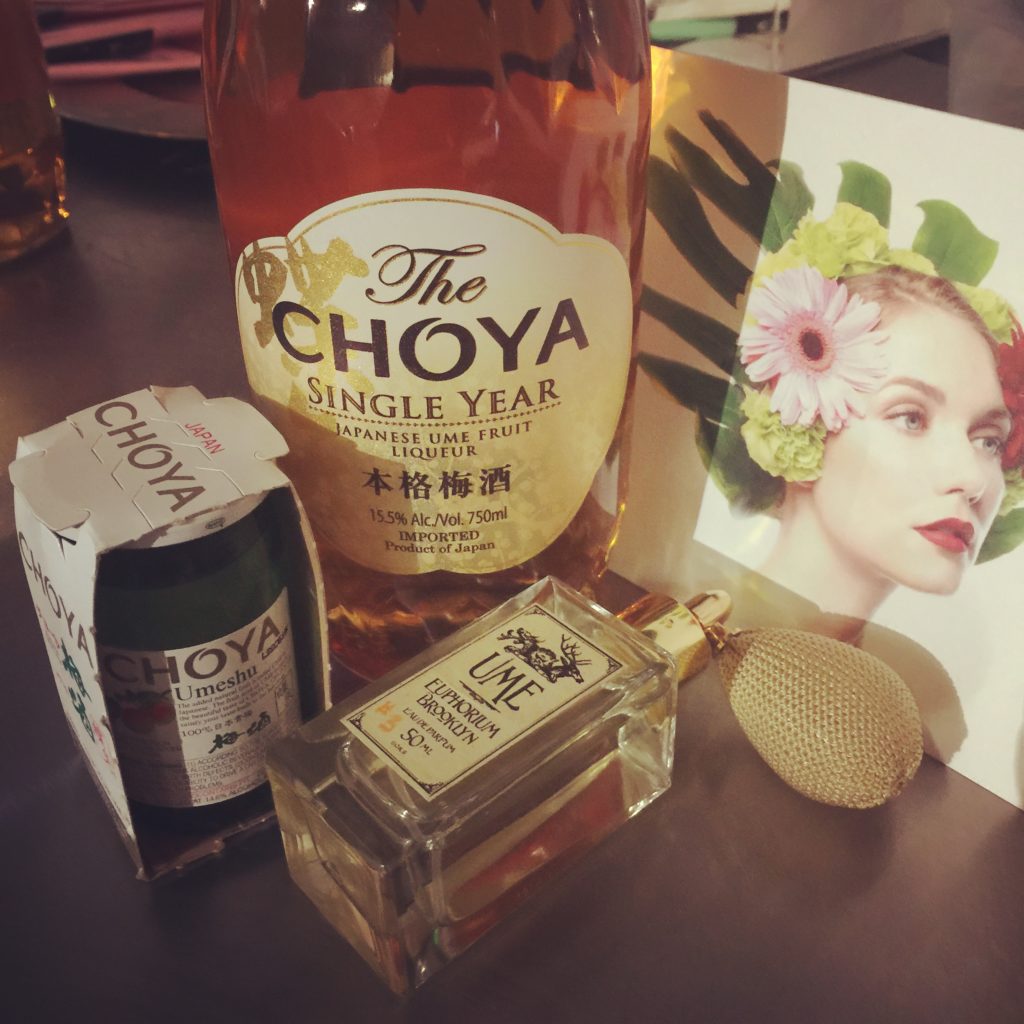 Our UME cocktail recipe:
– 2oz Choya Single Year Umeshu
– 1/2oz Apricot Nectar
– 2oz Soda Water
– 1tsp Yuzu Juice ( or fresh squeezed Grapefruit & Lemon )
– Lemon Rind Garnish
Shake and serve over ice.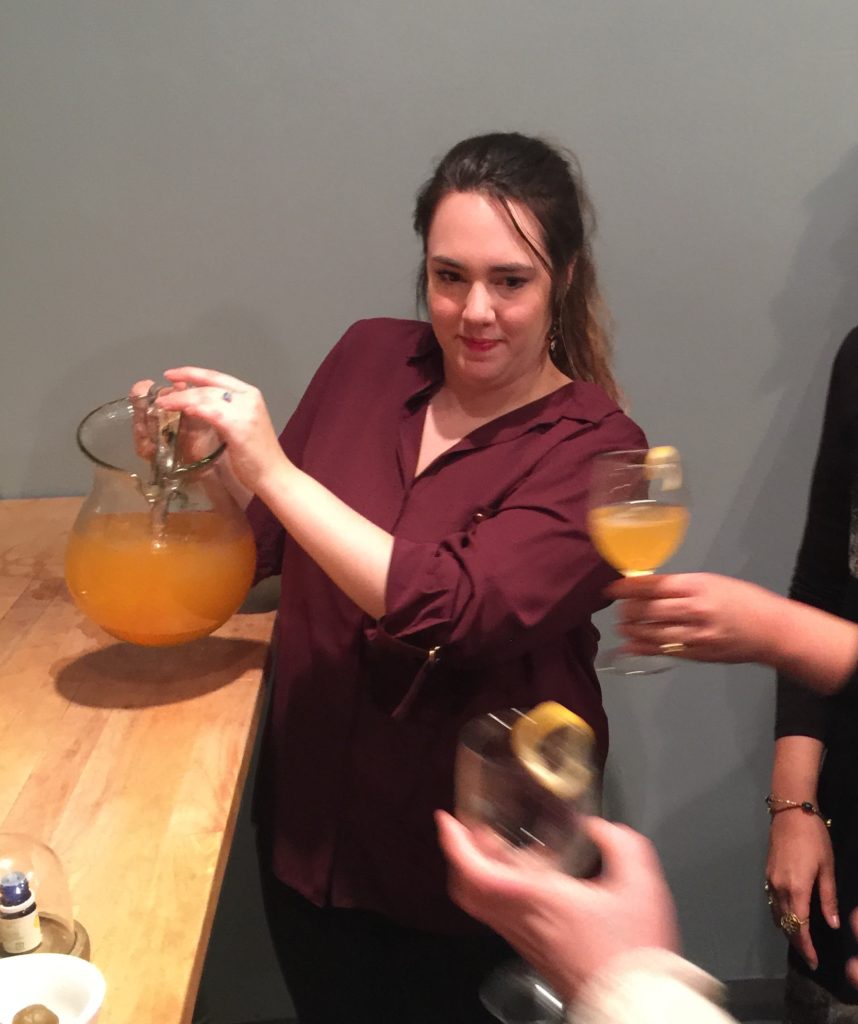 Choya provided our guest with Umeshu to take away in their goodie bags to further explore
this unusual treat.

A screening of our Blossom and Butterfly themed films included our recently
premiered, The DREAM of the BUTTERFLY, short film.
From photo campaigns to notecard collaborations, film, and ultimately inspiration for
PÉTALES Eau de Parfum, Tal Shpantzer has been a long time creative partner with
Euphorium Brooklyn.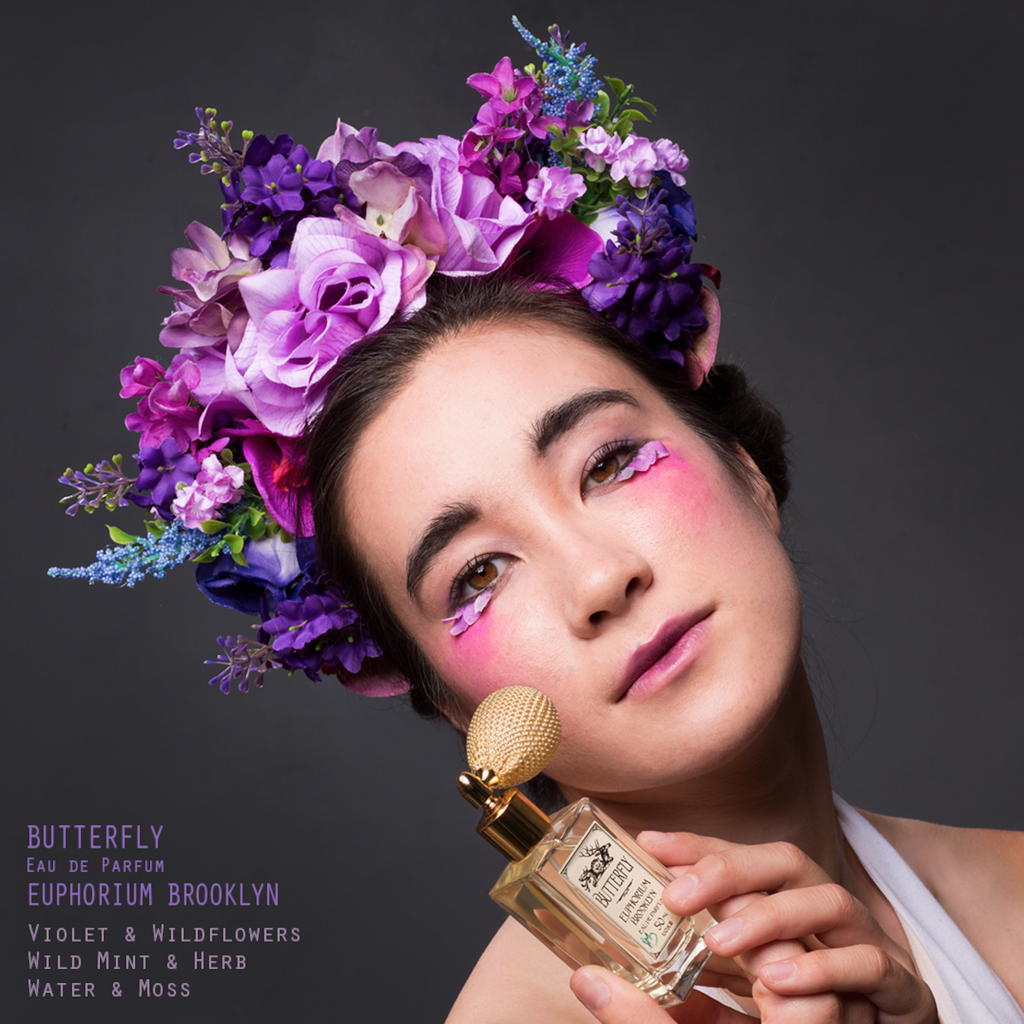 Tal spoke of the creative background to her "Petal Series" and presented new work
paired with UME, BUTTERFLY, and PÉTALES.
Tal's images as prints, notecards, notebooks, totes, and pillows accompanied by
beautiful floral designs.
Chef, Tessa Liebman from SCENTS of PLATES and Methods and Madness, has
developed a unique interest in the olfactory arts with her cuisine and creative practice.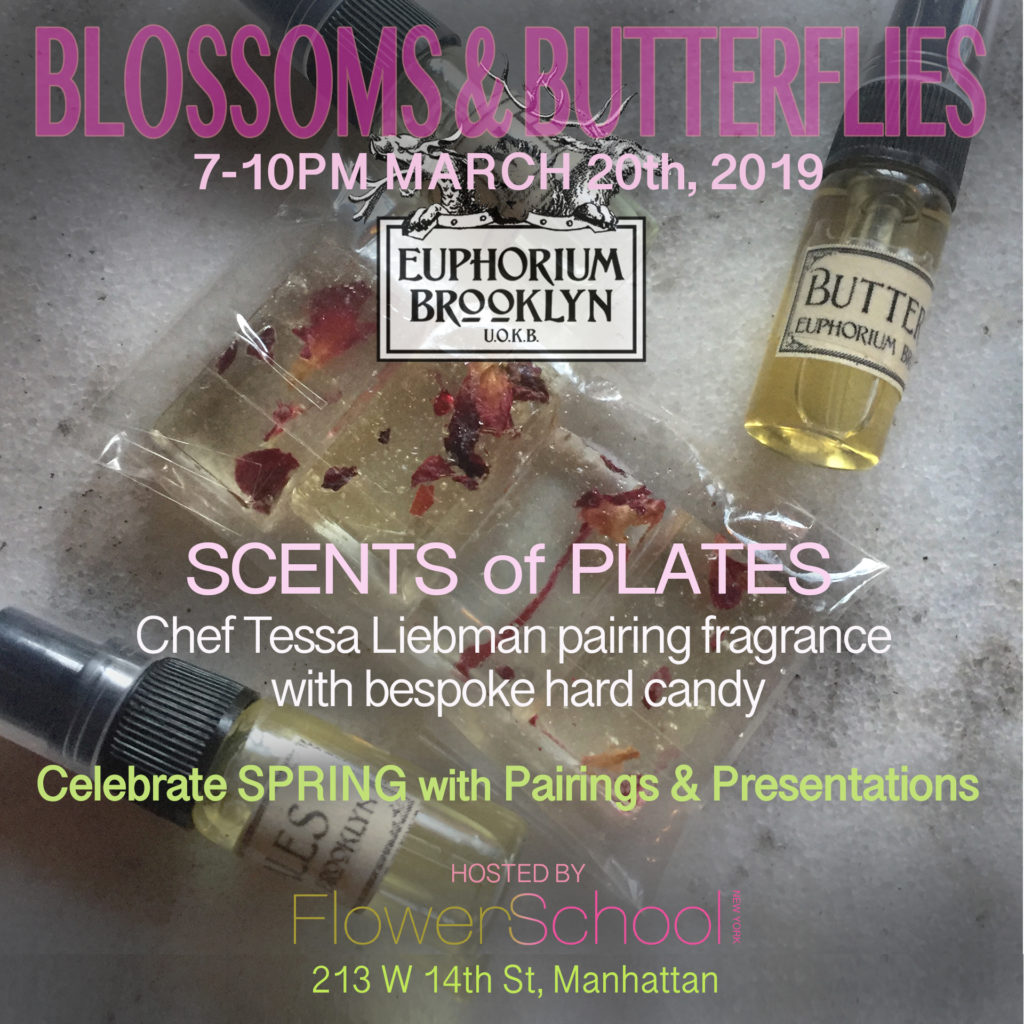 A collaborative partner in our VOLUPTUARY 2017 event, we are excited to discover
her new explorations of floral notes in our featured fragrances through bespoke hard
candy.

Tessa's interpretation of BUTTERFLY EdP was sampled at the event to everyone's
delight.

A perfect pairing with her use of violet, anise, and fennel, among other paired
notes with the fragrance.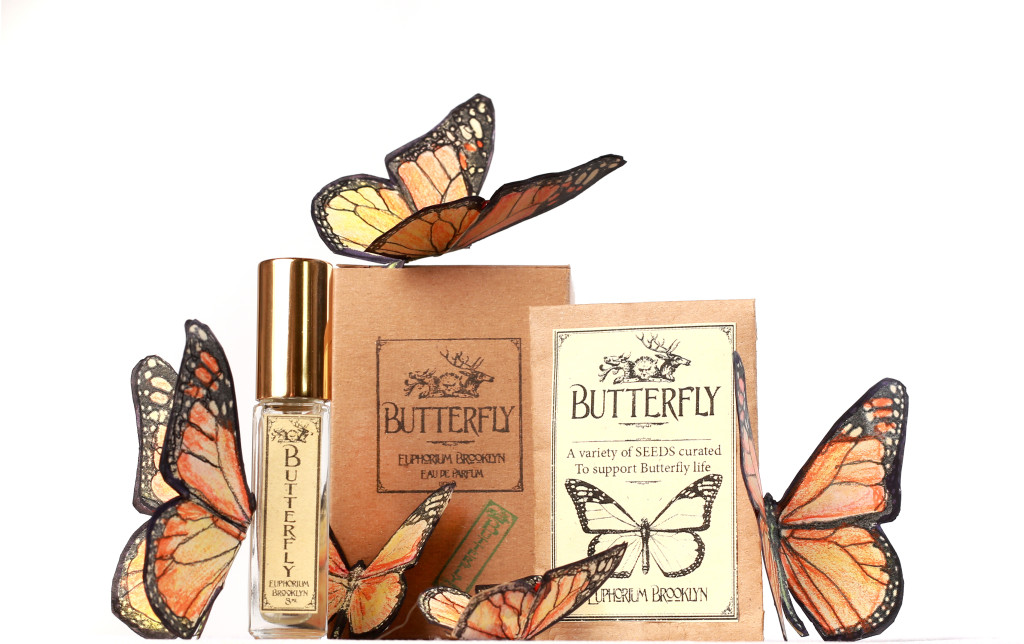 Taking inspiration from supporting butterfly habitat to create BUTTERFLY Eau de Parfum
went full circle with the launch of our BUTTERFLY SET butterfly garden seed packet set
in arboretums, botanic gardens, and apothecaries across the U.S..
Very happy to have had Tara Mei Smith of Extra Terrestrial Projects join our celebration
of Spring and introduce us to our connectivity to the butterfly lifecycle and the importance
of native plant species.
Extra Terrestrial Projects is based in New York City and North Carolina and their
work often connects Urbanites with the importance and dynamism of the rural landscape.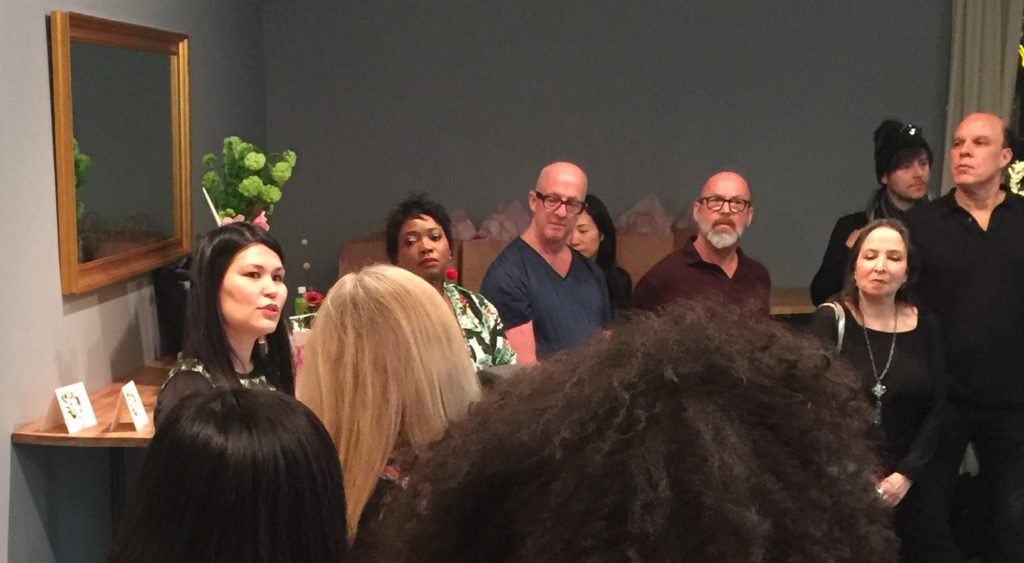 Current programing includes making connections to habitat through food, music, and design.
Helping to build pathways to sustainable futures is central to their mission.
Tara's talk will touch on habitat, environmental conservation, and our connectivity
to the environment.
Calvert Crary, Flowerschool NY director guards our goodie-bags with a smile.
Thank you Talfoto, Ayaka Nishi, Scents of Plates, Choya Umeshu, and Flowerschool
NY for stuffing these bags with goodies!