Saint Louis Park
Getting a call from one of the producers at Milk Studio's Legs Media usually ends up with some kind of interesting,
challenging and creative film making experience. Working with Andrew Thomas Huang, Legs Media
producer Sophia Rothbart, and the production crew on Andrew's "INTERSTICE" project was no exception.
As a film maker/ perfumer this was such a fun and uniquely awesome project to be a part of.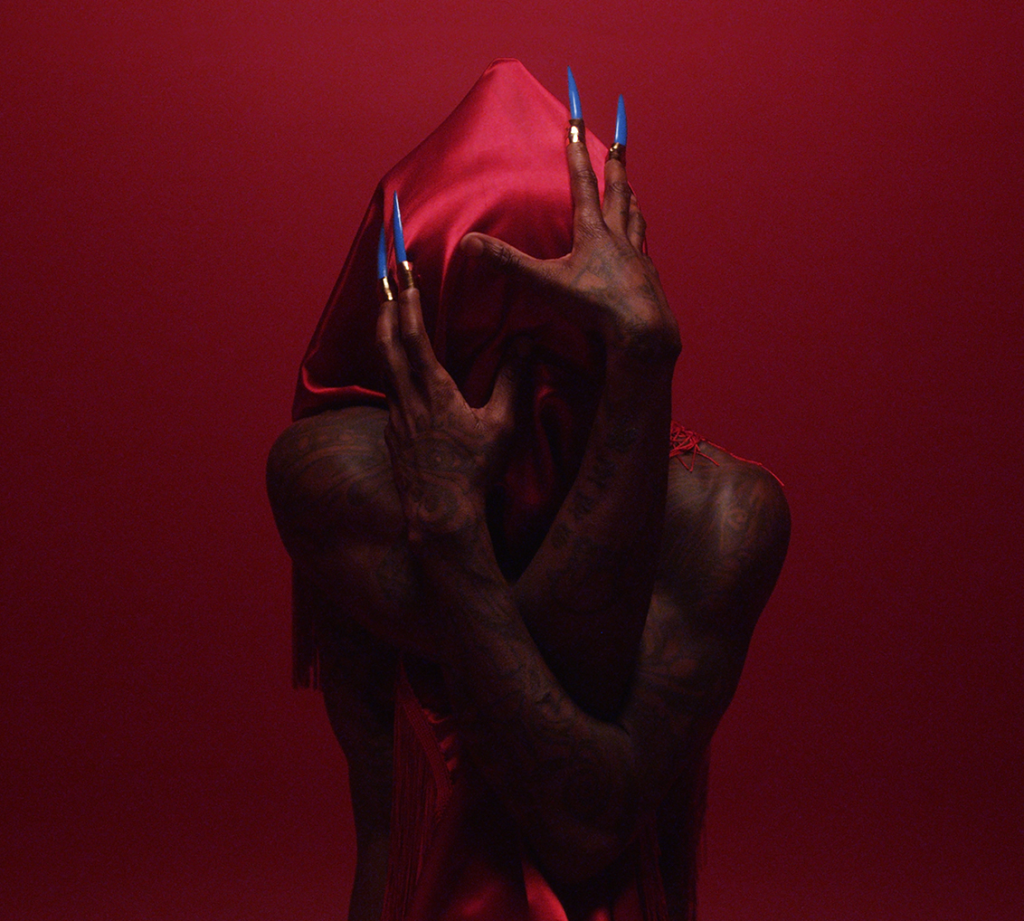 INTERSTICE – film still, Andrew Thomas Huang
Conceived as a gallery installation, Mr. Huang's INTERSTICE film is projected on multiple screens
dividing spaces, looping sequences, and creating rooms. The immersive experience of walking
through images from scenes so beautifully shot, capturing wonderful dance performance and art
direction was stunning.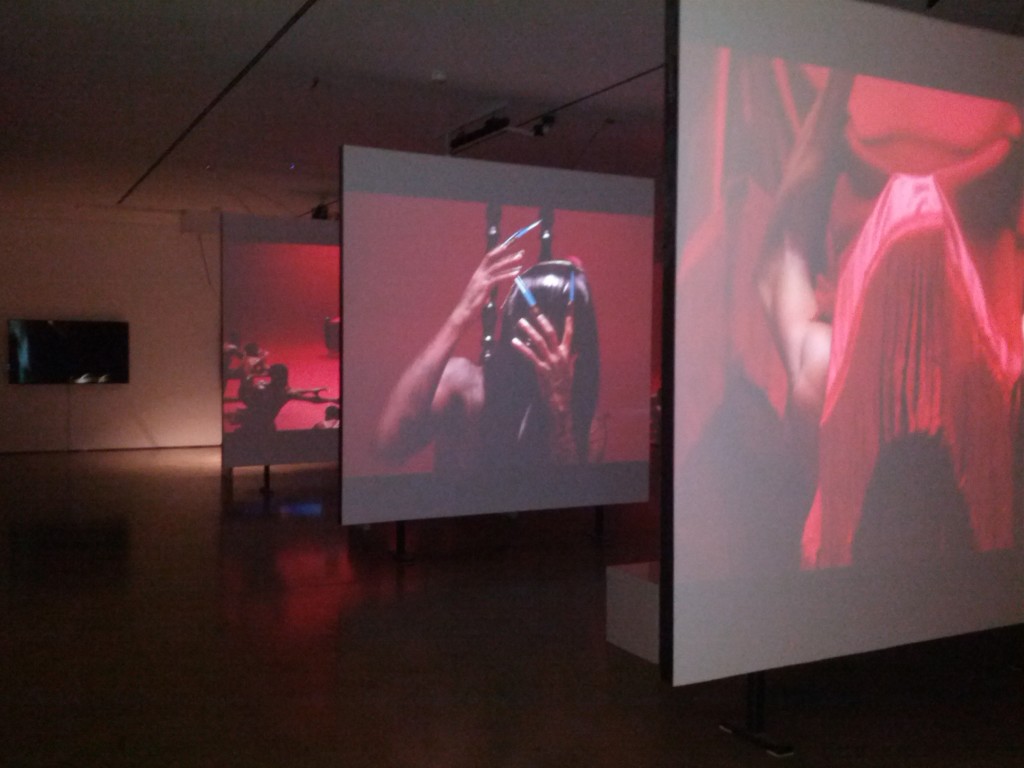 INTERSTICE – Milk Gallery installation, Andrew Thomas Huang
The looping sounds and scores of a multitude of video clips blended to create a fantastic
soundscape that filled Milk Gallery. Andrew further explored his vision in 2D artwork exhibited as well.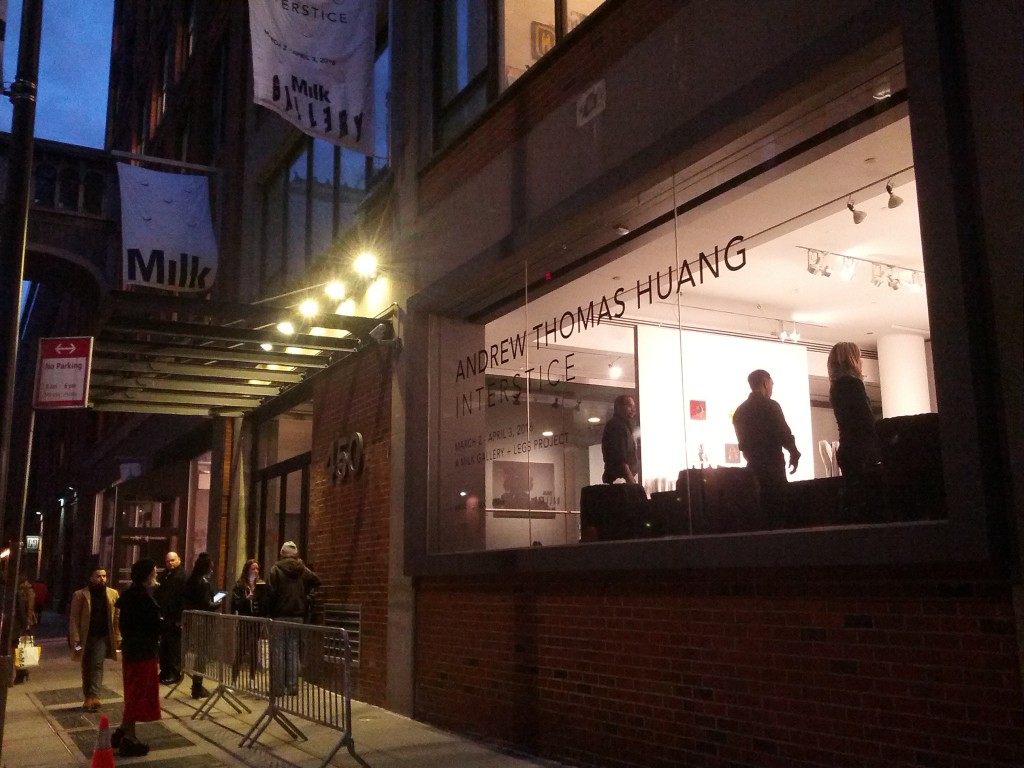 Andrew reached out to create some "in-camera" (not digital) pyro effects for the film. The film features
a swinging/ smoking incense censor, measuring time throughout. I explored several options to have it smoke
in a controlled way to have it look just right on camera when lit and experimented with a variety of
pyro/ smoke propellants.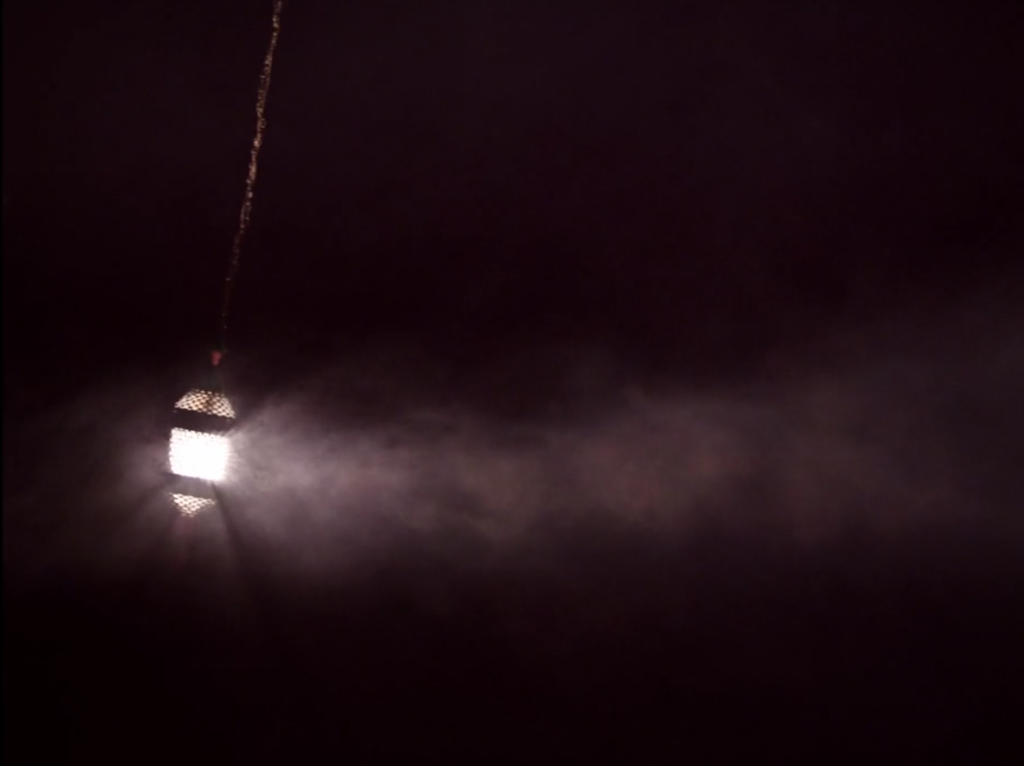 INTERSTICE – film still, Andrew Thomas Huang
The censor needed to be swinging and smoking consistently throughout the day. As talent would be interacting
in the same space and inhaling the smoke, the effect had to be as happy and healthy as possible. With final
testing in the studio on shoot day, we went for a super-traditional charcoal briquette with a mixture of
Frankincense and Copal resin tears on top.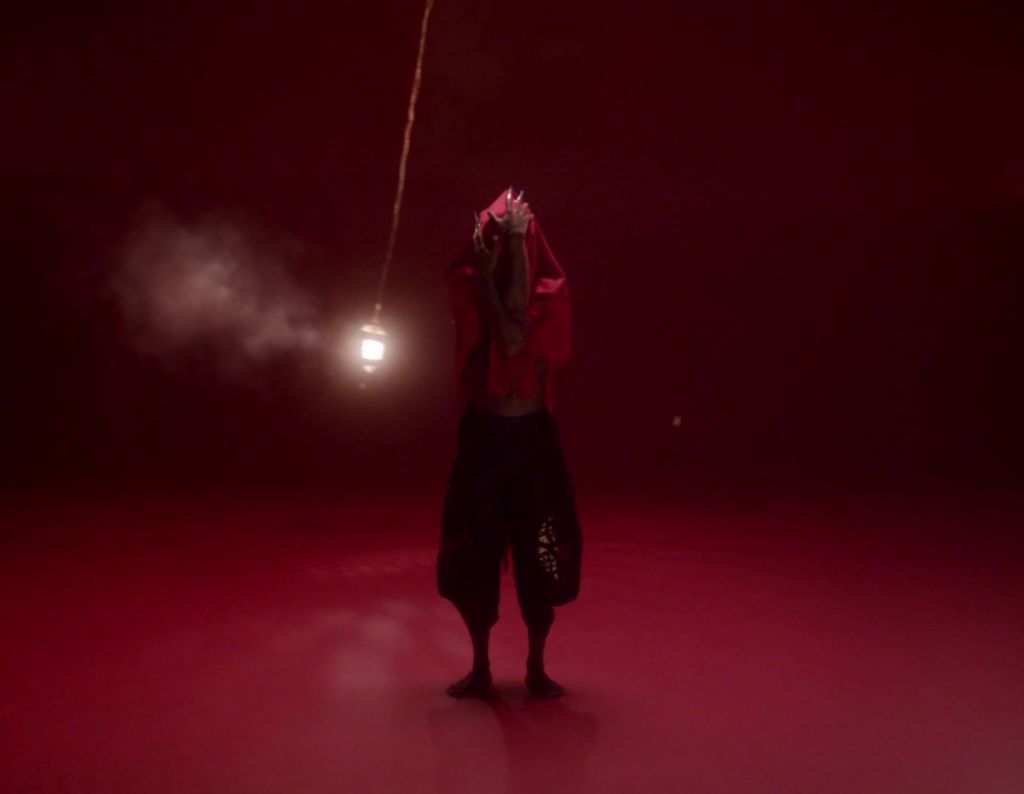 INTERSTICE – film still, Andrew Thomas Huang
After art dept. final touches, and rigging of lightbulb, my assistant, Adam Maiolo and I swung the censor back
and forth on set, inhaling huge amounts of frankincense. (loved it!)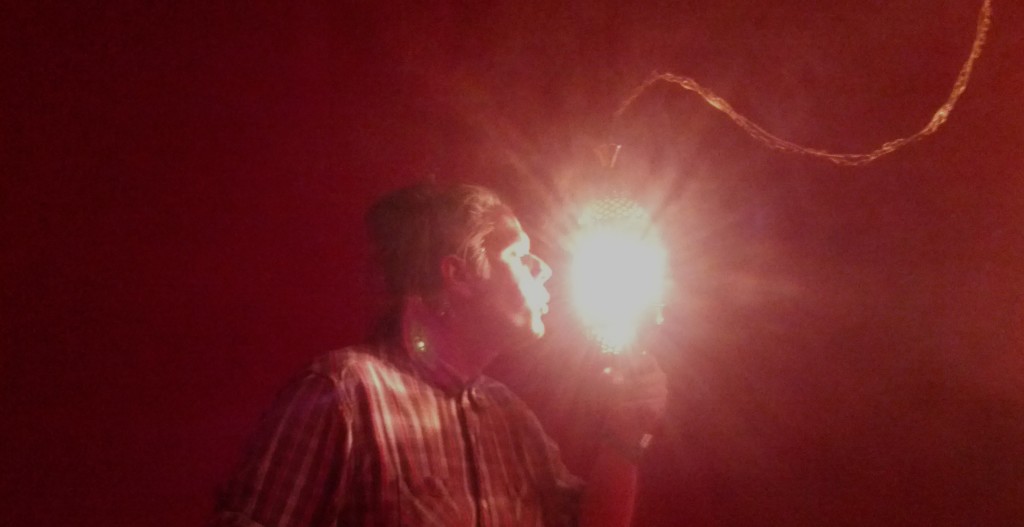 By adding incense and briquettes as needed and installing a heat shield to protect the lightbulb, the censor
worked out really well.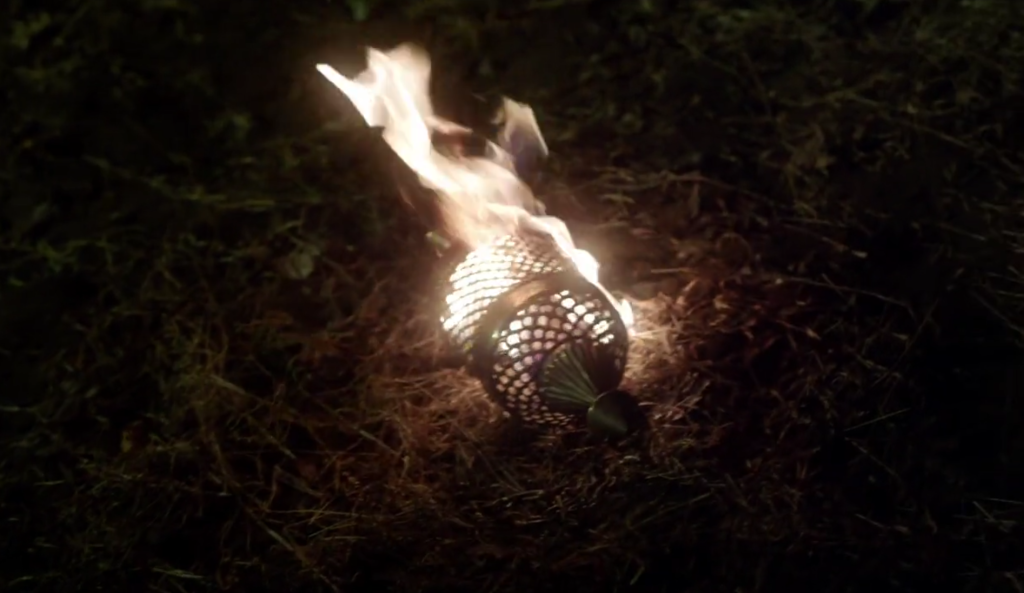 INTERSTICE – film still, Andrew Thomas Huang
We ended the day with a "censor is thrown on the ground and bursts into flames" effects shot. To make it
possible for Andrew to get the lit censor being held by talent (small flame), thrown and then bursting
into a big flame in one shot, a small ball that could roll around inside and would ignite propellant
only when the censor hit the ground was a simple/ effective solution.
INTERSTICE from Andrew Thomas Huang on Vimeo.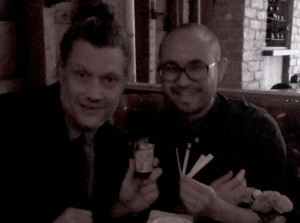 Andrew and I spoke about the incense we used on set and about the idea of creating a scent to use
in conjunction with the gallery exhibition of the film and relate it to other scent ideas that
came from Andrew's background/ creative process. Reconnecting here in New York this February,
Andrew, Legs Media producer, Sophia Rothbart, and I spoke again about the film and the role of
the fragrance.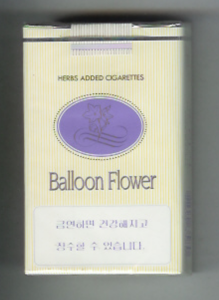 We met up in Greenpoint, BK and talked about possible accords/ notes of a Chinese Apothecary,
bitter herbs, and medicines. I discovered Balloon Flower and Arrow Root while
living in Korea and loved Korean Herbal breath mints "Silver Balls" and "Toraji" Balloon
Flower cigarettes. These notes overlapped with Andrew's memories of Chinese medicine,
family, and his personal scent landscape.
Palo Santo rounded out the herbal accord and offered a camphor/ minty note that supported
the Apothecary idea. Incense, accent temples and churches, crumbling plaster, old paper,
antique furniture, smoke and leather are some of my favorite notes and really fit Andrew's
sense of age, time, ancient places, and memories connected to the film.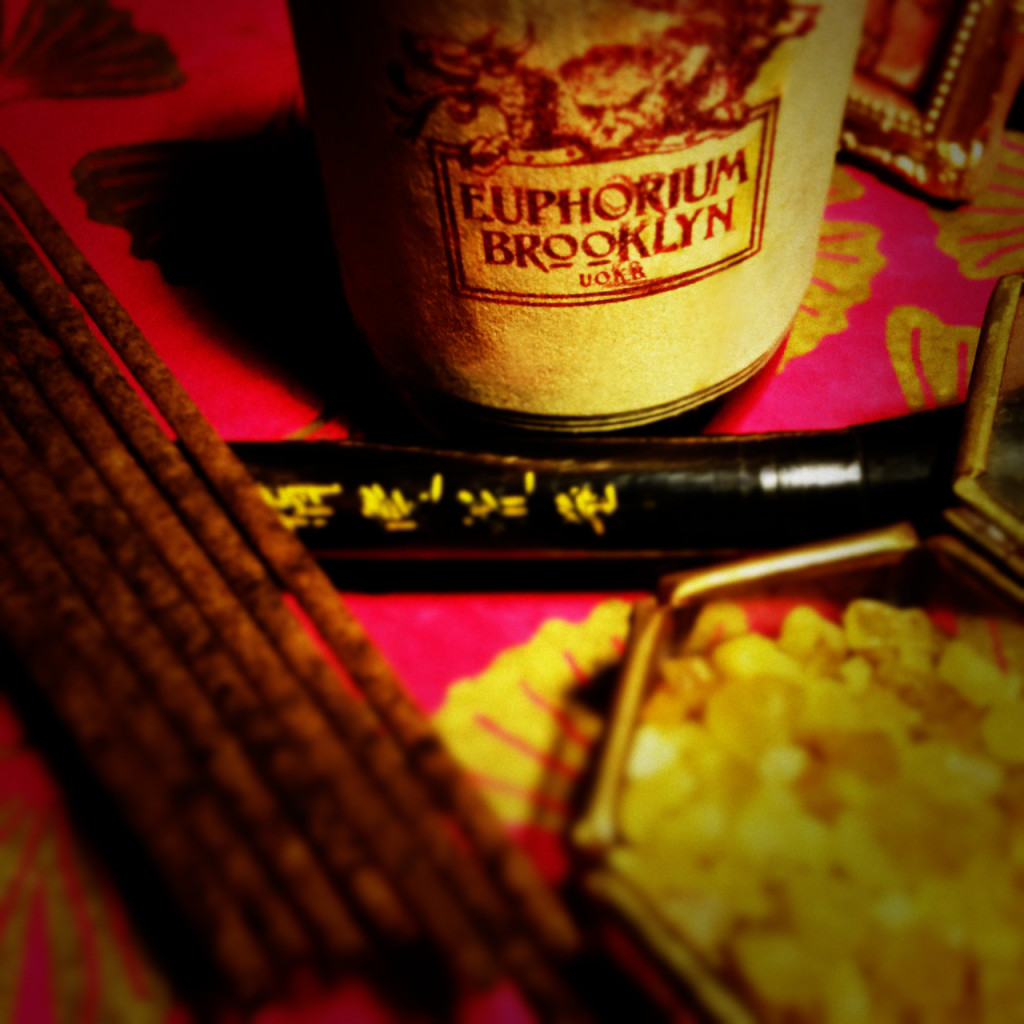 I could reference my research into Cilice and 100 Tweeds Euphorium Brooklyn perfumes
in putting together an accord for Interstice. I used "White Agarwood" from Iryan Jaya,
Indonesia, a rare cousin to the famous middle eastern Agarwood to impart a dry, dusty
plaster note. Birch Tar and Costus Root added to the smoke, leather, and paper ideas.
Elemi and Labdanum presented bright and rich Amber/ Frankincense notes.
Euphorium Brooklyn Incense Test #1 from stephen dirkes on Vimeo.
We decided on making incense cones for the installation instead of a diffuser system. I worked
on a formula that would burn well, retain the fragrance when burned, and produce a minimum of
smoke. An accord for Interstice came together and was centered around a core of – Bitter Herbs,
Cedarwood, Palo Santo, Elemi, White Agarwood, Hyssop, Labdanum, Origanum, Amber, & Leather.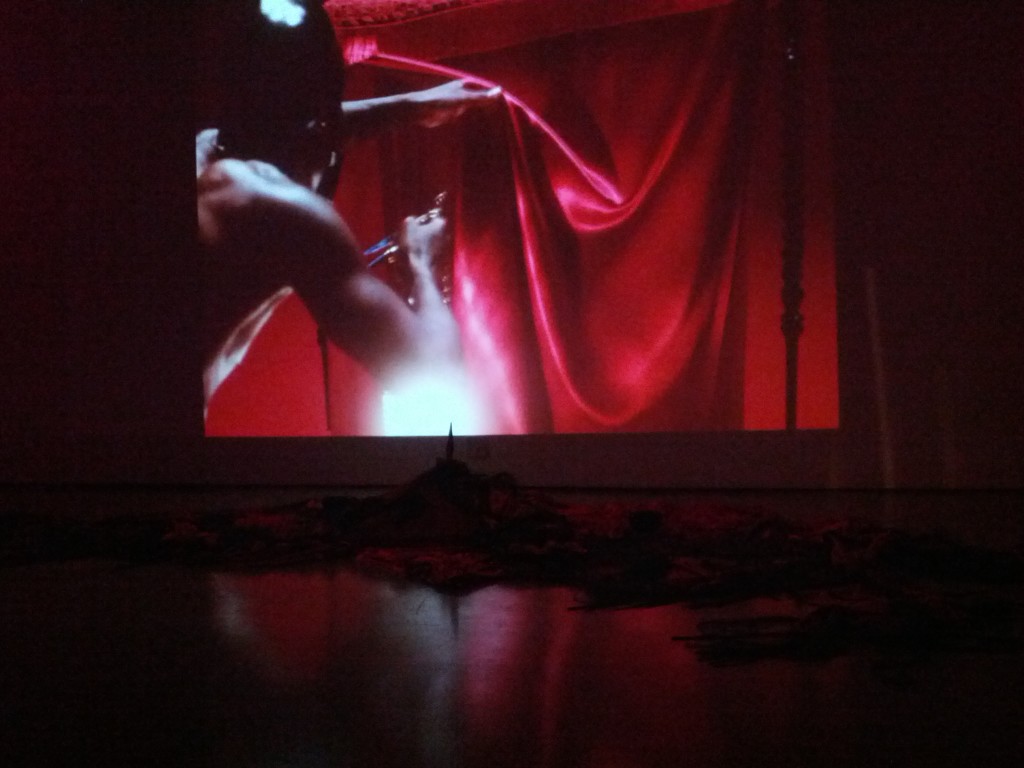 INTERSTICE – Milk Gallery installation, Andrew Thomas Huang
Cones of incense were burned in two small ceramic bowls which were filled with black sand
and placed on the gallery floor with a large fabric set piece featured in the film. The
darkened room was walled off from the rest of the exhibition and featured a large video
projection of the final scenes of the film.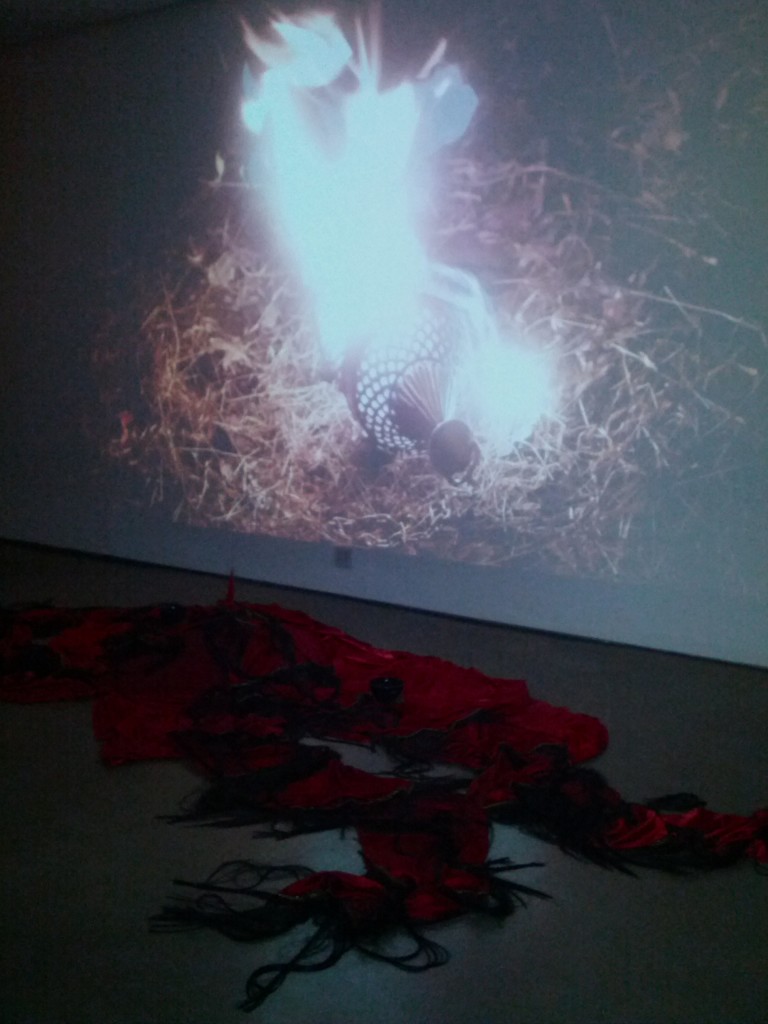 INTERSTICE – Milk Gallery installation, Andrew Thomas Huang
So happy to have wonderful early reports on the incense from Andrew, Sophia, pre-opening
press, and visitors to the opening night event. The fragrance was noticed, perceived as
connected to the installation, and enhancing and informing the overall experience.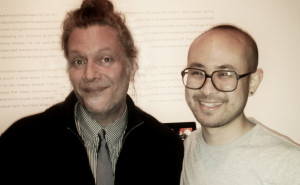 On exhibition for the month of March:
Andrew Thomas Huang
INTERSTICE
Milk Gallery
March 2 – April 3, 2016
450 W. 15th Street,
New York, NY
Andrew Thomas Huang is an extraordinary film maker whose virtual reality film work with
Bjork was recently exhibited at the MOMA PS1 in New York. Learn more about his work here.