BUTTERFLY Eau de Parfum for Women and Men is available in 50ml and 30ml decants at Twisted Lily.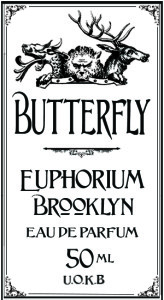 FRAGRANCE PROFILE
Featuring accords of Violet & Wildflowers, Wild Mint & Herb, Water & Moss
BUTTERFLY Eau de Parfum by Euphorium Brooklyn:

– Sourced from the Finest Rare and Exotic Oils, Tinctures and
Absolutes

– Traditional Euphoria Inducing Komodo Process

– Handcrafted in Brooklyn, New York
– Formulated in Perfumer's Alcohol
– Available in 50ml & 30ml Decants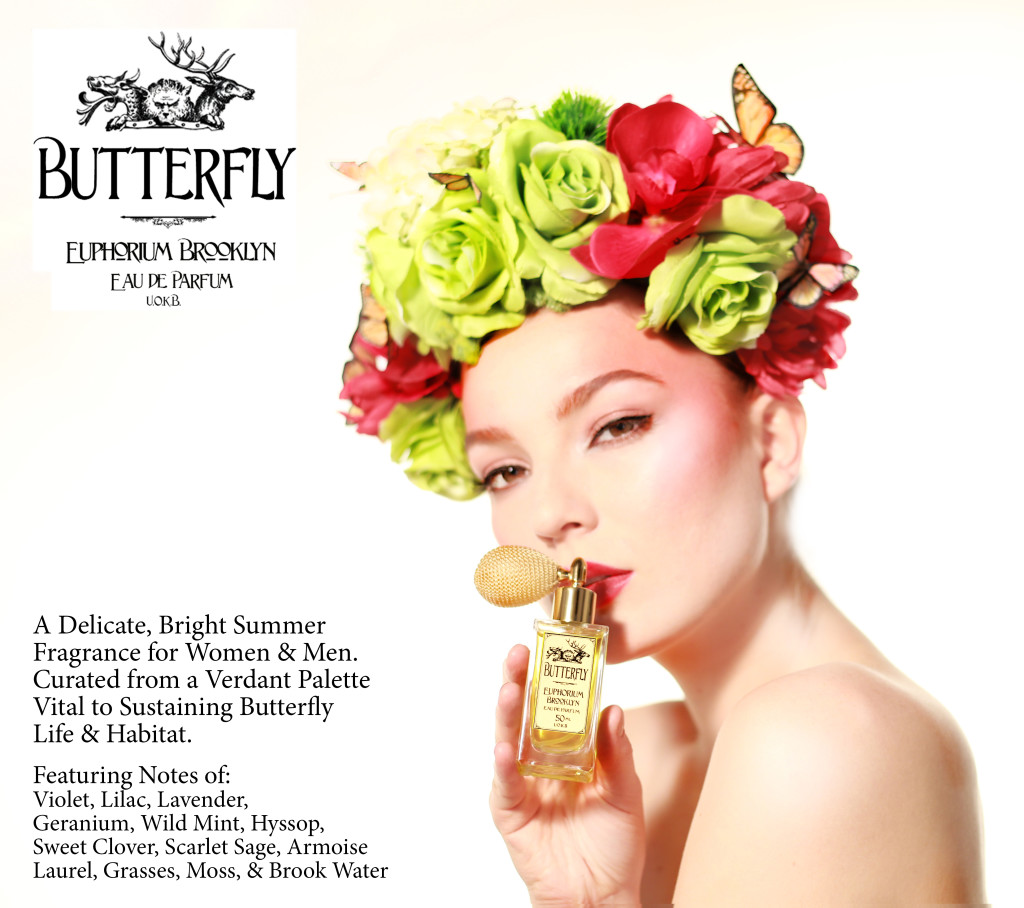 photo – talfoto.com
BUTTERFLY by Euphorium Brooklyn from stephen dirkes on Vimeo.
FRAGRANCE NOTES
Violet, Lilac, Lavender, Geranium, Marigold, Wild Mint, Mountain Laurel,
Hyssop, Milkweed, Scarlet Sage, Armoise, Sweet Clover, Grasses,
Moss, & Brook Water
PERFUMER'S INSPIRATION
Located in the Greenpoint neighborhood of Brooklyn's northern most waterfront cradled by both the New Town Creek and East River, Euphorium Brooklyn has long been an oasis of decadence in the midst of an industrial wasteland. From early 18th century settlements and the development of 19th century boat building & chemical industries, the waterfront somehow escaped development. In these "wilds" of North Brooklyn, stands of milkweed, grasses, and wildflowers flourished and have remained largely intact until the present.
Situated on the migratory path of the Monarch butterfly's incredible journey from Canada to Mexico and back, the butterflies discovered the rich flora on Greenpoint's water's edge for themselves, establishing a marvel of nature with seasonal clouds of butterflies signalling the start of summer in this otherwise grey industrial corner of New York City.
Butterflies are sustained by a wide variety of colourful and fragrant nectar flowers and weeds of all types. Most unique is their relationship to the milkweed plant. Highly toxic to most animals, claiming the lives of horses that forge on milkweed, the butterfly is able to utilize the milkweed's toxins to protect itself.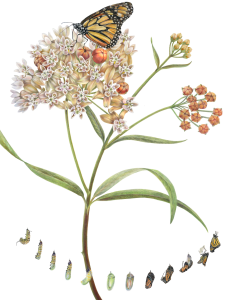 With an ability to safely ingest the toxins and move them to their exoskeleton, the butterflies themselves become toxic to predators to defend themselves and also lay eggs to become larvae on the milkweed plants to protect the next generation.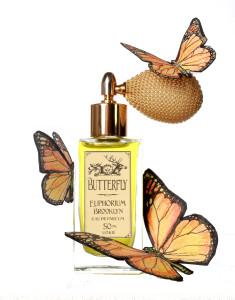 BUTTERFLY Eau de Pafum is based on the fragrant plant life that sustains butterflies and their habitat. Although perhaps a peculiar starting point to develop a fragrance palette, butterflies have done a remarkable job of curating a wide range of fragrant floral, mint, grass, & herbaceous notes for a perfumer to work with.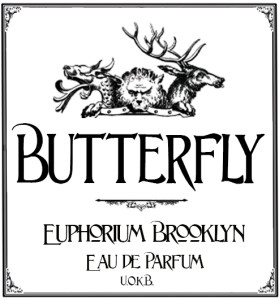 Euphorium Brooklyn Butterfly Eau de Parfum from stephen dirkes on Vimeo.
BUTTERFLY SET – COMING SUMMER 2017
Recent and aggressive development of Greenpoint's waterfront has denuded the banks of the New Town Creek and East River of plant life and has had an immediate impact on migratory butterfly populations. Reaching out to botanists and lepidopterists (butterfly specialists), butterfly gardens seemed to be a way we could help preserve butterflies and their habitat on an individual and community basis.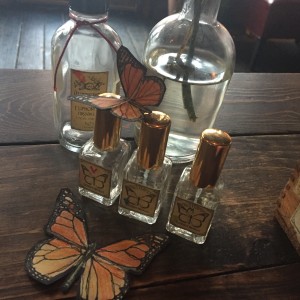 The BUTTERFLY Set consists of an 8ml decant of BUTTERFLY Eau de Parfum, a seed packet specially curated to grow a Butterfly garden of flowers and plants that sustain butterfly life and habitat, & a small booklet with information about what you can do to help preserve these wondrous creatures in the face of ever diminishing habitat, increasing environmental pollution, & human encroachment.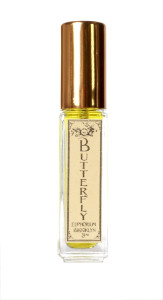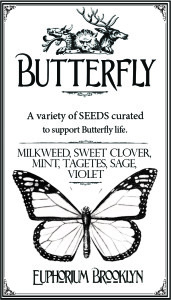 Thanks to the generous support of Sniffapalooza' Spring Fling 2017 & Twisted Lily Perfumery, we are able to invite you to a special sneak peek of BUTTERFLY on Friday, April 28th, 2017 at Twisted Lily, 360 Atlantic Ave., Brooklyn and on Sunday April 30th, 2017 at La Mela Restaurant, 167 Mulberry St., Manhattan (Little Italy) for the special Spring Fling five course luncheon. Register now for Spring Fling now as limited spots are filling up quickly.
Jodi Battershell's preview of BUTTERFLY on Fragrantica.
Snapshot portraits and first impressions at BUTTERFLY First Encounters.